San Pedro Red Cross receives donation from Hell Fighters
Saturday, October 18th, 2014
On Tuesday, October 14th, the San Pedro Red Cross (SPRC) were recipients of a generous donation made by the Hell Fighters Footsoldiers. The donation was made in the form of a check of $1,500BZ, which was handed over in a small ceremony at Ramon's Village Resort.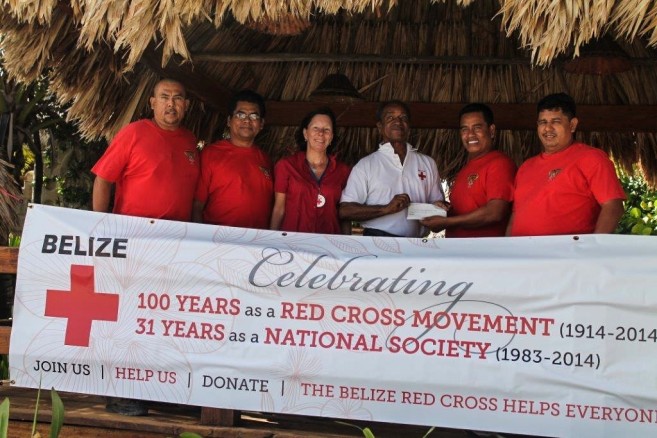 The Hell Fighters consist of Maricela Badillo, Patricia Sabido, Nori Martinez, Betty Badillo, Leonor Marroquin, Ruth Orellana, Ismael Badillo, Roberto Sabido, Francisco Gongora, Bernabe Badillo, Isaias Magana, Victor Peralta, Avimael Chuc, Dennis Sabido, Mariano Contreras, Rigoberto Chuc, and Jose Camal. Upon a recommendation from the Mayor of San Pedro Daniel Guererro, they decided to raise funds for SPRC. To raise the money, the Hell Fighters manned a food booth during the Costa Maya International Festival.

According to SPRC member, Laurie Norton, the donation is very much appreciated. "We were very appreciative of this generous donation and the thought behind it. We believe it is important to build Ambergris Caye's capacity by being prepared for emergencies in advance, and this donation of $1500 will help do just that. We would like to thank the Mayor for his recommendation and the Hell Fighters for their time and hard work in raising funds," said Norton.

In addition, SPRC also received Caribbean Villas' first aid kit order on that same day. Caribbean Villas is the first establishment to have a full first aid trained staff, and as such they had ordered first aid supplies to complement the trained staff. "It is important to have first aid supplies in a recognizable container at both home and office. Check your kits regularly to make sure they are well stocked, every six months (beginning and ending of hurricane season) is a good guide. If you do not have a first aid kit, what are you waiting for?" said Norton. Caribbean Villas is now equipped with the Belize Red Cross first aid deluxe kit, containing a 196-Piece (50 person) Bulk ANSI Kit (Plastic Case with Dividers) costing $200BZ.

Any business or home can order their own Belize Red Cross first aid kit by contacting Shirlee Arnould [email protected] or Laurie Norton [email protected]
The Hell Fighters is a non-denominational group of women and men that have devoted their lives to serving others in the name of Jesus Christ. You can contact them through Facebook at www.facebook.com/hellfighter.footsoldiers or call them at 628- 2279/660-1796.
Follow The San Pedro Sun News on Twitter, become a fan on Facebook. Stay updated via RSS