San Pedro Town Council issues awards as part of Township Day
Tuesday, December 2nd, 2014
On Thursday, November 27th San Pedro celebrated its 30th Anniversary of Township. To commemorate the day, the San Pedro Town Council, Mayor Daniel Guerrero and Miss San Pedro Michelle Nuñez conducted surprise visits to present awards of appreciation to several island residents that have contributed to the growth and development of the island of the years.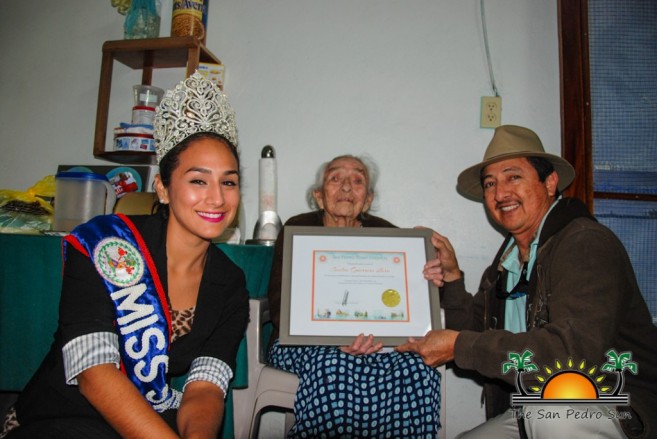 According to Guerrero, the award is a way to show appreciation to community members, as without their support, growth in San Pedro would be stagnant. "On each Township Day, we try our best to show the community that we are grateful for all they do towards San Pedro each and every day. It is the hard work of each and every resident in this island that has contributed to the town that we know today. We hope that we continue to receive the collaboration of island residents in the years to come so that out beautiful island can continue to grow and blossom into one of the top destinations in Belize," said Guerrero. Each certificate was hand delivered to the home or place of work of the recipients.

Among the honorees was Cecilia Guerrero Lara who was awarded for achieving a milestone in life as the only centennial resident of San Pedro. Amanda Syme, Abel Guerrero Sr. and Edilberto Marin were awarded for their participation in the various organizations towards the development of the San Pedro. Jorge Aldana was awarded for his contribution towards culture, while Natalie Arceo was awarded for her contribution towards music, and Kent "Bob" Gabourel for his contribution towards sports. Steve Spiro and the San Pedro Police Department were awarded for their contribution towards the safety and wellbeing of the island.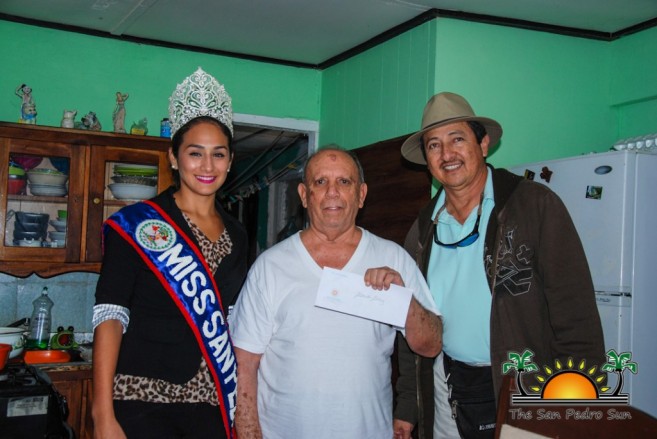 In addition, a special award was given to Francisco "Pany" Arceo for also contributing towards the development of San Pedro and going the extra mile in serving the community. A special cash gift was given to Gilberto "Chico" Gomez, the island's first Mayor. Other awardees included: Nellie Gomez, Peter Lawrence, Sean Feinstein, Armando Graniel Sr., Wings, Caye Caulker Water Taxi, San Pedro Water Jets Express, San Pedro Belize Express, Amigos del Mar Dive Shop and Caribbean Depot.
All the recipients gladly received their certificate of appreciation and thanks the Mayor for the pleasant surprise. Congratulations to this year's awardees!
Follow The San Pedro Sun News on Twitter, become a fan on Facebook. Stay updated via RSS