San Pedro Fishing Association elects new board members
Friday, February 19th, 2016
On Wednesday, February 17th, the San Pedro Fishing Association held a general meeting at the Lions Den shortly after 7PM. The main purpose of the reunion was to elect new members for the association, which would include younger and active members. At the meeting, issues affecting the organization were also discussed and these included the enforcement of fisheries regulations, illegal fishing and even the proper issuing of fishing licenses. The newly elected members of the San Pedro Fishing Association are: President Enrique Marin, Vice President Roberto Bradley Jr., and Secretary/Treasurer Henry Beissner. The association also elected four new board members: Severo Guerrero Sr. Michael Hancock, Gilberto Lara and Giovanni Marin.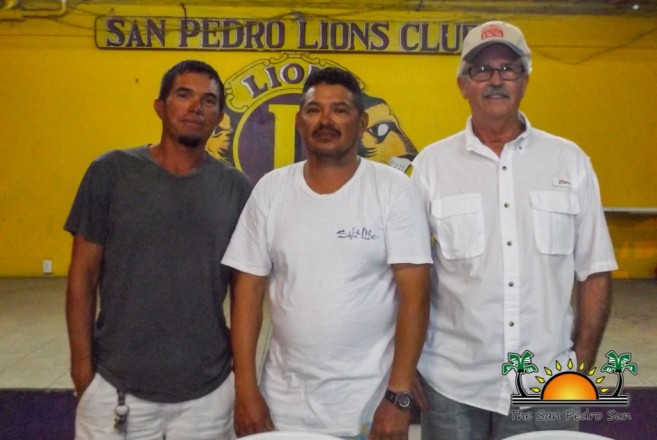 The fishermen present at the gathering expressed their willingness to work along with the new president and support him in every possible way to make things work for the association. In return the president committed himself to fully look after the fishermen of Ambergris Caye, but also asked the community and any other organizations to work along with them. "I am ready to lead the association. We have a lot of energy, my team and I want to come up with new ideas in order to do more compared to what has been done in the past four to five years. The first step was to create a new committee with active members, and then we will start to work together. At the moment there is no unity among the fishers on the island. We need to establish that first so we can have a strong association and that will be one of my priorities as the president," said Marin. He indicated that there will be more frequent meetings to keep everyone inform of events in the fishing industry. Also he believes that a very active committee will be able to foster more resources for the benefit of all fishers in San Pedro.
The next step for the new association, according to its president, is to try and merge with the San Pedro Sport Fishing Association. "I am involved in the many fishing tournaments done on the island every year, and the idea of the two associations joining together was always there, but never materialized. Now that I am leading the San Pedro Fishing Association I will look into it and make this unification eventually happen. I believe this will put us in the map and the different governmental entities and even non-governmental organizations will see our commitment and therefore we will always have their support if needed," elaborated Marin.
The association looks forward to a great, fresh start, but they are also expecting the community's support. According to the organization's current statistics, there are around fifty members as part of the association, but only a few of them participate in any activity regarding fishing. The new members of the committee expect to address these issues, and once and for all bring order to the fishing sector on Ambergris Caye.
Follow The San Pedro Sun News on Twitter, become a fan on Facebook. Stay updated via RSS