Miss SPHS continues giving back to the community
Thursday, July 21st, 2016
While school is closed and many students are enjoying the holidays away from the classroom, one student from San Pedro High School (SPHS) has been busy contributing to her community. Faith Noel, Miss San Pedro High School 2016-2017, has embarked on a series of projects aimed at benefiting her school and the community in general.
After her first successful project collecting backpacks for the less fortunate students at her school, Noel tackled an ambitious project to raise funds for the building of five lunch palapas at SPHS. After approaching the community with this brilliant idea, the help was swift as donors were more than happy to assist.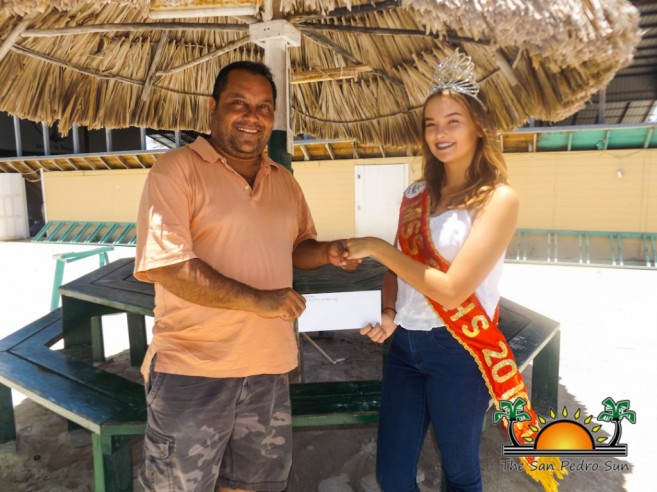 On Saturday, July 16th Noel handed over a cheque for the construction of the palapas at her school. Receiving the generous donation was Dean of Discipline Alex Nuñez, who thanked her and encouraged her to continue her good work. According to him, she is setting the bar high in community service and creating an excellent example for her future successor.
Additionally, on Tuesday, July 19th Noel made two more donations. The first comprised of school supplies for children that are currently taking part at Basil Jones Summer Camp. The camp is located 14 miles north of San Pedro Town, and hosts children from the mainland that are at risk and have never seen the reef. The donation was made at Finn and Martini Restaurant where Findley Halliday, one of the organizers of the camp, received the donations. He thanked Noel for the kind gesture on behalf of the children who will welcome such items.

Shortly after that, Miss San Pedro High headed to the San Pedro Lions Den where she handed over 19 backpacks that will go towards the children of the families affected by the fire that occurred on June 26th. Britney O'Daniel from The Food Bank along with Carolina Kumul of the San Pedro Lions Club were present to receive the donation. O'Daniel commented that they are grateful for the kind donation and will make sure the backpacks go to the fire victims.
Noel, as the Ambassador for the SPHS was also involved in the humanitarian services after San Pedro's most devastating fire. Through donations, she worked on ensuring each family could obtain meat rations at Lino's Meat Shop right after the fire. "I am happy with what I have accomplished so far, but there is a lot more to be done," said Noel.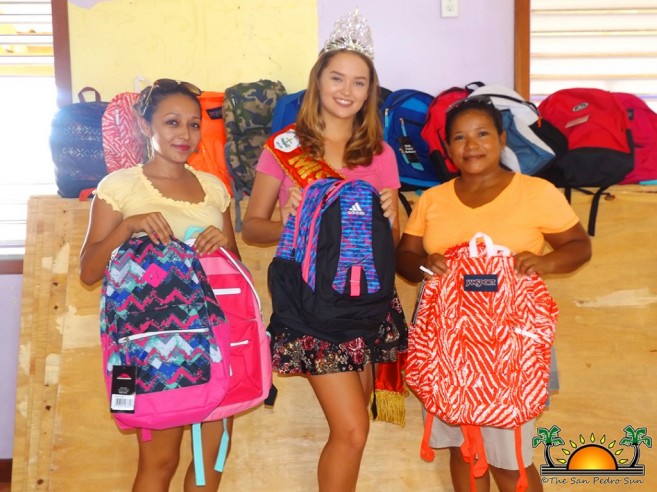 Noel's donations could not have been possible without the help of the following sponsors: Daniel Hartin from Sandy Point Real Estate, Tammy Lemus, Blue Water Grill (Kelly & Mukul Kanabar), The Phoenix, Gladys Alamilla, Mr. Dean from Caye Bank, Linda Stevens, Brooklyn Bagel Shop, Joe and Vinny Summa, Sabrina and Dusty Bergeron and Glenn and Lisa Kantor.
Anyone interested in donating or would like more information regarding Miss SPHS work and her future endeavours, can contact her via her mother Tammy Lemus at phone number 610-0226 or email [email protected] or [email protected] Faith can be contacted directly at [email protected]
Follow The San Pedro Sun News on Twitter, become a fan on Facebook. Stay updated via RSS