Combating crime through Fatherhood Workshop
Wednesday, November 16th, 2016
In an effort to address the crime situation of both Ambergris Caye and Belize, the Belize Police Department (BPD) and the Community Policing Unit partnered up with the Evangelical Alliance to host their first fatherhood workshop: "Concerned Fathers Against Crime; Helping to Change Headline News". The intent of the workshop was to get fathers to help their children fight against crime and to spread awareness by forming a committee that will make a change within their home and community.

Held at Living Word Church from 2PM to 5PM on Sunday, November 13th, the workshop was attended by concerned parents, police officers, pastors, teachers, and the media. After an invocation from Pastor Ian Zaldivar, Retired Superintendent and National Coordinator of the BPD, Rudolph Orio, gave the official welcome, and explained to the audience that the rise in juvenile crime as both perpetrators and victims is of grave concern for fathers, leaders, educators and the entire community. From 2011 to 2015, Orio has collected observations indicating that youths are: peddling firearms, selling illegal drugs, involved in gang activity, engaging in alcohol and drug abuse, becoming pregnant, dropping out of schools, and disrespecting authority.

According to Orio, gun and gang violence in Belize is out of control, and it's almost on a daily basis that several media houses write articles that entail violence. Orio stated that fatherless children or broken homes is a trend seen among criminals. He also challenged the community to take a stand to alleviate crime. "As you put on the radio, or the television, or read the newspaper, all you're hearing is violence. It is critical to address the matter because people are dying innocently in these crimes. Instead of just hearing the news and sympathizing over the matter, we need to take control of our country, and fight for change," said Orio.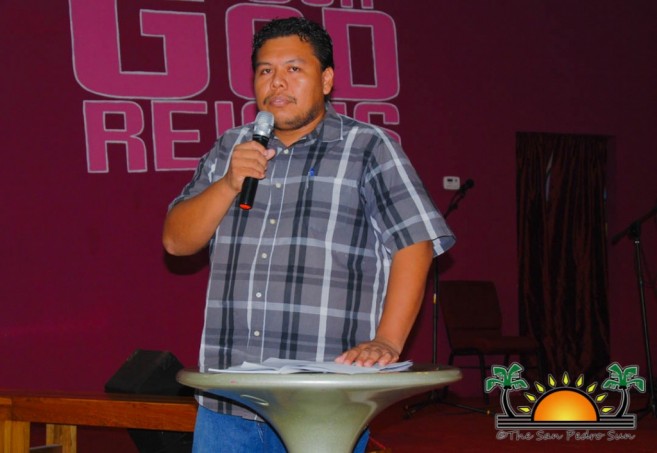 Ross Novelo, teacher at the San Pedro Roman Catholic School (SPRCS), then presented the challenges and expectations of youth crime in San Pedro. "I see this workshop as an opportunity to make a needed correction. These crimes have become a part of our culture, and we need an effective solution. Many times we see that our children are straying away. Our children nowadays are growing in an adult context. The island also needs more than just academics, and Belize needs to improve the quality of education. Life skills should become integrated into the school system. We need to see how our youth can contribute to society in other ways, and we cannot proceed unless we have the dedication of our community," said Novelo.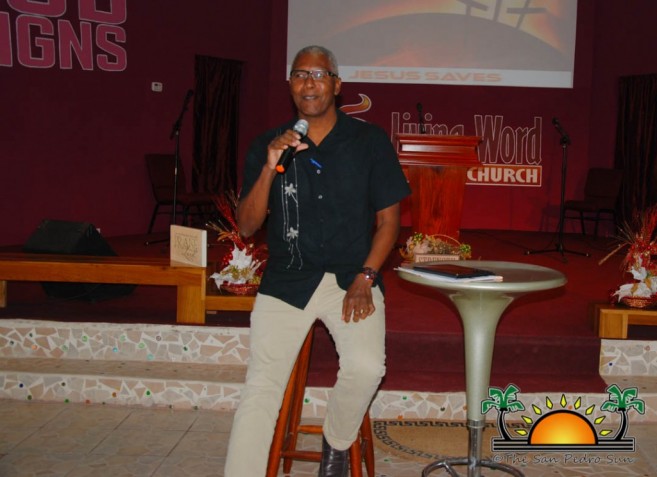 Pastor Clive Welsh, President of the Justice of the Peace (JP) Association of San Pedro, spoke on the importance of parents playing the important role of fatherhood in their homes. "I've spoken and emphasized before on the importance of fathers. The need of fatherhood is a huge issue in both our town and country. The JPs play a vital role in keeping the country in ordinance, and we assist the police department. The crimes committed by our youth shows the disconnection between the child and the home. Fatherhood is not limited by gender or biology, and we should take a positive stand to help out our younger generation. Some of them just need encouragement, hope, attention and love, and we should be able to nurture them," said Pastor Clive.

Officer in Charge of the Coastal Executive Unit, Henry Jemmott, referenced the crime situation on the island, and the challenges youth face in this generation. "It take a village to raise a child, and in this case in San Pedro, a town. Some of the challenges we have been facing in the police department is enormous. Just from Friday, November 11th, the San Pedro police sent seven youth to central prison. I want all fathers and potential fathers to know that this is alarming, and this is causing an erosion. The youth are being sucked in by the gangs and drug dealers. Some of the purported shootings done here in San Pedro are done by minors who are not even 15. These youth don't even know what it is to be a father, yet they are taking away innocent lives. This is a very serious problem, and the police department is constantly seeking additional ways to deter crime on the island," said Jemmott.

He further indicated that the laws surrounding minors is a difficult task for the police department, as the Caribbean Standards and Rights of the Child states that the age of criminal liability is 11 years old. "This country is lacking of parents, and especially fathers. Sometimes you could find fathers either in the bars, working long hours at their job that they cannot give parental guidance over their children, or not around at all. This causes a problem because when the youth starts committing crime, it becomes my problem. It's difficult dealing with youths because they have different measures that goes along with them. Some of the children we have dealt with, we cannot charge. Some of the heinous crimes that has been happening in San Pedro has been committed by minors. The other issue is that we cannot publicize the criminals name because of the law of the media. So as parents and supporters, I would like that everybody come together and let us get a committee active," said Jemmott.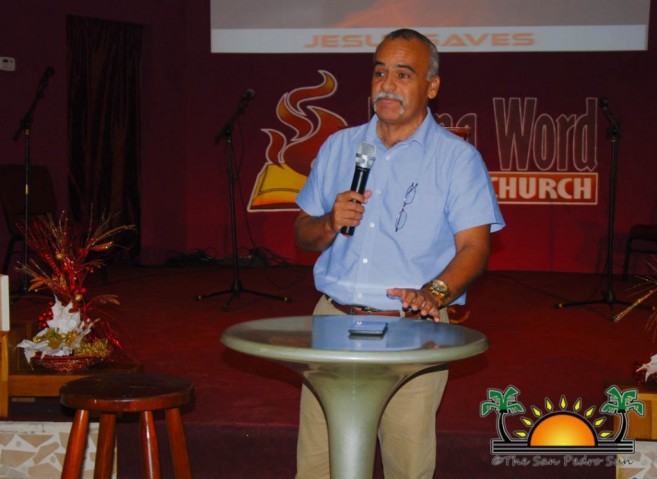 Afterwards, Pastor Zaldivar gave a brief sermon on how religion should be integrated with the homes. "The spiritual atmosphere is down to zero in Belize, and the truth is that people really need to get back to God. As a pastor, I would like to bring spiritual insight to people. I think that in every capacity, the way we are today is because leaders are failing. Most people today don't know what a father really is because they grew up in broken homes. However, that should not be an excuse. The community and I need to be fathers to the fatherless to make a change and encourage one another," said Pastor Zaldivar.
Orio closed the presentation by urging the audience to pledge to combat the recent crime wave in the country. "This is a very serious situation, and parents, families, and the community need to come together and take charge. Fathers need to take a strong stand against violence because we are the foundation of our communities. We need to turn the recommendations into reality to prevent our children from falling into the Juvenile Justice System or turning into criminals. The best way we could show we care is forming this committee, and becoming activists against crime, especially senseless crimes," said Orio.

A committee was formed to carry out ten recommendations to help our island youth. Those recommendations include: youths most at risk or already showing signs of social, emotional and behavioral problems; young people with opportunities to build relationships, particularly those who find it difficult to find support when they need it; identify guide and support youths; recommend legislation to control underage drinking, nominations for the Police Program "Do the Right Thing" for youth who have changed their life around; advocate for after-school programs; the People's Coalition to invite leading organizations to their monthly meeting; improve trust by holding People's Coalition meetings in demarked zones; public and community training by the National Fire Service; and training by Public Health for community leaders, teachers, police, and parents to identify youths at risk suffering from depression before they harm themselves or commit suicide.
Orio, along with the presenters, hope that this committee will build capacity and sustainability within the community.
Follow The San Pedro Sun News on Twitter, become a fan on Facebook. Stay updated via RSS