SPTC holds consultation on revitalization of downtown area and Boca del Rio
Wednesday, November 30th, 2016
In an effort to make La Isla Bonita a safer and more attractive island, the San Pedro Town Council (SPTC) hosted a consultation on Tuesday, November 29th to discuss the revitalization of the downtown and Boca del Rio Areas. Members of the San Pedro Belize Tourism Industry Association (BTIA), among several other business and tourism stakeholders gathered at the SPTC's Conference Room to give the SPTC feedback and strategic recommendations to consider when finalizing their completed plan.
The SPTC is seeking to revitalize Barrier Reef Drive, the area near the municipal airstrip (around Tropic Air), portions of Pescador Drive, and the beach area from the Belize Tourism Board's (BTB) Office all the way north to the Boca Del Rio Park. Thanks to the Ministry of Local Government, Caribbean Local Economic Development Project (CARILED), and the Mayor's Association, SPTC has secured their revitalization expert, Jason Fox, who is a native of Nova Scotia, Canada.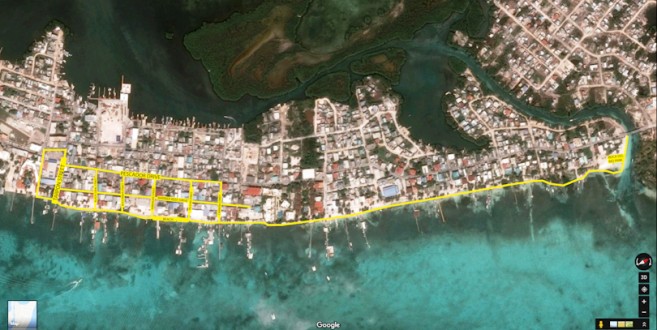 Fox split the gathering into groups and issued geographical maps of Ambergris Caye to each table. The purpose of the activity was for each group to discuss the key challenges San Pedro Town faces, while brainstorming methods and recommendations that will help alleviate traffic congestion, as well as ideas that will revamp the aesthetics of the island.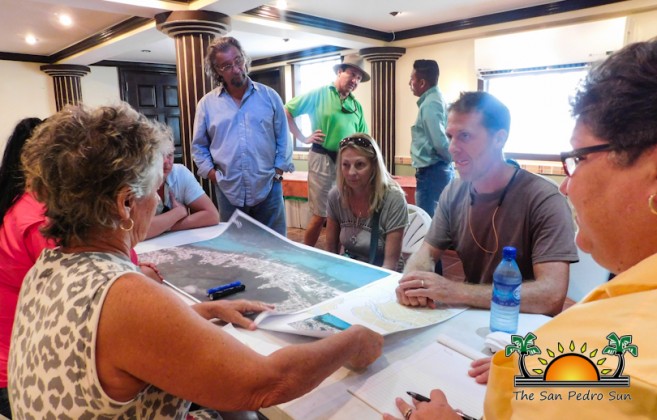 After the activity, a person from each group presented ideas and suggestions, while Fox and SPTC's Jorge Aldana took notes. Some suggestions included: 1) minimize vehicular traffic on the beach area; 2) lobby to discourage people from building seawalls and jetties; 3) create a public transportation system for students to limit traffic congestion; 4) close off the entire Barrier Reef Drive; 5) relocate taxis from Barrier Reef Drive; 6) pave road by lagoon-side gas station; 7) enforce a strict delivery schedule from 8PM to 8AM; 8) plant more palm trees; 9) place more sea creature statues at the park; 10) disapprove vehicular permits; 11) eliminate torn tarps from food vendors; 12) move the SPTC building; 13) enhance public toilets; 14) remove event banners within 24 hours after it occurred, including political banners; 15) barge building materials instead of using heavy-duty trucks; and 16) building parking lots to accommodate golf carts and vehicles.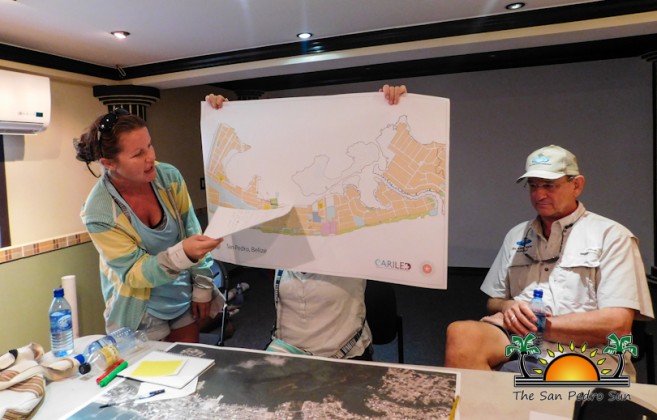 So far, this is the fifth consultation that SPTC has participated in when discussing the revitalization of these areas with experts of Caribbean Climate Change (CCC). After CCC came on site to evaluate San Pedro, they noticed that erosion and traffic remains an escalating issue. In addition, under United Nations Children's Fund (UNICEF), the Children Advisory Body (CAB) of San Pedro has also put their input and has asked the SPTC to consider to pedestrianizing Barrier Reef Drive for students and tourists alike. With the approval of the Blackadore Caye Project, the SPTC estimates that Ambergris Caye might get an additional influx of roughly 4,000 people to the island. This potential increase of long-term residents will add to the existing congestion problem San Pedro Town currently faces.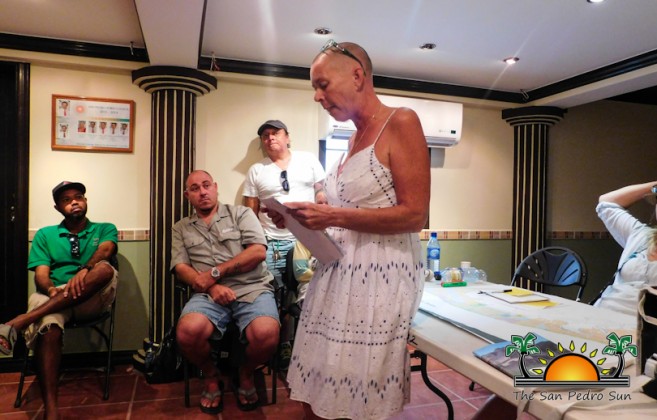 According to Aldana, while traffic congestion poses a major challenge, it is not impossible to tackle effectively. As such, the SPTC is planning to prepare for those times ahead. "It requires a wholesome effort to address these issues that have come with growth and demand on the island. San Pedro will continue to grow, and so will the other issues. So before we get to a stage that we cannot control, we want to address them now that we have the opportunity," said Aldana.
An interactive consultation will be open for the general public on Thursday, December 1st at the San Pedro Lions Den. Starting at 7PM, the SPTC will present various options and suggestions that were given by the business and tourism stakeholders to the community members and visitors. The audience will also be made aware of long-term mitigation plans, and will have the opportunity to share ideas and give feedback to the SPTC, hoping to merge them for the betterment of La Isla Bonita.
Follow The San Pedro Sun News on Twitter, become a fan on Facebook. Stay updated via RSS