SPTC and CARILED discusses green initiatives
Thursday, March 2nd, 2017
The San Pedro Town Council (SPTC), in partnership with the Caribbean Local Economic Development (CARILED) Project in Belize, presented their final local economic development strategic plan for San Pedro Town On Thursday, February 23rd. In attendance was Mayor Daniel Guerrero, Keisha Rodriguez (CARILED Local Resource Consultant), Jorge Aldana (SPTC Local Economic Officer), SPTC councilors, Chris Nunez from the San Pedro Traffic Department, and members of the media.

The last consultation was held in November 2016, when CARILED consultant from Canada, Chris Fields, engaged with various business and tourism stakeholders on the ultimate vision of San Pedro Town. He explained that local economic development is a process by which public sector, business and civil society work collectively to create better conditions for economic growth and employment generation. Its purpose is also to build up the economic capacity of a local area to improve its economic future and the quality for the island.
During the brief consultation, Rodriguez stated that the "green way" was the number one route stakeholders chose in terms of development for the local economic profile of San Pedro. From recycling facilities, beach reclamation and reduction in trash, the plan is set to enhance the tourism product of San Pedro.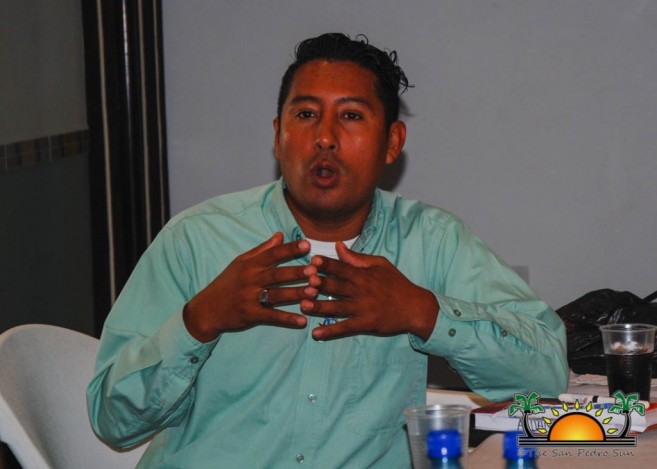 Rodriguez said that the main goal is to preserve the tourism industry. "The island is developing, and the SPTC recognized that the number one reason that people enjoy the island is because of the environment. If you are causing destruction, you are therefore damaging the tourism product."
The presentation disclosed concepts that are likely to enhance the lives of those on island, such as solar lights, panels and golf carts, reduction of waste, and beach cleaning. Rodriguez explained that enabling this kind of environment promotes proper business development.

Aldana shared his thoughts on the biggest challenge of going green. "The biggest challenge is the shift in behavioral change. I believe that the overall aim is for us to go green. As for the business perspective, they need to look at ways to implement strategies that are line with the SPTC. From the SPTC's perspective, there are number of initiative that we can lead to set the example for other private sectors, and businesses to come on board. But we are willing to go green," said Aldana.
The presentation ended with CARILED discussing mid-term and long-term goals with the SPTC when seeking to implement these measures.
Follow The San Pedro Sun News on Twitter, become a fan on Facebook. Stay updated via RSS