Strengthening ties between Cuba and San Pedro: Ambassador Lissette Perez pays official visit
Tuesday, March 21st, 2017
Ambassador of Cuba, Lissette Perez paid an official visit to Mayor Daniel Guerrero, and the San Pedro Town Councilors on Saturday, March 18th. This visit comes after she made a courtesy call on February 24th. Since Belize and Cuba are members of Caribbean Community (CARICOM) and Central American Integration System (SICA), Ambassador Perez expressed her interest in developing a partnership that would strengthen ties between Cuba and San Pedro Town. After the official meeting, Mayor Guerrero prioritized three key areas that both countries will focus on: climate change, sports, and culture.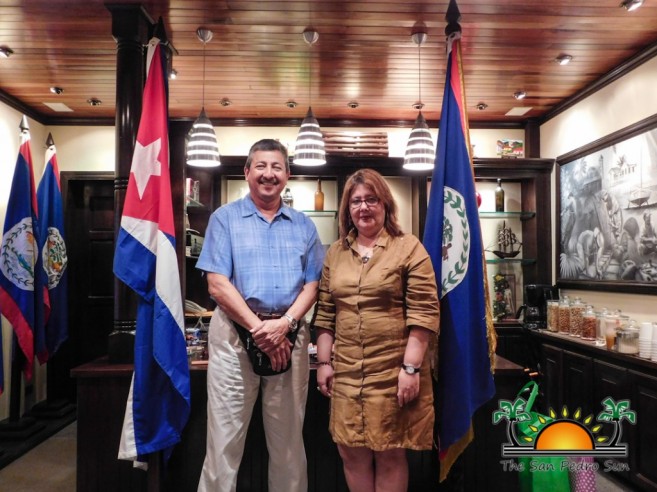 Perez told The San Pedro Sun that Cuba is willing to render their expertise/assistance in the key areas that were discussed. "I am glad that I was able to pay an official visit to Mayor Guerrero and the members of the San Pedro Town Council (SPTC). We had defined different possibilities and the potential partnership between Cuba and San Pedro. The objective is to concentrate the attention in three areas, and see the results. In the end, we identified three areas, and we [Cuba] want to interchange our experience. The tourism industry is the number one source of San Pedro's economy, and issues like coastal erosion is impacting the island. San Pedro needs sustainable development. We in Cuba are facing the same challenge, as well as the arrival of Sargasso. However, we have dealt with more natural disasters, and Cuba can help Belize face this important challenge. If we don't move quickly, our beaches will be affected and our sand can disappear. Our culture has many similarities to Belize in dances and music, so we can share. As San Pedro takes pride in sports, our national sport is baseball, and we are willing to exchange ideas with San Pedro," said Perez.
After the meeting, Ambassador Perez was acquainted with La Isla Bonita, and met with the Lobster Festival Committee, San Pedro Cultural Committee, the San Pedro House of Culture, and the
Costa Maya Festival Committee. On Sunday, March 19th, she met with Hector Alamilla, Councilor for Sports, along with other softball coordinators to discuss areas that may need improvement or assistance from Cuba.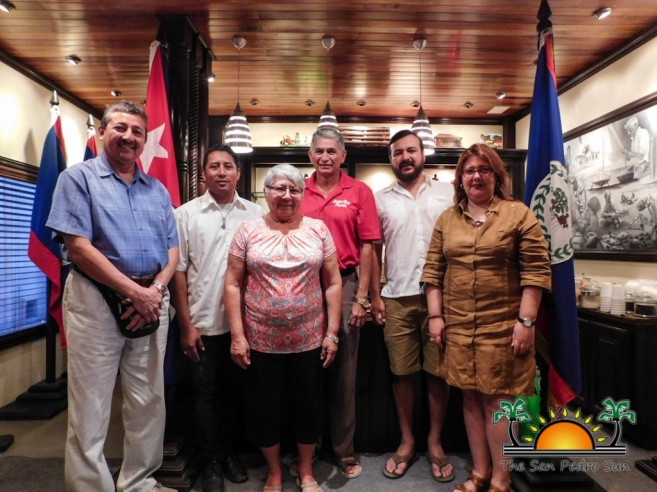 Mayor Guerrero stated that he is grateful for the offered help. "I am grateful Ambassador Perez paid an official visit with the SPTC. Of course, we welcome any kind of help we can get of the Government of Cuba. Perez has come with that willingness in finding ways to help San Pedro in different issues. In the field of culture, there's a lot we can benefit. They will bring their experts from there and Cuban culture can enhance or put some energy into reviving our history. In sports, it is a bit different because Cuba doesn't know about softball, they know about baseball. But it is the right timing since we are softball champions. Cuba is passionate about sports, and they are hoping to bring persons who are involved in sports. In the area of climate change and erosion, Cuba has a lot of experience when it comes to managing the aftermaths of hurricanes. We get hurricanes once in a while, whereas Cuba gets them four to five times a year. So they are prone to hurricanes like we are, but they have a lot more experience. We want to take advantage and learn their techniques so we can alleviate beach erosion in San Pedro. We are hopeful that we will see positive changes in the future," said Guerrero.
Ambassador Perez is excited to share their experience and help, and is looking forward to maintaining a healthy bilateral relationship with Belize. Both countries are in the process of addressing these key areas as soon as a strategic plan is set in place.
Follow The San Pedro Sun News on Twitter, become a fan on Facebook. Stay updated via RSS