SPHS celebrates Drug Awareness Week
Thursday, March 30th, 2017
Under the theme, "Put a cap on drugs", San Pedro High School (SPHS) celebrated its fifth annual Drug Awareness Week. On Monday, March 27th, a special assembly was held at the Angel Nuñez Auditorium, where students learned about substance abuse, and were encouraged to make positive choices.
Mistresses of Ceremonies Iran Gomez and Giselle Balam welcomed all guests and students, and the SPHS music group played a flute rendition of the National Anthem. After Pastor Clive Welsh gave an invocation, Andre Perez, Chairman of the Board at SPHS, gave the opening remarks.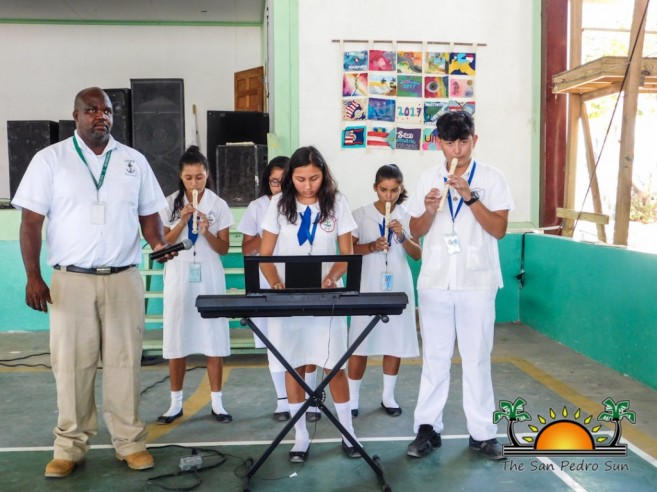 In his speech, Perez acknowledged that since Monday, March 27th, Belize had recorded seven murders over the weekend. He asked the students to think about what direction the country is headed in, and what possible future awaits the younger generation. "We are fast approaching 100 murders for the first quarter of the year. If you listen to the news, you will hear about the budget, and the escalating commodity prices, you may be asking what does this has to do with drug awareness. The presented budget shows that less money will be spent in the police and fire department, and among other sections, the unemployment rate will increase. When this happens, some will choose to survive by robbery, assault, or drug peddling, and this becomes a vicious cycle. Teenagers in this era begin to experiment with drugs, alcohol, and other illegal narcotics at a young age. Since there is easy access, the consumption of alcohol or use of drugs leads to high risk behavior, early sexual activity, and violence. I challenge all students to become responsible of their lives and make choices that will not affect your future," said Perez.

Kristina Romero of the National Drug Abuse Control Council (NDACC), addressed the misuse of drugs and her goal for this week. "When you ask the youth about what drugs are, they are quick to say marijuana, cocaine, heroin, and crystal meth. But generally speaking, drugs are substances that affect the mental and physical condition of people significantly and adversely. Any drug can lead to addiction and substance abuse. Drugs are poison and the degree it is taken, determines the effect on your mood. The teachers, community, and I care for you [students], and my desire is for all of them to become drug-free," said Romero.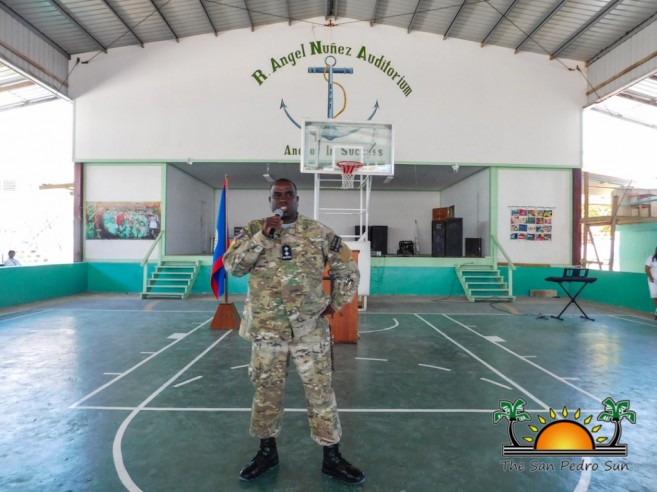 Guest speaker, Sergeant Brent Hamilton shared his life story, while he engaged with the student body to grab their attention. Born and raised in George Street Belize City, Hamilton is currently an Inspector for the Belize Canine Unit, and works closely with seven special bred dogs in his force to find illegal drugs and firearms, and locate missing persons. He began reflecting on his childhood, and stated that he joined the George Street Gang at the age of seven. Since he did not have interest in attending school, he was pressured to experiment with drugs at an early age, and began stealing valuable items.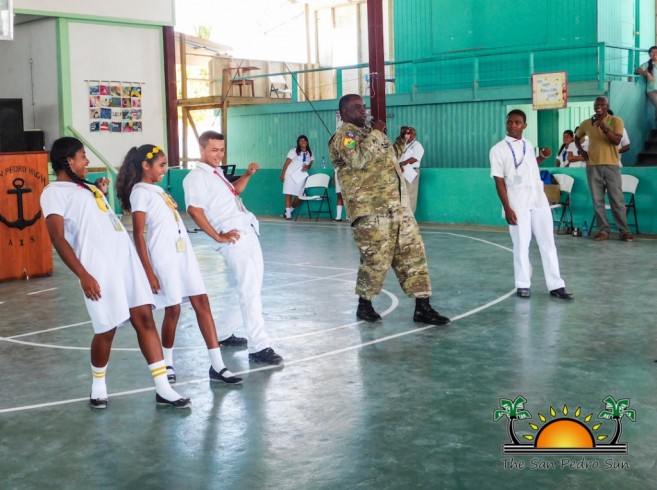 However, he stated that he did not make his past affect his future. "After all I've been through, I still managed to persevere where I am today because I made that important decision. I did not make my past affect my future. Some of you may not even have a past, and that is why I ask that you continue in the right path. I overcame drugs, and I want you guys to 'put a cap on drugs'," said Hamilton.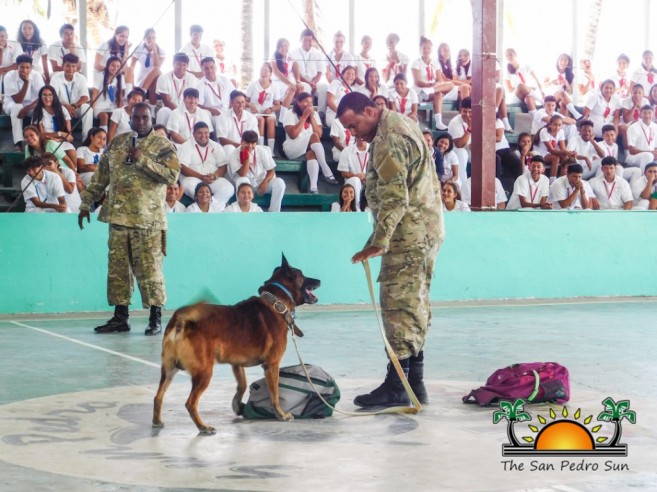 After Hamilton's speech, he led a demonstration by placing eight backpacks in the center of the auditorium. He then placed a bag, which contained marijuana, in one of them, and called his other colleague, Sergeant Barington Bracket forward with his Belgium Malinois canine friend. In less than thirty seconds, the dog sniffed each bag, and sat down when he sensed illegal drugs. As the gathering cheered, Hamilton invited four students to do a "stress-free" dance, which led to much laughter and camaraderie.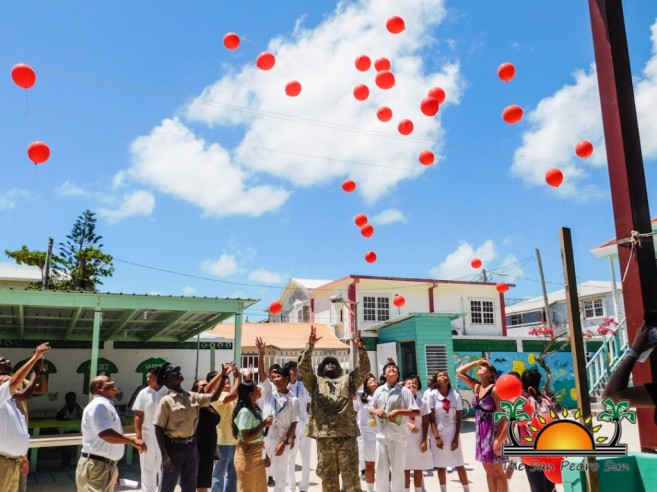 SPHS Principal Emil Vasquez then thanked all guest speakers and presenters before calling all class captains to the stage. Each captain was given a red balloon, and on the count of three, the balloons were released into the sky to signify that SPHS remains drug-and alcohol-free.
Activities were held on throughout the week. On Tuesday, March 28th, the entire student body had the opportunity to pledge their commitment to be drug-free by drawing on a mural. On Wednesday, March 29th, all classes participated in a door decorating contest, which reflect the theme for this year. To close off the event, a drug awareness run was held at Grand Caribe, on Thursday, March 30th, at 5AM. A student assembly, featuring poetry, songs, and skits was organized for the same day, at 2PM. SPHS thanks everyone who supported them in another successful drug-awareness week.
Follow The San Pedro Sun News on Twitter, become a fan on Facebook. Stay updated via RSS