Season's Greetings from The San Pedro Sun
Monday, December 25th, 2017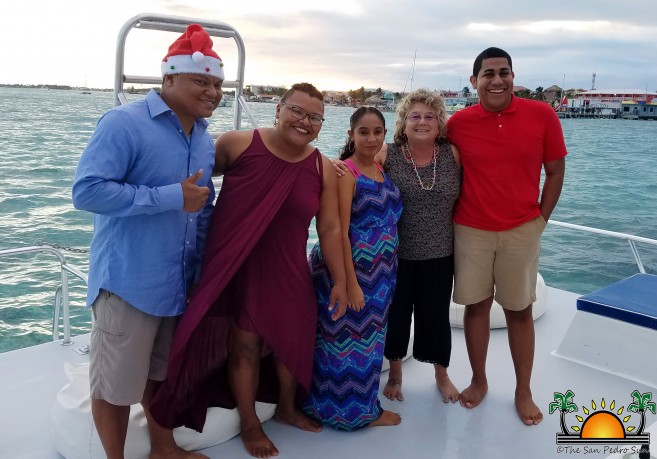 Tamara – 2017 has been a bittersweet year. From painful stories to ones full of hope, we've been on an emotional roller coaster the last 365 days! One thing is for certain, regardless of the highs and lows, as a community we are always there for each other, showing lots of love and support! As the island newspaper, we also appreciate the love and support we get from those who advertise with us and applaud our efforts to report without bias or prejudice. We thank you from the bottom of our hearts and wish you all a happy, healthy and prosperous 2018.
Mary – I write this as we put the final pages of The San Pedro Sun for 2017 to bed, and I'd like to thank everyone who has been instrumental in aiding us to provide news and travel content for the past 49 weeks.
While I know that Christmas is a time for celebration and good cheer, I also acknowledge that for some, that's not the case. Therefore, this season, I ask that we all work together in sharing a little kindness with each other. We never know what the other is going through, but we can certainly shine a smile or a little happiness with them.
Let us all continue in that trend of caring and kindness into the New Year, and here's hoping 2018 is a prosperous one for all. Merry Christmas and Happy New Year to you all!
Janelle – As this year comes to an end, we take the time to wish all a special season greeting. May the Holiday season fill your home with joy, your heart with love, and your life with laughter. This is a time to spend with family and friends, a time to enjoy all the blessings life has to offer.
As we look forward to 2018, let us reflect on our daily lives and strive to make it better. Let us usher in the New Year with up hearts and offer kindness onto each other and hope for a better place for all to live in. It is my wish for all us Belizeans to continue developing our country, our industries and our youth soundly in 2018.
To end, I would like to thank everyone who has made 2017 a memorable one for me. It's been a fun year and looking forward to a more exciting one to come. Merry Christmas and a prosperous New Year!
Dion – During this holiday season, I want to wish all our beloved friends and loyal readers all the best as together they celebrate the festive holidays with their families. Another year has come and gone and again it is time to reflect on all those special moments we had in 2017. Now is the time to plant all those good thoughts, so we can reap prosperity and happiness in 2018.
I want to wish all our beautiful Belizean people that love our Jewel as much as I do a blessed Merry Christmas and a prosperous New Year!
To all my beloved friends and loved ones, thank you for all your support in my endeavours. I can't wait to share with you all, the many adventures I am planning to engage in during 2018.
God bless Belize and may God bless you all!
Hamerlin – As we reach the end of another year, I just want wish everyone a Merry Christmas and Happy New Year. Let's forget about all the obstacles that we encountered during the year, as this is the time to share love, kindness, and happiness with everyone.
Let's welcome the New Year with positive minds, a smile and a clean heart as we strive to become a better person in the upcoming year and make positive impacts in our societies for a better world.
Follow The San Pedro Sun News on Twitter, become a fan on Facebook. Stay updated via RSS