20,000 Strong Women Rally brings together thousands of Belizean women
Thursday, March 22nd, 2018
The Special Envoy for Families and Children along with other related organizations held the Annual 20,000 Strong Women Rally under the theme: "Nurturing the Next Generation #press for progress" in Belize City on Friday, March 16th. The 20,000 Strong movement serves as a way to showcase the many roles that women play in society and a reminder that 50% of the population cannot be ignored.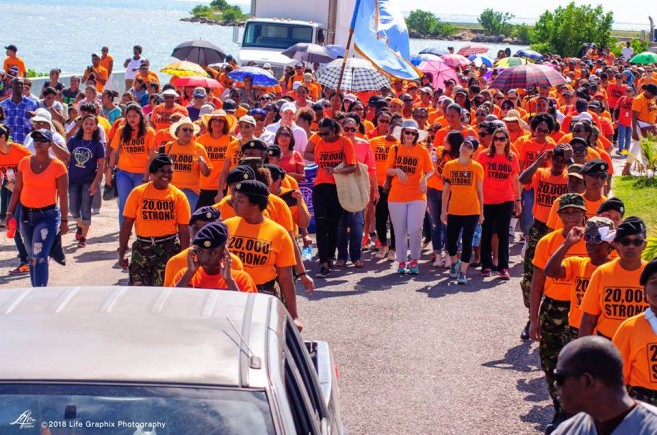 The rally started in the morning from the Memorial Park in Belize City to the Marion Jones Sporting Complex where a ceremony was held. Led by marching bands, the parade consisted of students, representatives of different organization and businesses sporting the movement's symbolic orange t-shirt.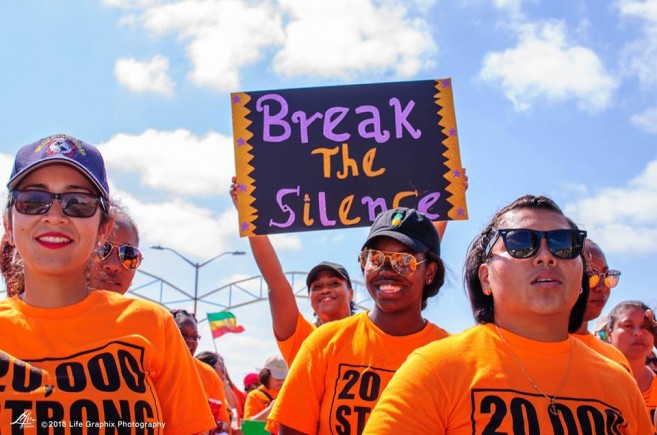 While on the route, Kim Simplis Barrow shared a couple words with the media on the importance of the event and the meaning of this year's theme. "'Press for Progress' means a lot and it is not just one directional. It means to press for progress in all different directions, to end violence and even increase equality for women in partnership. The message is so profound and so timely especially at this time when we are experiencing so much violence in our country, especially against our children. It is very concerning and so we definitely want to continue pressing for progress. There is so much more that we can do," said Barrow. She further shared the importance of including males in these types of women empowerment movements. "We certainly need to get them in the conversation and that is one of the reasons why we included them in the agenda this year. We recognize that we have to move forward together and we can't leave our men on the sidelines, either. So, there will be a lot more engagement with our men and they speak today on all the issues that are affecting them and how they can lead the way to gender parity."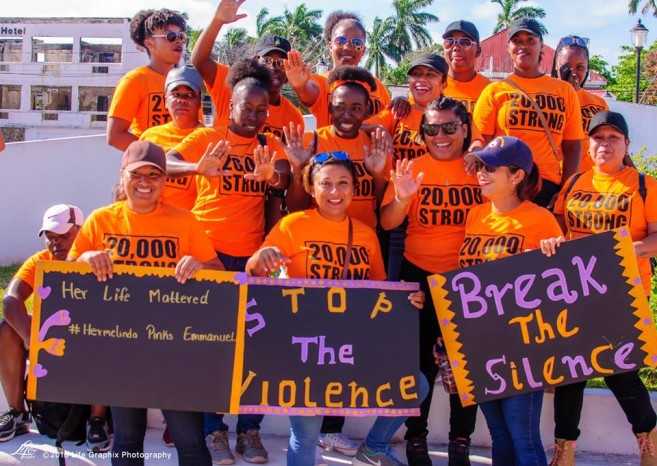 Minister of State, Trade and Commerce, Honorable Tracy Taegar-Panton was part of the 20,000 Women Strong Rally. "I think it is important not only to advocate for women's issues but also to celebrate women. We do a lot for our Belizean society and it is important to take time to reflect, come together and celebrate all we have done and look forward to resolving those issues that still affect us today," said Panton.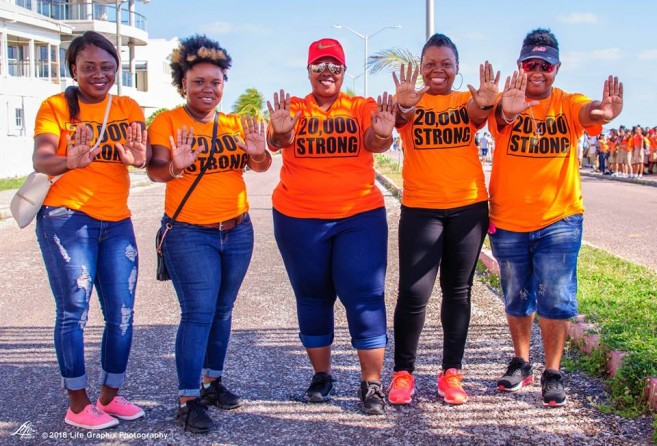 Once at the sporting facility, attendees were addressed by nine dynamic speakers, including Attorney Lisa Shoman, Kristlyn Tillet from Corozal Community College, and Kim Simplis Barrow among others. Each speaker focused on empowering women as well as talking about the recent violence that has claimed the life of several women and children in the country.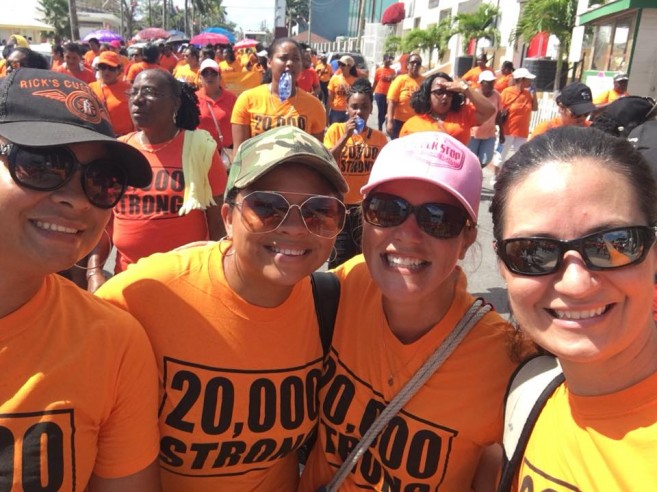 A resident of San Pedro Town and Hope Haven Center Founder, Brittney O'Daniel was among the thousands of women that attended the rally. "We are proud to have been a part of the 20,000 Strong movement and look forward to attending and supporting the cause on an annual basis. We at Hope Haven believe that the present day dilemmas that women face with the lack of gender parity are an issue that needs to be addressed. Given the nature of our organization's vision and mission, we have committed to providing the necessary tools and support for women to empower themselves as distinctive members of the Belize community. Events like the 20,000 Strong Women's March are great calls to action and awareness about the disparity issues that we, as women face and align with our vision as a whole," said O' Daniel.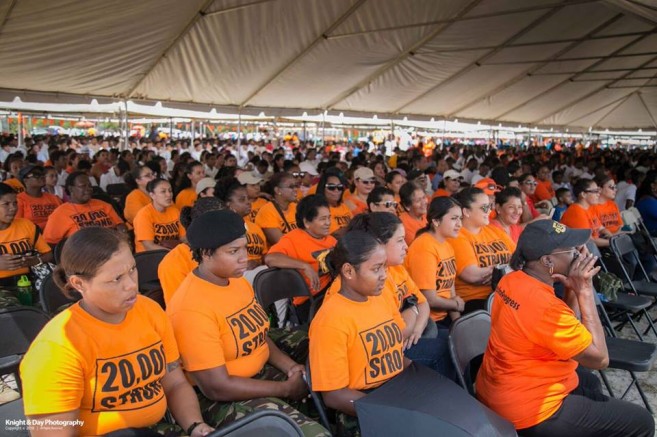 The Special Envoy for Families and Children thanks, everyone that contributed to the success of women's empowerment rally. They would also like to encourage everyone to continue to #PressforProgress for the well-being and safety of Belizean women and girls. Special thanks goes out to the other partner organizations including: UNICEF Belize, U.S. Embassy in Belize, The National Women's Commission, Belize Police Department, Belize Coast Guard, National Committee for Families and Children (NCFC) Belize Ministry of Health, Belize Ministry of Education, Youth, Sports and Culture and Oceana Belize.
Follow The San Pedro Sun News on Twitter, become a fan on Facebook. Stay updated via RSS