Robert Mariano, new Commander of the Eastern Division North, visits San Pedro
Friday, April 6th, 2018
The new Commander in charge of overseeing the Eastern Division North (Northside Belize City and the cayes), Assistant Commissioner of Police, Robert Mariano visited San Pedro Town on Wednesday, April 3rd, where he met with members of the San Pedro Police Formation. Mariano discussed with San Pedro Police a plan of action to deter criminal activity on the island. At the end of the session, Mariano, along with Officer in Charge of the Coastal Executive Unit, Superintendent Henry Jemmott, presented awards to three police officers for their outstanding work during the past three months.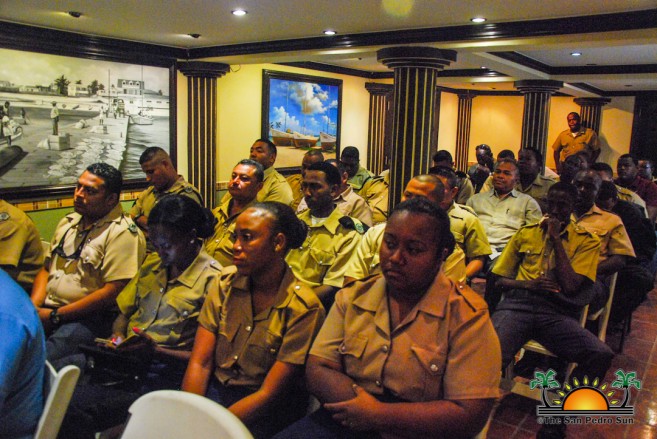 Mariano took over the responsibility of the Eastern Division North on March 16th of this year from Assistant Commissioner of Police, Dezerie Philips. During the meeting held at The San Pedro Town Council Conference Room Mariano emphasized the importance of adopting good morals in order to serve the community. Officers should be professional when addressing people and act in good conduct to yield cooperation amongst citizens. He made it clear that he has zero tolerance for corruption, and he seeks to better the police's public image. Mariano also indicated that they have a timeframe of three months to show improvement when it comes tackling the spike in crime. "Because of the crime situation, we do not have much room at all as the Belizean public is expecting the police to do something," said Mariano. "I will be working with my officers and the public to reduce crime," Mariano stated that after three months, he will be making a report on the performance of his strategies to keep the Eastern Division North safe from escalating crime. He ended by encouraging the police officers to continue working hard and to be part of the solution when it comes to addressing the many issues plaguing Ambergris Caye.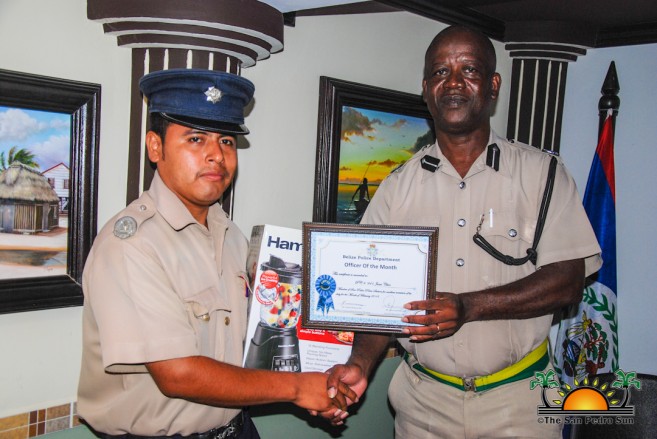 Jemmott also spoke to the officers about the challenges the island poses for the law enforcers, but that with a well-prepared plan and discipline, the job can be done. "We have been working hard and getting some of the key players of crime off the streets and are still working on getting the others," said Jemmott. He asked the police force on the island to focus on their job. He also commended them for their job during the Easter weekend, which went smoothly with no major incidents.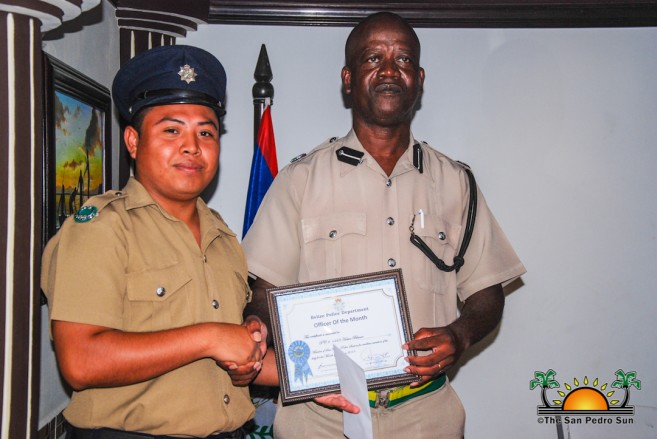 Immediately after the presentations, three officers of the San Pedro Formation were awarded for their outstanding work for the past three months. PC Hector Blanco, PC Juan Chuc, and PC Tyron Hemsley all took turns to step forward to receive their award certificates.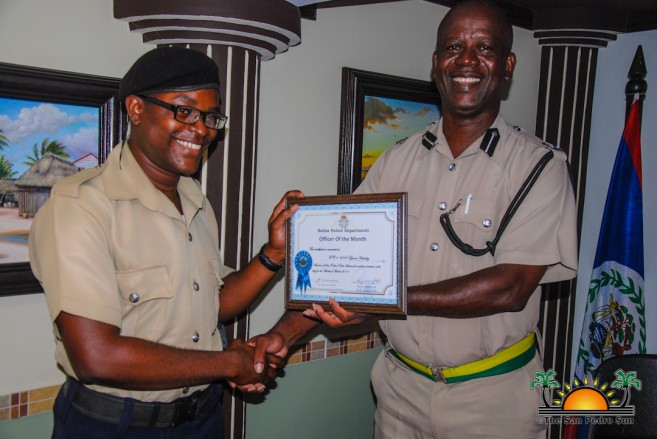 The San Pedro Police Formation looks forward to having a closer relationship with the community and encourages residents to report any illicit activity to the police. They believe that all crime issues on the island can be solved and contained if everyone works together as a team.
Follow The San Pedro Sun News on Twitter, become a fan on Facebook. Stay updated via RSS