Casimiro gets minimal fine in brutal assault case; Belizeans outraged
Tuesday, April 3rd, 2018
There are much concern and outrage following the quick release of 40-year-old San Pedro Divemaster Russell Casimiro, who pled guilty to beating his American ex-girlfriend, Carrie Tripodi. Casimiro was only charged with Wounding, placed on probation and fined $1,000, to be paid by the end of May. The extent of the abuse has prompted Tripodi to seek further legal action to have additional charges laid on Casimiro, including that of burglary since he is alleged to have forced his way into her home. Tripodi had initially only been granted a three-month restraining order against Casimiro, but that order has since been extended to two years.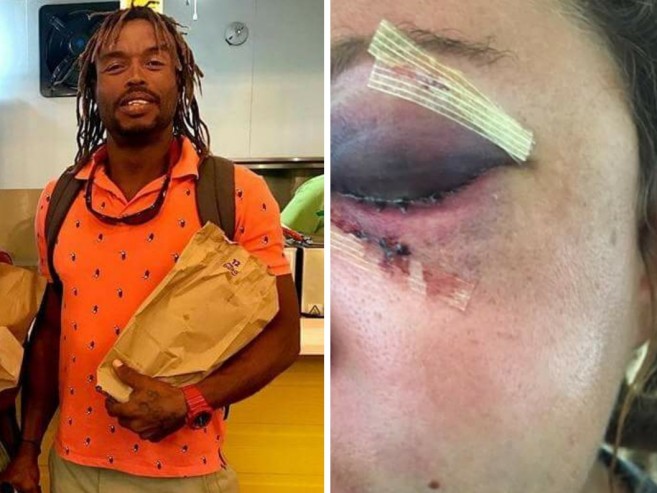 The incident in question took place just after midnight on Monday, April 2nd, and was first made public via a Facebook post that shared images and details of the attack. According to the online post, Casimiro broke into Tripodi's apartment while she was asleep and savagely beat her, badly damaging one of her eyes. The official police report states that Casimiro's ex-girlfriend told police that at about 12:15AM, she was getting ready to go to bed, when she heard a knock on her door and Casimiro said, 'Open your door; I know you are in there.' The report continues, stating that she refused to open the door for him, and as a result, Casimiro scaled up the side of the house and onto the balcony and made entry into the house through a door that was unlocked. Casimiro apparently asked for his phone, and after she handed it to him, he proceeded to punch her in the face repeatedly, causing the injuries to her face.
Many residents are questioning why he was released after a minimal fine, instead of being punished for his offense, which they believe includes burglary, since he apparently broke into Tripodi's apartment. An appeal to charge Casimiro with burglary was sent to the office of the Director of Public Prosecutions (DPP) on Wednesday, April 4th. The petition made by one of the victim's close friends describes the horrific incident and points out that Casimiro had never lived in the apartment with Tripodi. The letter also indicates that besides wounding, charges of burglary were requested in the police report, as well as a restraining order against Casimiro. The letter of appeal further states that during the court hearing, in which Casimiro was fined and released on probation, the victim and a close friend were seated outside the courtroom waiting to give evidence, but were never called in to do so. Additionally, the victim was not permitted to speak to the court regarding the attack and Magistrate Janelle Villanueva did not even see the victim until after she delivered the sentence. Magistrate Villanueva later stated that because she was unaware of the severity of the wounds, she released Casimiro on probation and did not look at his past police record.
The appeal note further states that the Magistrate admitted not knowing the true extent of the severity of Tripodi's injuries because police claimed to have lost the medico-legal form. Even though police have not confirmed, it is alleged that Casimiro is a fourth-time offender, and had previously served time at the Belize Central Prison for domestic violence.
A protective order hearing took place on Wednesday, April 4th and Tripdi hopes that the Magistrate's notes reflect Casimiro's admittance to scaling the wall and breaking into her home. Casimiro was not charged with burglary, even though it was specifically requested by the victim. The owner of the property where the incident happened also filed a report requesting burglary charges, but none were filed. Allegations are that the police officer taking the report, PC James Young, is related to Casimiro, who also claims that his uncle is the Minister of Human Development, Social Transformation and Poverty Alleviation, Honourable Anthony 'Boots' Martinez.
Furthermore, Casimiro is alleged to have been working as a dive -master without a valid tour guide license since 2015. A perusal of the 2017 licensed tour guides list on the Belize Tourism Board website, does not show Casimiro as a member.
Tripod will have to undergo months of recovery, as she continues to experience swelling in her eye, which has been infected. She also has a contusion on her cheek, which makes it difficult to eat or talk. She is presently feeling threatened as Casimiro is furious that charges were pressed against him. The note of appeal ends by condemning Casimiro's punishment which is believed to send a message to all men that if they have $1,000, they can repeatedly abuse any woman and get away with the crime.
As the incident was widely publicized online, it caught the attention of prominent Belizean attorneys who weighed in on the matter. Audrey Matura-Shepherd, attorney-at-law, an outspoken advocate for Belizeans referenced the Criminal Code Chapter 101 of the Laws of Belize Section 80 which states "Every person who intentionally and unlawfully causes a wound to a person shall be liable to imprisonment for two years." Upon learning of the allegations that Casimiro was not a first-time offender, she pointed out the fact that the Section does not make provision for a fine nor probation for repeat offenders.
Former Senator Lisa Shoman, Attorney-at-law, also weighed in on the matter, stating that her action agenda titled 'Manifesto for Linda' seeks to enact change and bring justice for all who face domestic violence, sexual assaults, human trafficking, sexual harassment and all forms of gender-based violence. Shoman was called to act after the brutal murder of Hermelina 'Linda' Pinks Emmanuel at the hands of her husband. The manifesto seeks to make practical short, medium and long-term changes so that incidents such as these do not go ignored.
"All Belizeans know that [domestic violence] exists but we tend to ignore," she says. "Too few of us want to get involved for fear that both parties involved will retaliate, and that the abused victim will simply forgive her abuser and that nothing will really change." Shoman states that her work to push 'Manifesto for Linda' is also for Carrie Tripodi.
Follow The San Pedro Sun News on Twitter, become a fan on Facebook. Stay updated via RSS