Rotaract Club of Ambergris Caye is officially launched
Wednesday, May 30th, 2018
A dynamic new club of volunteers was formed on Saturday, May 26th, when 16 young islanders were acknowledged as the charter members of the Rotaract Club of Ambergris Caye. The special event took place on the beach at Banyan Bay Suites, where the president of the Rotary Club of Ambergris, Andrew Ashcroft along with Rotaract Advisor Kate Corrigan pinned the new club members.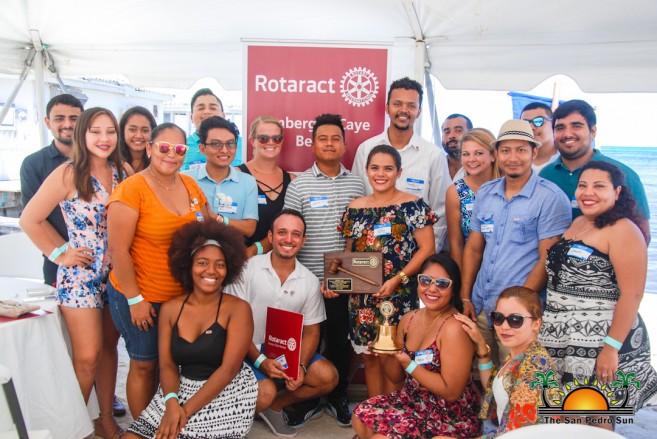 The new island club is ninth in the country, and the newly inducted members have joined the 150 club members countrywide. Witnessing the historic event were Rotaract members from Belize City, Corozal Town, and San Ignacio Town. President Ashcroft started the induction ceremony with a few remarks. He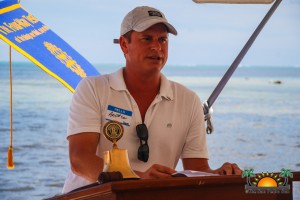 stated that being a Rotaract is one of the best ways to give back to the community. "Through meetings, social events and volunteer programs members can learn about issues affecting their community and others around the world," said Ashcroft. "Partnering with local, national and global experts to exchange ideas about potential solutions and turn action plans into response. Along with these opportunities served, members also get to network, forming lifelong partnerships and friendships." Ashcroft also shared some of the accomplishments the Rotary Club has experienced on the island since it was chartered two years ago. He spoke of the enhancement of the services and resources at the Dr. Otto Rodriguez San Pedro Polyclinic II, the mock interview program involving secondary and tertiary level students, their participation in trash pickups, blood drives and assisting the San Pedro Food Bank as well. However, he was proud of what he feels is their biggest achievement of the year: the formation of the Rotaract Club. He commended each member for their devotion to serving the community.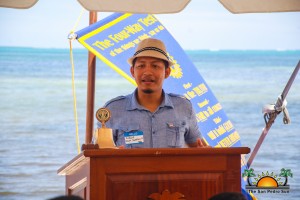 Also at the event was the Rotaract Belize country representative, Richard Herbert. He said he was honored to witness the chartering of the San Pedro club. "When I first joined there were only like four or five clubs in the country, and now being here to see a ninth one being inducted is a true honor, and I am proud to see them grow," said Herbert. "Being a Rotaract is about what is inside your heart, your passion, and different relationships that we build. It is about us growing not just as individuals but as a movement countrywide."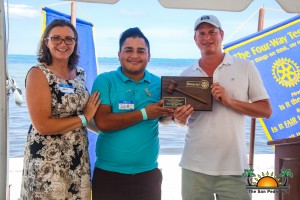 Following those remarks, each one of the chartered members was officially pinned, and Job Mendizabal was named the president of the island's Rotaract Club. Mendizabal stated that it has been a long process in successfully starting the club, but he hopes it will make a big difference in San Pedro Town. "Being on an island we have far greater opportunities as a niche of many young individuals that want to reach out to the community," said Mendizabal. "My focus is professional development and teaching good values to our members. With the professional development committee and community service committee that we have, we look forward to work hand in hand and be able to make good projects and professional development sessions." Mendizabal also mentioned that the club is on to a good start after one of its members was able to secure a donation of $3,000 at a silent auction, which
will be used for an environmental campaign addressing the garbage issue on the island.
The other members of the club include: Kyle Vasquez – Vice President, Betsy Rosenlund – Secretary, Imer Cordova – Treasurer, Yakarelis Hernandez – Club Service, Antonio Soliz – Community Service, Rachel Jensen – Professional Development, Kaysha Martinez, Francis Mar, Odalie Duran, Jessie Sosa, Justin Solis, Katherine Hernandez, Gian Rivero, Alice Corrigan, and Litsy Castillo.
Rotaract Clubs bring together people of ages 18-30 to exchange ideas with leaders in the community, develop leadership and professional skills, and have fun through service. In communities worldwide, Rotary and Rotaract members work side by side to take action through service.
Organizers of the event thank everyone who in one way or another contributed to the success of the ceremony. Special acknowledgement goes out to the visiting Rotaract Clubs, and the Rotary Club of Ambergris Caye, Andrew Ashcroft, Banyan Bay Suites, Pier 366 Seafood House, Mermaid Supermarket, Central Park Convenience Store, C&S golf cart rental, LC Distributors, Wine de Vine, The Gallery, Grand Colony Villas Caribbean Villas Hotel, Wayo's Bar and Grill, Keller Williams Front Street San Pedro Belize, and Exotic Caye Beach Resort.
Follow The San Pedro Sun News on Twitter, become a fan on Facebook. Stay updated via RSS