Murlene 'Mel' Spain re-elected as President of San Pedro's Lions Club
Thursday, November 14th, 2019
During the San Pedro Lions Club 44th anniversary celebration on Saturday, November 9th, Murlene 'Mel' Spain was re-elected as President. Hosted at the Lions Den on Barrier Reef Drive on San Pedro Town, the event saw a reshuffling in the club's Board of Directors, who were officiated in front of invited guests from the island and mainland. The annual event also included refreshments for the attendees and live music with the island's number one band, Rompe Raja!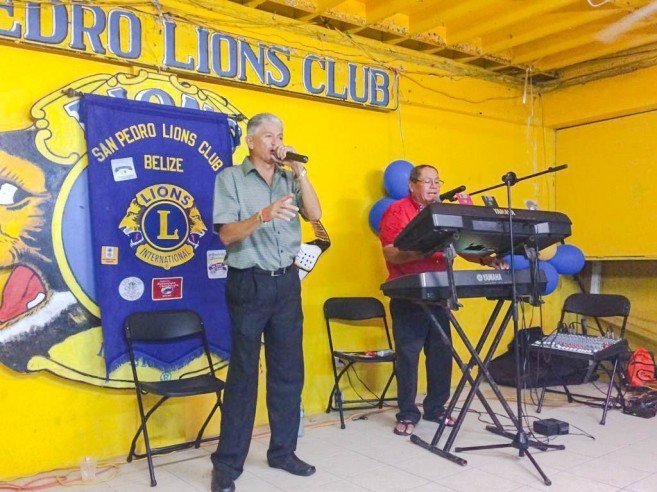 The formal activities began shortly after 8PM with the singing of the National Anthem. Afterwards, a few speeches were delivered exalting the contribution of the Club in the community. The Club is recognized for being an advocate for the health sector on the island. They have contributed greatly via the Dr. Otto Rodriguez San Pedro Polyclinic II, from its foundation to continusly working hand in hand with generous donors that continue to assist the island's main medical facility. The San Pedro Lions Club is also known for hosting medical brigades every year, offering free services to all island residents. They are part of the creation/facilitation of the Hope Haven Children's Home. An island institution that tends to the community's vulnerable groups and provides adequate assistance to victimized children and women.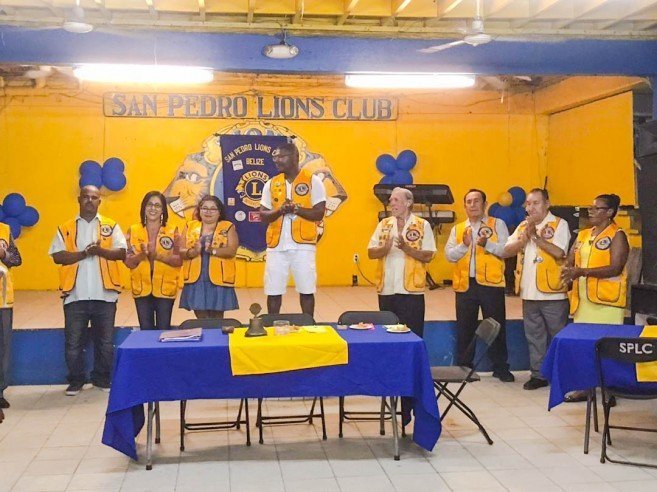 As the Club's efforts in the community were applauded, Belize Zone 59 Chairman Moises Cal further commended the organization for their continued work on San Pedro. Immediately after, a new board was installed. Spain was re-elected as President, and Everette Anderson as Vice-President. Abel Guerrero is the Treasurer, Baldemar Graniel and Francisco Graniel are the Club's directors/directors, Pamela Zetina was sworn in as Secretary and Yvette Martin will be in charge of Membership. President Spain stated that things in the Club have been a bit bumpy for the past year, but that thanks to committed members, they continue to thrive. "Lions are now not only focusing on vision, but we also have hunger, environment, child cancer, and diabetes," said Spain. "We have a lot of work ahead of us and we are willing to work towards our goals and with the help or our families, friends and the community, we can accomplish them." Spain thanked everyone that has been very supportive towards the Club, in particular the business community.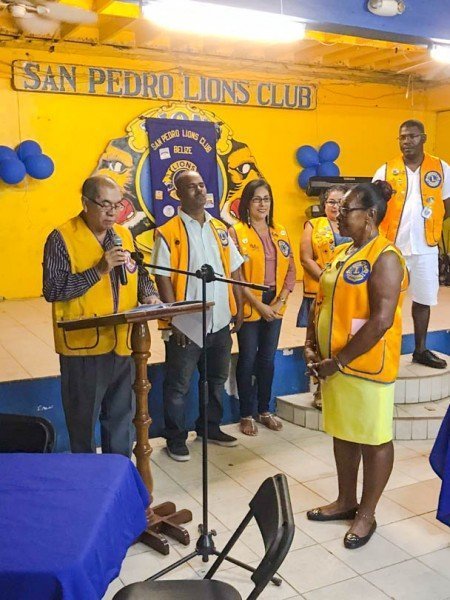 Following the formalities of the event, everyone was invited to enjoy the rest of the evening. There was plenty to eat and drink, and Rompe Raja serenaded the evening as the celebration began.
Follow The San Pedro Sun News on Twitter, become a fan on Facebook. Stay updated via RSS