MOH addresses allegations of forged internship documents signed off to foreign medical students for cash
Friday, November 15th, 2019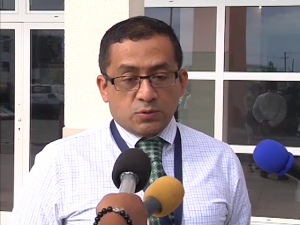 An investigation taking place at the University of Otago in New Zealand named Belize as one country where medical students studying there from New Zealand falsified their work placement records. According to an online article, the students of that country allegedly received their elective paperwork signed-off for cash and chose specific medical centres around Belize, one of them being in San Pedro Town. The Ministry of Health (MOH) in Belize defended itself, stating that they dealt with the issue immediately when they learned about it 2016. The other locations where these students went included San Ignacio and Belmopan.
According to the report published in www.stuff.co.nz, a New Zealand news website, the students falsified documents, even paid as much as US$200 to have documents falsified so they could go traveling instead of completing placements at hospitals overseas. In New Zealand, clinical placements are compulsory, and many medical students choose to do them abroad, gaining valuable experience while giving back to their host countries. Apparently, this was not the case in Belize, as students allegedly paid for their false documents, which included faked operating theatre photos.
In Belize, the Director of Health Services at the MOH, Dr. Marvin Manzanero, indicated that the first time he was made aware of the issue was in 2016. "I can't recall if it was students from Australia or New Zealand that had come to my desk asking me to sign a letter stating that they had concluded an internship in Belize," he said. "I wasn't sure what that was about, and I couldn't sign anything because my desk was not fully aware." Manzanero stated that San Ignacio Town, Belmopan City and San Pedro were the areas where these students went; however, he did not discuss if anyone was held liable for falsifying documents. Manzanero further added that since 2016, they have not accepted medical students to conduct their electives in the country until there is a proper structure in place in Belize's public health system.
Medical interns in San Pedro
Medical students not only come from New Zealand and Australia but from Germany and the United Kingdom (UK) as well. In 2012, six medical students from the UK universities conducted a two-week elective program at the Dr. Otto Rodriguez San Pedro Polyclinic II. The students came through the Medics Away program, an international organization offering highly rewarding overseas experiences for medical students and professionals.
Based on information published in 2012, during their time on the island, the students had the chance to sit in with doctors to get familiar with the Belize health system. They experienced emergencies, tended to patients in the outpatient setting, and in the maternal child health ward, which includes pre-natal care and the immunization program. Through the Medics Away program, there was a small donation of $50 per week per student that was given to the Polyclinic.
No irregularities were noted from this group of medical interns. The Polyclinic reportedly continued receiving interns, but it is unknown if any of the cases regarding fake documentation involved medical students coming to San Pedro.
Follow The San Pedro Sun News on Twitter, become a fan on Facebook. Stay updated via RSS