Belize hosts first-ever National Children's Parliament
Friday, November 22nd, 2019
To commemorate International Children's Day and the 30th anniversary of Belize signing on to the United Nation's Convention on the Rights of a Child (CRC), the first-ever Children's Parliament was held at the National Assembly Building in Belmopan City on Wednesday, November 20th. The National Children's Parliament sought to respond to two rights, Right #12 which covers children's right to give their opinion, be heard and for adults to listen, and Right #13, which covers the right of a child to participate, find out information on matters relating to them and share their opinions in the most productive means available to them. Thus, the parliament was held to establish a safe space at the highest level for children to share their views and positions on key development issues and matters of governance.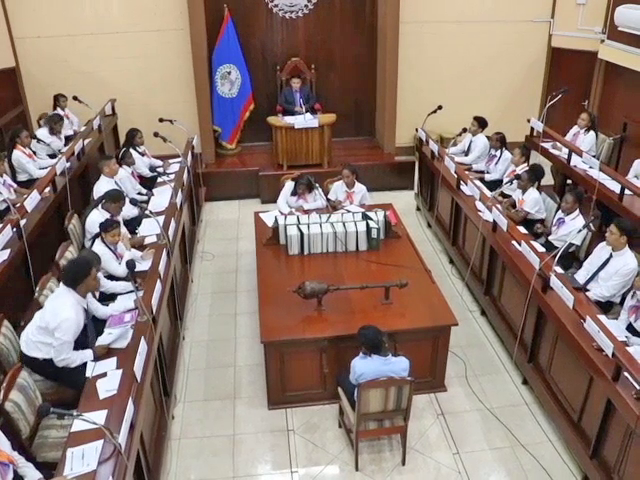 The chambers of the National Assembly, which are normally filled with elected officials from both leading political parties, the United Democratic Party (UDP) and the People's United Party (PUP) were this time filled with young Belizeans. The Children's Parliament saw the committed participation of 31 outstanding students from across the country, representing all 31 constituencies. Like a regular sitting of the House of Representatives, House orders were followed accordingly. With maturity and respect, the young Belizeans dіѕсuѕѕеd а wіdе rаngе оf іѕѕuеѕ аffесtіng сhіldrеn, іnсludіng hеаlthсаrе (mеntаl hеаlth, dіvеrѕе аbіlіtіеѕ), ѕаfеtу (сrіmе, ѕехuаl аbuѕе, роlісе аbuѕе), еduсаtіоn (аffоrdаbіlіtу аnd ассеѕѕіbіlіtу) аnd fіnаnсіаl lіtеrасу. Sitting in the Prime Minister's seat was Alexandria Fermin, who represented Queen Square and introduced the day's motion. Among the 31 young Belizean leaders was San Pedro's very own Ninel Pacheco, who is known on the island for her community involvement and youth advocacy.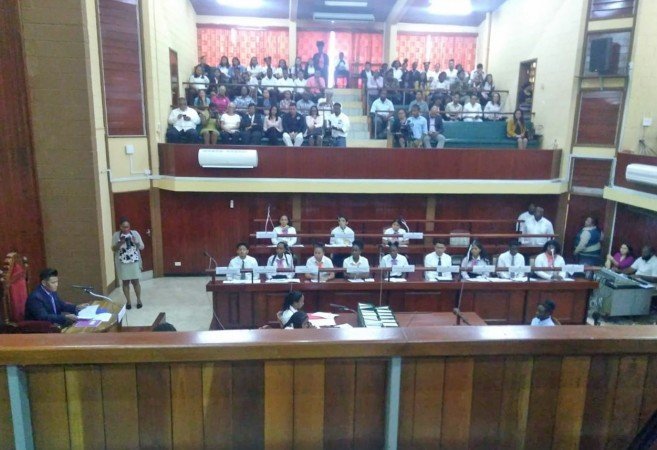 The goal of Universal Children's Day is to improve child welfare worldwide, promote and celebrate children's rights, and promote togetherness and awareness amongst all children. Initially launched in 1954, Universal Children's Day has seen some milestone events in the field of child welfare. It marks the anniversary of the dates when the UN General assembly adopted both the declaration and convention of children's rights. The convention sets out several children's rights, such as the rights to be protected from violence and discrimination and the rights to life, health, and education.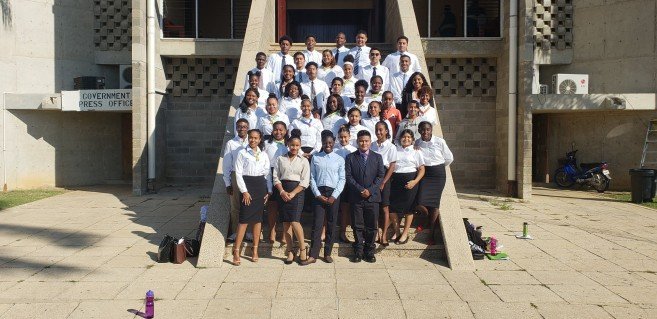 Belize's hopes to continue giving young people a voice to express issues that are affecting them. Remember, the protection of our children is everyone's responsibility, so let work together to make a better, safer, and healthier Belize for them. The San Pedro Sun wishes all our children a Happy Universal Children's Day and Month!
Follow The San Pedro Sun News on Twitter, become a fan on Facebook. Stay updated via RSS