Ministry of National Security and Public Utilities Commission Launch Cybersecurity Strategy
Friday, November 6th, 2020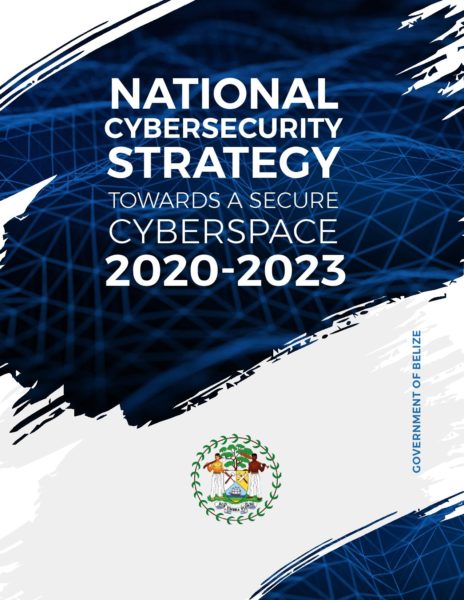 The Ministry of National Security in collaboration with the Public Utilities Commission launched Belize's first National Cybersecurity Strategy 2020-2023 on November 5, 2020.
The development of this Strategy was guided by the OAS-CICTE, and coordinated by the National Security Council Secretariat, the Public Utilities Commission, Central Information Technology Office, the Attorney General's Ministry and an Inter-institutional Cybersecurity Task Force. The overall objective of this Strategy is to take a public-private partner approach to foster an open and trusted digital environment in Belize, which would enable innovation, economic development, and social inclusion.
The three pillars of the Strategy include:
Developing a Legislative Framework;
Strengthening Incidence Response and Protection of Critical Infrastructure; and
Building Capacity within the Workplace, Education and Public Awareness.
Since the Strategy development process began in 2018, the Cybersecurity Task Force has simultaneously been working to achieve priority components of the pillars outlined above such as drafting the Cybercrime Bill 2020, conducting stakeholder consultations, and participating in capacity-building initiatives for Criminal Justice personnel and technical staff in the public and private sectors. Most recently, the Ministry of National Security in collaboration with GetSafeOnline.org UK, launched the GetSafeOnline Ambassadors Scheme, which will facilitate training for 30 Belizeans to be able to contribute to cybersecurity public awareness in their local communities.
The Ministry of National Security and the Public Utilities Commission express deepest gratitude to the UK Government for providing funding for the development of the Strategy, the OAS-CICTE and the members of the Cybersecurity Task Force.
Digital copies of the National Cybersecurity Strategy 2020-2023 can be found on the following webpages:
Ministry of National Security – www.mns.gov.bz,
Belize Crime Observatory – www.bco.gov.bz
Government of Belize Press Office – www.pressoffice.gov.bz.
Ends
WATCH VIDEO: https://youtu.be/187fpboF4k8
Follow The San Pedro Sun News on Twitter, become a fan on Facebook. Stay updated via RSS