Site visit by PAHO/WHO and the British High Commission in the San Ignacio Community Hospital
Sunday, March 21st, 2021
As part of the Smart Health Care Facilities in the Caribbean Project, PAHO/WHO Belize and the British High Commissioner, Her Excellency, Claire Evans, visited the San Ignacio Community Hospital, one of five health facilities in Belize being retrofitted to become safer, greener, and more resilient to natural disasters and climate change.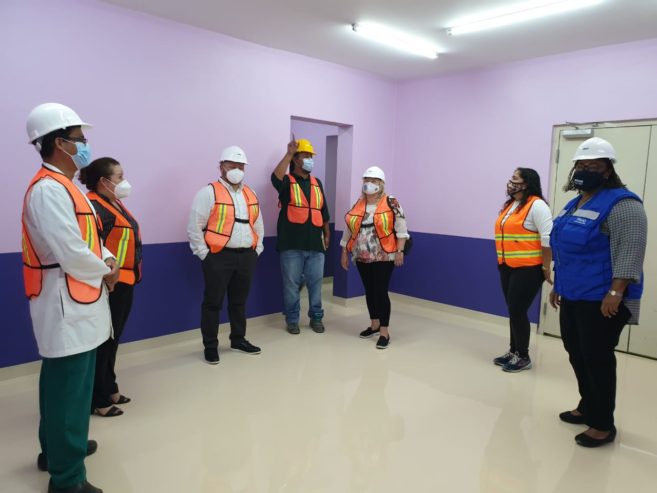 "Belize is one of the countries of the Caribbean region prone to a wide variety of natural hazards and high-risk to disasters," said Dr. Noreen Jack, PAHO/WHO Representative of Belize. "Therefore, it is crucial for the hospitals and health facilities to be able to deliver care and protect its staff and patients during these conditions. Through this partnership with the UK Government, we can strengthen structural aspects and generate operational savings in an environmentally friendly and resilient health facilities."
The £43.8m Strengthening Health Facilities in the Caribbean (Smart Hospital) project is currently implemented in 7 countries: Dominica, St. Lucia, Grenada, Saint Vincent and The Grenadines, Belize, Guyana and Jamaica. The project is funded by UKaid and implemented by PAHO/WHO in close collaboration with the Ministries of Health. Along with San Ignacio Community Hospital, the other health facilities to be retrofitted under this project includes Independence Polyclinic, Palm Center Nursing Home, Isabel Palma Polyclinic, and Cleopatra White Polyclinic. Matron Roberts Polyclinic was designed under this project though retrofit will be done by Ministry of Health and Wellness.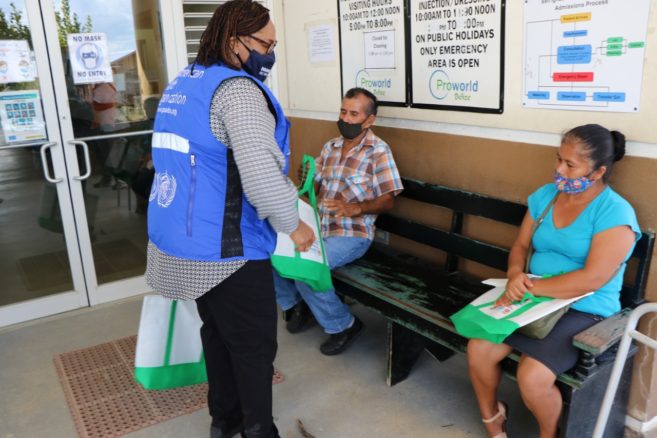 "I am delighted to be here and see for myself the progress of works at this critical health facility – one of five facilities selected for SMART retrofitting," said H.E. Claire Evans. "This project, funded by the UK, will be instrumental in supporting Belize's efforts to reduce disaster vulnerability of vital public buildings, boost its climate resilience while also generating operational savings. The UK is grateful for the partnership and support of PAHO and the Government of Belize. Our thanks to Minister Chebat for also joining us today."
The goal of the San Ignacio Community Hospital site visit was to understand the progress of the retrofitting works being carried to transform the hospital into a 'smart' facility. Current work being done with the assistance of Maheias United Ltd includes installation of solar panel and rainwater harvesting system, improvement of water storage, fire protection and sewer systems. The electrical system is also being upgraded to enable the hospital to be more energy efficient, and the HVAC system will be overhauled to improve air quality and thermal environment for both patients and medical staff.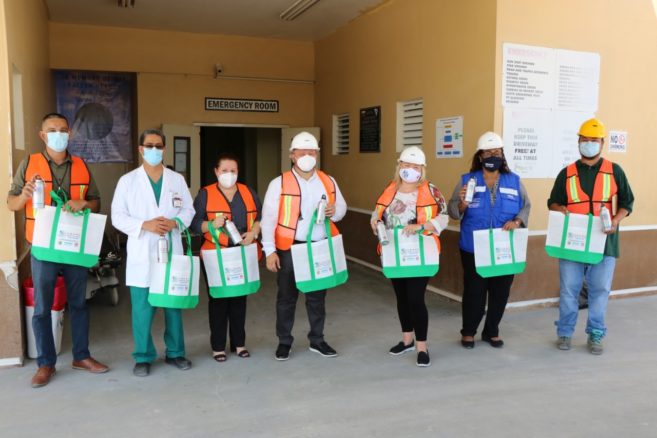 "The Government of Belize, its people, and the Ministry of Health & Wellness remain forever grateful to the UK Government for this assistance through the UKaid grant programme and to the PAHO/WHO team who have given technical support and oversight of the project implementation," said Hon. Michel Chebat, Minister of the Ministry of Health and Wellness. "It is a great honor to be a part of this transformation and for Belize to be one of the 7 Caribbean countries to benefit from this project."
The upgrade of the San Ignacio Community Hospital is expected to finish in July 2021.
Follow The San Pedro Sun News on Twitter, become a fan on Facebook. Stay updated via RSS