PAHO/WHO and the Government of Canada donate six High-Flow Nasal Cannula Systems and two Patient Monitors for COVID-19 response to the Karl Heusner Memorial Hospital
Monday, June 21st, 2021
As part of the country's ongoing COVID-19 response, the Pan American Health Organization/World Health Organization (PAHO/WHO) and the Government of Canada donated six (6) High-Flow Nasal Cannula (HFNC) systems and two (2) advanced Patient Monitors with carbon dioxide (CO2) and invasive blood pressure (IBP) monitoring, including accessories and consumables to the Karl Heusner Memorial Hospital (KHMH).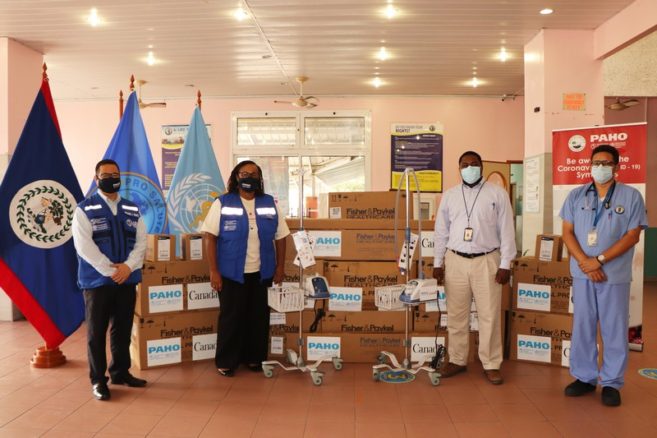 As the KHMH continues to be the national referral hospital for patients with COVID-19, the much-needed donated equipment will allow the critical care unit of the KHMH to save lives by providing timely and appropriate oxygen therapy support and continuous monitoring of persons with COVID-19. High-Flow Nasal Cannula (HFNC) Treatment is a non-invasive respiratory support therapy that delivers warm, humidified, oxygen-enriched air to patients, usually using a nasal tube called a cannula.  It will provide respiratory support for patients with acute hypoxemic respiratory failure and prevent subsequent intubation when used correctly to enhance patient comfort.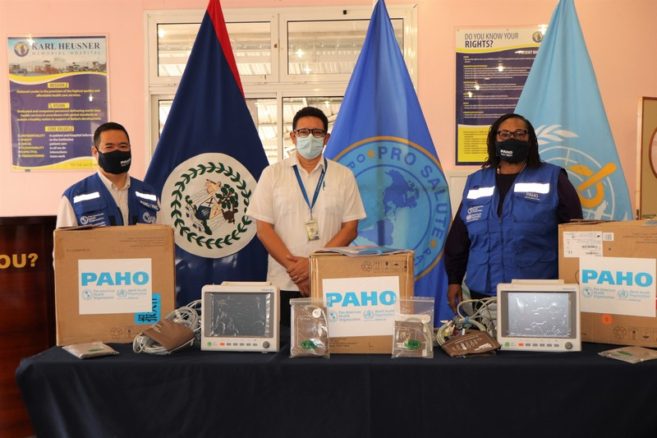 "One of the main objectives in managing COVID-19 is providing optimal care for all patients.  Part of case management is the close monitoring of the patient's oxygen levels so that oxygen therapy is immediately initiated among those suffering from hypoxemia or low blood oxygen levels," said Dr. Noreen Jack, PAHO/WHO Representative in Belize. "These High-Flow Nasal Cannula (HFNC) machines have been reported to be effective in improving oxygenation and avoiding intubation compared to other conventional oxygen devices."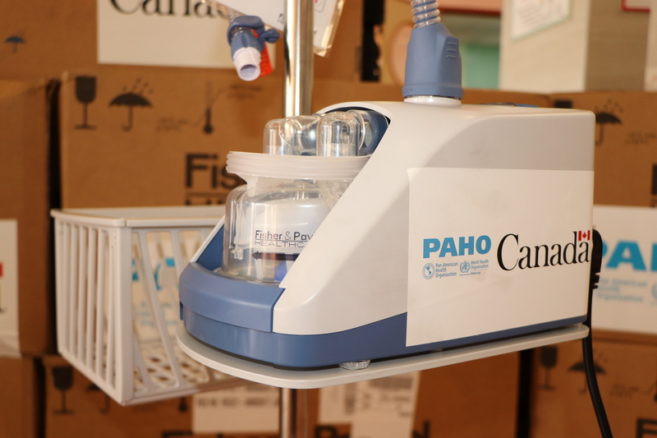 In thanking PAHO/WHO and the Canadian Government, Mr. Timothy Seguro, Acting Chief Executive Officer of the KHMH said, "the equipment which includes a range of appropriately sized nasal cannula is an important boost in our capacity to deliver high-flow oxygen therapy. Using this technology appropriately has the impact of delivering oxygen support to moderately ill patients and in many instances prevents the need for intubation and mechanical ventilation."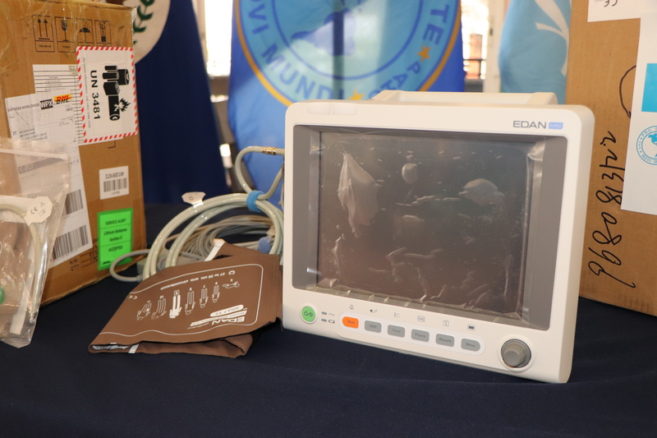 The donation of High-Flow Nasal Cannula machines came with installation, commissioning and training on the use of the equipment, a two-year warranty and accessories that include adult and pediatric patient interfaces, prongs and heated breathing circuits.
The two (2) advanced monitors could be transported with the patients and provide continuous essential measurements of patients' vital signs and CO2 levels.
"These two extra monitors will add to the previous ones that were donated to strengthen our critical care response," said Dr. Adrian Coye, Acting Director of Medical Services. "We are very pleased to have the ability to have this type of technology that will help us to refine how we treat our patients."
About PAHO/WHO
The Pan American Health Organization (PAHO) works with the countries of the Americas to improve the health and quality of life of its population. Founded in 1902, it is the world's oldest international public health agency. It serves as the Regional Office of WHO for the Americas and is the specialized health agency of the Inter-American system. For further information, please contact Pete Castillo, PAHO/WHO IT/Communications at [email protected] or Zenena Moguel, PAHO/WHO Communications Consultant at [email protected] or visit paho.org/en/belize.  
Follow The San Pedro Sun News on Twitter, become a fan on Facebook. Stay updated via RSS