Maya pot found in an underwater cave off northern Ambergris Caye
Wednesday, April 7th, 2021
In the Pre-Columbian times, Ambergris Caye was home to a Maya community. They are known for having made distinctive polished ceramics, which can sometimes be found in the least expected areas of Ambergris Caye. This was the experience of island businessman and cave diver Ben Popik and Quintana Roo-based cave diver Arielle Ginsberg, who on Monday, April 5th, found a beautiful, intact Maya pot in an underwater cave off the northern coast of the island.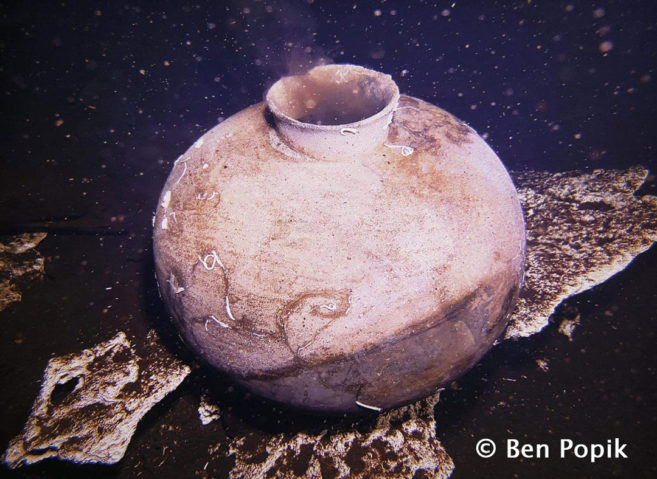 Popik told The San Pedro Sun that they explored some new underwater caves he found on the island's far north side. During this exploratory dive, he and his friend Ginsberg came across a buried pot under a mound of silt. Popik is pleased with the discovery. "I am excited about everyone's enthusiasm for the rich Maya heritage this amazing country has to offer," he said. He is heading back to the cave to do more diving and get more images. The pot was found at a depth of about 70 feet. Popik said he had contacted the National Institute of Culture and History (NICH) about the finding. The San Pedro Sun contacted NICH, but no one was available for comments.
Warning on cave diving
Cave diving is not the same as regular diving in open waters, and according to Popik, it requires much training to master it. The exact location of where the cave has not been made public to avoid anyone without proper cave diving training going on their own and get hurt or even drown in the process. Popik shared that diving into this cave involves swimming with no visibility, even using a strong flashlight.
Cave diving in Belize is not popular because of its dangers, and it is just a handful of cave divers visit the country each year. It is believed that most of Belize's underwater caves remain unexplored.
Follow The San Pedro Sun News on Twitter, become a fan on Facebook. Stay updated via RSS