San Pedro holds a wake in protest of Laddie Gillett's unjustified death
Thursday, July 22nd, 2021
Concerned Belizeans across the country are protesting and calling for justice after police corporal Kareem Martinez allegedly shot and killed 14-year-old Laddie Gillett. His life was cut short when the teenager and his family were visiting Placencia in southern Belize on July 14th.   Reports are that Gillett and some friends were running on the beach trying to beat the 10PM curfew when he was killed. The incident has sparked outrage among the Belizean public, and in San Pedro Town, Ambergris Caye Gillett was remembered with a pass-thru candlelight vigil.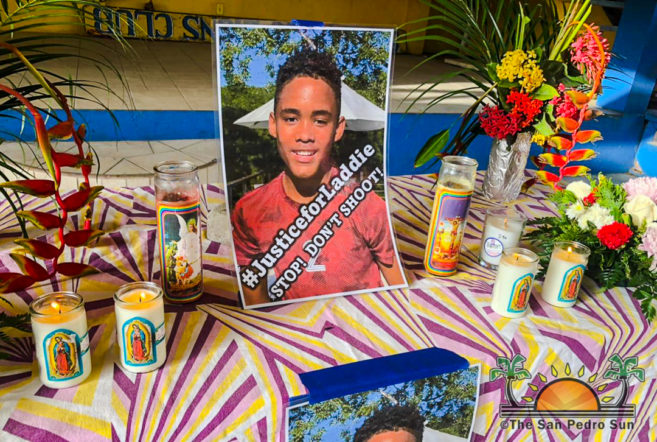 Under the hashtag #justiceforladdie the event was held on Wednesday, July 21st, at the San Pedro Lions Den from 3:30PM to 9PM. Several people that drove by blew their horns and stopped to leave a candle, a flower and pay respects to the life of the fallen youth who had a bright future ahead of him. A group of teenagers showed their solidarity with protestors across Belize, showing placards and calling on the authorities to punish the responsible officer.
What happened?
According to reports, Gillett and his family were staying at a beach resort in Placencia. On the day of his demise, he was at a neighboring property with friends. When it began getting late, near 10PM, they decided to head back to the hotel and started running on the beach. A security guard had called police, and upon arriving in the area, they began pursuing Gillett and his friends. Corporal Martinez reportedly took out his gun and fired a shot, fatally injuring Gillett.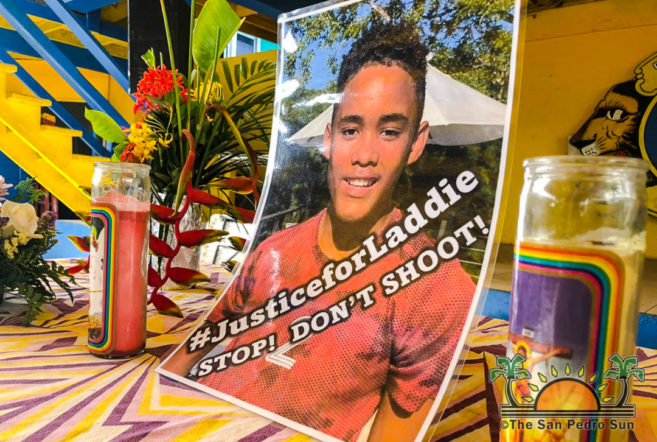 Police officer in questioned out on bail
The police officer accused of shooting Gillett was arrested and charged for Manslaughter. He was granted bail after being arraigned at the Belmopan Magistrate Court on July 16th and went home. Gillett's family and legal guardian Emil Bradley did not welcome the ruling of the court. They wanted justice, and Manslaughter was not considered a reasonable charge for the offense.
The medical certificate issued on Gillett's death revealed "a single perforating gunshot wound to the chest." This indicates that he was shot in the back, and the bullet exited through his chest. Angry protesters believe that Martinez should be charged for Murder and not Manslaughter. The Commissioner of Police Chester Williams weighed in on the matter and said that Manslaughter is the most substantial charge at this moment. He condemned the act and said it is unjustifiable as it goes against police protocol.
Protests have taken place in Belize City, Belmopan City, Placencia, and now San Pedro.
Follow The San Pedro Sun News on Twitter, become a fan on Facebook. Stay updated via RSS