Year in review; highlights from 2022
Sunday, January 1st, 2023
2022 was another eventful year for the country and San Pedro Town, Ambergris Caye. From the historic royal visit of members of the British Royal Family, the transition of COVID-19 regulations, the change of command at Region Four (Caye Caulker and Ambergris Caye) of the Police Department and the island's Fire Service, to the levels of crime and the progress of the San Pedro Town Council (SPTC). Here are highlights from 2022.
Royal Visit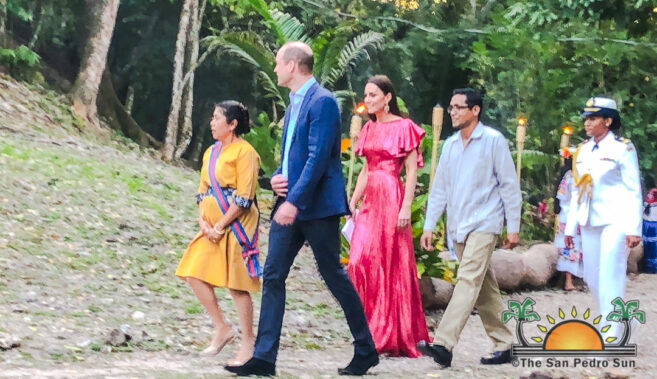 During the first three months of 2022, the Government of Belize made preparations for the royal visit of Prince William and his wife, Catherine Middleton, as part of the late Queen Elizabeth II Platinum Jubilee celebrations. The royal couple and its entourage touched down in Belize on March 19th for a three-day official visit. Prince William (Queen's grandson) and his wife paid a visit to Prime Minister Honourable Dr. John Briceno upon arrival and then headed to Hopkins, Stann Creek District in southern Belize. For the remainder of their stay, they visited a cacao farm near the Maya Center Village area. Then they attended a cultural event in Hopkins, where the Garifuna culture enlightened them. Their Royal Highnesses ended their visit to Belize with a visit to the Caracol Maya site, the British Army Training Support Unit Belize camp in the Cayo District. They were honored with cultural reception by Governor General Her Excellency Dame Froyla Tzalam at the Cahal Pech archeological site in San Ignacio Town, Cayo. The royals stated they enjoyed their stay in Belize and look forward to visiting in the future with their children. After Belize, Prince William and Kate traveled to Jamaica and The Bahamas.
COVID-19 regulations dropped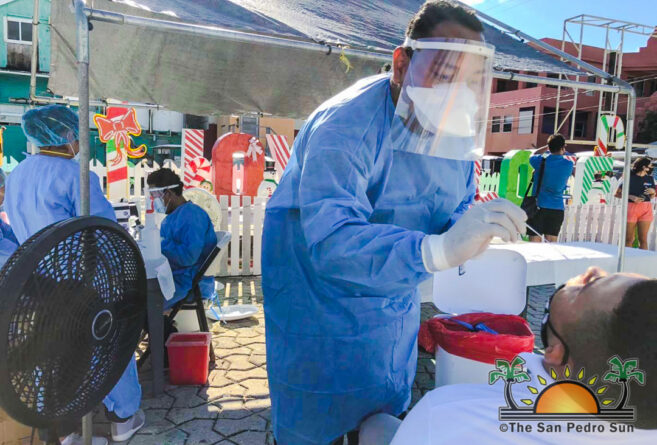 After experiencing the height of the COVID-19 pandemic, which killed over 600 Belizeans, the restrictions such as curfew started to ease with the introduction of the vaccine. On April 1st, the remaining COVID-19 restrictions within Belize were lifted by the Ministry of Health and Wellness. Regulations mandating face mask wearing and social distancing became a thing of the past, and activities such as concerts and large gatherings were again allowed. Nightclubs and bars were also allowed to operate. The only restrictions then were the requirement for visitors/tourists ages five and above to present proof of immunization or a negative COVID-19 test upon arrival. Belizeans planning to travel out of the country were required to be vaccinated. This was later dropped as well.
Island administration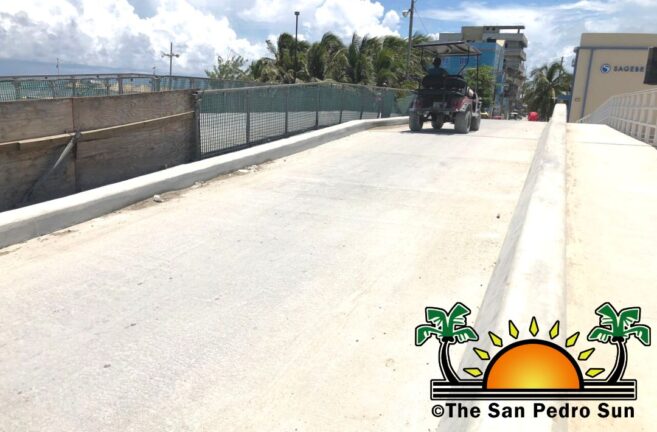 Some of the major projects by the SPTC during 2022 include the reconstruction of the Sir Barry Bowen Bridge in the Boca del Rio area. The bridge, which was once wooden, when completed, will be a two-lane concrete structure. It is expected to be completed by early February 2023. The SPTC is committed to investing in infrastructure, especially the rehabilitation of roads and streets. While some areas have received the attention needed, islanders living in other regions like Escalante, San Pedrito, and San Mateo await improvements. The local island administration plans to fulfill its 2022 commitment to pave nine miles of road starting from Marina Drive south of San Pedro in 2023, the last year before the next municipal elections. Another project they have recently engaged in includes using solar lights to provide lighting to beach areas and the roads, such as the San Pedro Highway connecting San Pablo and San Pedrito and sections of the road leading to Secret Beach.
New regional commanders take posts on Ambergris Caye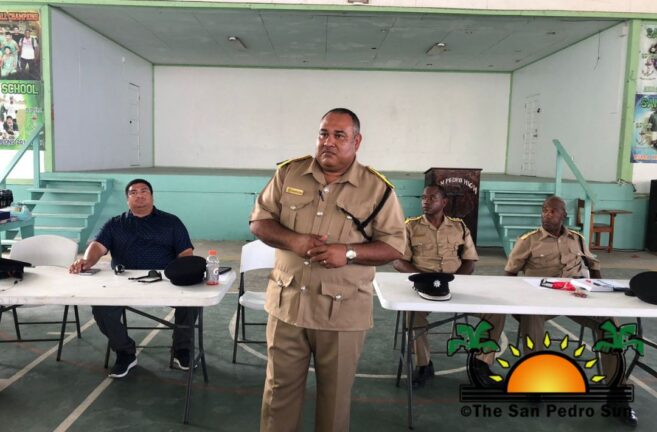 On July 19th, Superintendent of Police Alejandro Cowo was formally introduced as the new commander for Region Four, which includes San Pedro Town, Ambergris Caye, and Caye Caulker. A formal ceremony headed by Senior Superintendent Christopher Noble at the Angel Nuñez Auditorium included fellow police officers, Officer in Charge of the San Pedro Formation Assistant Superintendent Basil Reyes, Inspector Police Samuel Gladden, Mayor Gualberto Wally Nuñez, and other senior officers.
After getting familiar with his new post as fire chief in San Pedro, Orin Smith was formally introduced to the island community on October 8th. Smith is a veteran in the national fire service; originally from Belize City, Smith took over the position held by Gladstone Bucknor, who manned the island's sub-station from July 2018. Smith comes to the island with over 22 years of experience, having served in various municipalities across the country.
Crime
One of the most reported crimes was burglary. Two of the most known incidents involved a case in late June at the home of business owner 52-year-old Elsa Odina Poot in the San Mateo subdivision north of San Pedro. The situation was described by police as 'Aggravated Burglary/Aggravated Assault, 'as Poot's son-in-law Justin Campos and another person broke the house's front door and pointed a firearm at her. There were no reports of anyone detained. Other aggravated burglaries saw caretaker 68-year-old Salmon Sealy from the Tranquility Bay area, 15 miles north of San Pedro, assaulted as a group of unknown people broke into his place. The official report says that he was beaten as the assailants asked for drugs. Afterward, Sealy was taken out to sea and thrown overboard. He managed to survive and later discovered that his power saw was missing. No reports were made of anyone detained.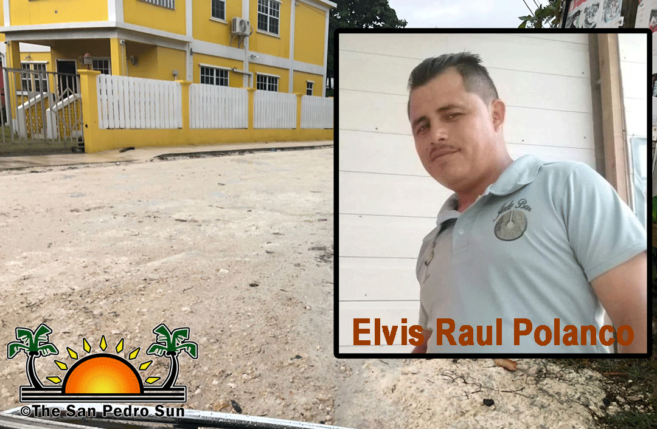 The celebrations of the Garifuna Settlement Day on the island were dampened by the only murder registered in San Pedro. On November 19th, San Pedro Town businessman Elvis Polanco, 43, was gunned down in an attempted robbery at the Escalante entrance. Police initially detained two suspects, an ex-cop and another officer on interdiction, who worked as security guards for Polanco, but no one has been held liable. According to reports, Polanco was ambushed when returning home with his common-law wife. He was shot dead, while his partner received a shot wound to her right arm.
The month of December experienced a shocking incident considered a hate crime. Islander Aron Aidan Carillo was reportedly beaten by Alexis Copo, 24, Victor Carillo, 19, and Lorenzo Menjivar, 35, on December 18th. Castillo was allegedly attacked and beaten because of his sexuality. On December 20th, the trio was jointly charged with the crime of Wounding after being accused of attacking and causing severe injuries to Castillo. Copo was additionally charged with Driving with No Care and Attention and Damage to Property. They pled not guilty to the charges, were offered bail of $2,000 plus one surety, and must return to court on February 16, 2023.
The San Pedro Sun wishes our readers happy holidays and a prosperous new year 2023.
Follow The San Pedro Sun News on Twitter, become a fan on Facebook. Stay updated via RSS