Belize continues to call for a ceasefire in the Israel-Hamas conflict
Thursday, November 2nd, 2023
As the Israeli troops advanced toward Gaza City on Thursday, November 2nd, and the Palestinian death toll has risen to over 9,000, Belize continues to appeal for a ceasefire in the ongoing conflict between the Israel Defence Force (IDF) and the militant group called Hamas. The intense military conflict was triggered after Hamas attacked Israel on October 7th, killing hundreds of Israelis and kidnapping others, including Israeli military officials.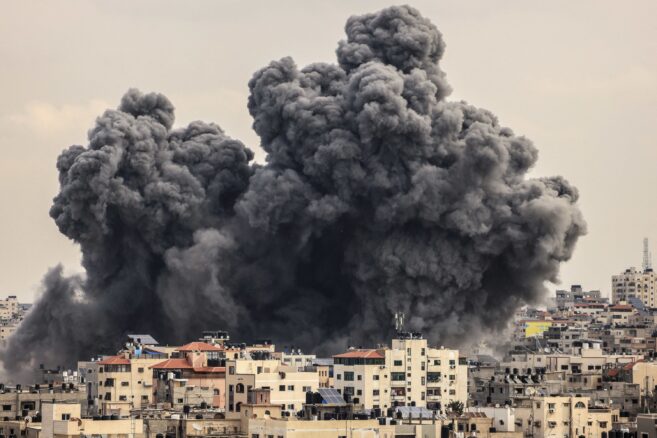 Israel has justified its attacks on the Gaza Strip, which is governed by Hamas, stating it must defend its people. However, reports indicate that thousands of civilians, including children, are being killed in the constant bombing by the Israeli armed forces as they seek to get rid of Hamas militants. These militants are in Gaza, among the Palestinian population. The Israeli government has said that Hamas is using civilians as human shields, thus the civilian casualties.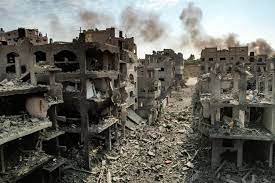 On Tuesday, October 31st, dozens of people were reportedly killed and injured after an airstrike by the Israeli air force on the Jabalia refugee camp in northern Gaza. Belize's Minister of Foreign Affairs, the Honourable Eamon Courtenay, reiterated the country's strongest condemnation of the continuing slaughtering of innocent civilians in Gaza by the IDF. "All of Gaza is unsafe. We appeal to the Israeli government to respect the laws of war and have an immediate ceasefire in Gaza," he said.
Belize's former prime ministers, Said Musa and Dean Barrow, also called for an immediate ceasefire in Gaza. A joint press release stated, "We, the only two living former Prime Ministers of Belize, are sickened by the horrific toll on human life caused by the unspeakable, continuing tragedy in Gaza. Hamas's killing of Israeli civilians and taking others hostage was wrong. But as the United Nations Secretary-General has acknowledged, it did not happen in a vacuum. It is in the context of Israel's years-long blockade of Gaza, its displacement of Palestinians and seizure of their properties, its arbitrary arrest and imprisonment of citizens in both Gaza and the West Bank, and its annihilation of human rights that Hamas's actions must be understood". The released also highlighted, "the failure of the United Nations to stop an ongoing genocide, played out on the world's media screens as some macabre horror serials show, is profoundly disturbing and could seriously affect its relevance to achieving world peace. We join leaders, organizations, and people of conscience everywhere, including the Pope, in calling for an immediate ceasefire".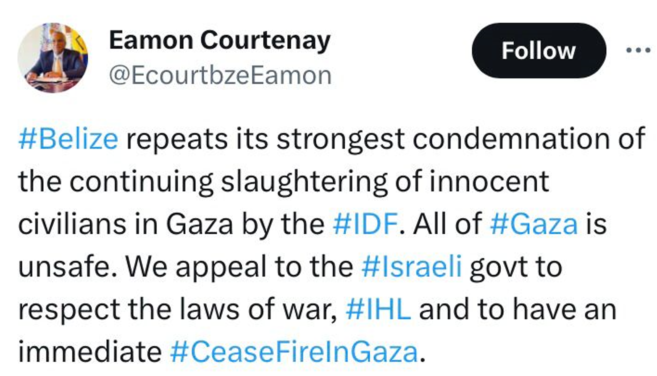 The Bar Association of Belize has also issued a release calling for a total ceasefire in Gaza. On the other hand, the Opposition of the United Democratic Party (UDP) condemned the attacks by the terrorist organization Hamas but emphasized that Israel has a right to self-preservation, stressing on іtѕ еffоrtѕ tо ехеrсіѕе rеѕtrаіnt аnd рrіоrіtіzе thе ѕаfеtу оf сіvіlіаnѕ whіlе аddrеѕѕіng thе thrеаtѕ роѕеd bу tеrrоrіѕtѕ. The UDP release notes that Іѕrаеl hаѕ а rіght tо ехіѕt, а rіght tо dеfеnd hеrѕеlf uѕіng grеаt rеѕtrаіnt аnd rеgаrd fоr lоѕѕ оf сіvіlіаn lіfе whіlе tаrgеtіng tеrrоrіѕtѕ еmрlоуіng ѕtrаtеgіс but рrороrtіоnаtе mіlіtаrу асtіоn," thе ѕtаtеmеnt reads.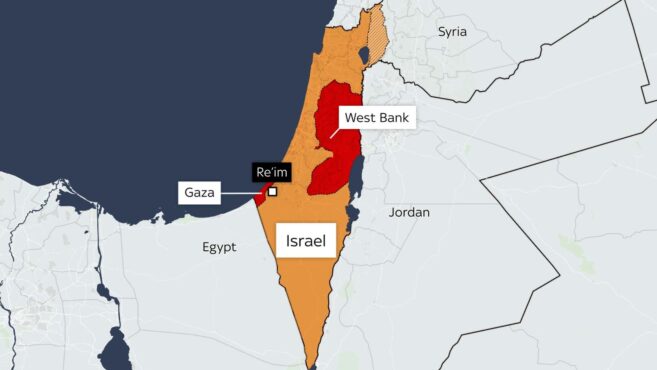 The United States of America (USA) and other allies in the Middle East have been discussing with Israel the opening of a corridor to allow civilians to leave the Gaza Strip. They have called for at least a brief halt to aid civilians trapped without access to food, electricity, and water. The USA believes a pause in the fighting would allow more aid to be sent, others to evacuate the area to places like Egypt, and facilitate the release of hostages. It is estimated that around 200 people remain hostage by the Hamas group. The United States Secretary of State Anthony Blinken is set to visit the region on Friday, November 3rd, to continue the mediation and avoid a further escalation in the conflict.
The USA has pledged its unwavering support for Israel in its efforts to end Hamas's rule over Gaza and eradicate its military capabilities. The surprise attack the terrorist group Hamas launched on Israel breached security barriers, and reportedly as many as 5,000 missiles were fired from Gaza.
Follow The San Pedro Sun News on Twitter, become a fan on Facebook. Stay updated via RSS