San Pedro Animal Hospital announces its possible closure
Monday, May 11th, 2015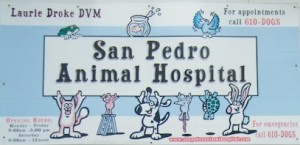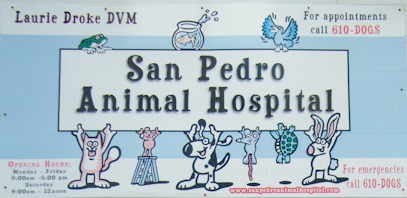 The San Pedro Animal Hospital (SPAH) has announced to all its customers that they will officially be closing down at the end of 2015. The announcement was made through a mass email that stated that their closure was due to the difficulties in obtaining permits and licenses needed to operate legally. SPAH has been the island's only private veterinary clinic since 2009, but as of early 2015 they have been at odds with Belize Veterinary Association, Veterinary Surgeons Board and Belize Agricultural Health Authority (BAHA).
In the Thursday, March 26th issue of The San Pedro Sun (V.25#12) an article was published in regards to the issue (Authorities and San Pedro Animal Hospital at Odds). In the story, Doctor Miguel DePaz- Chief Veterinary Officer, Director of Animal Health at BAHA and Chairman of the Veterinary Surgeons Board highlighted the reasons as to why SPAH's licenses and permits were not being renewed. "We have not re-registered Droke because the board has issues with her. The re-registration is not automatic, and if we have complaints about the business, we have to consider whether we will continue to allow them to operate. We have at least two serious complaints about the San Pedro Animal Hospital… One of the major problems with the San Pedro Animal Hospital is that we are aware that Droke is not permanently residing in Belize. So the question we have to ask ourselves is, 'who is running the clinic when she is away?' We understand that she has volunteer veterinarians that come every so often, but if she is not here, then who is supervising them? These veterinarians that come from abroad just to work for a period of time cannot legally practice without a DVM that has been licensed in Belize supervising them," said Paz at the time.
While, Doctor of Veterinary Medicine (DVM) and co-owner of the San Pedro Animal Hospital, Laurie Droke, are still trying to resolve the issues in order to remain open, measures have been taken to prepare the island community for the closing of the clinic. "As many of you know, due to difficulties in obtaining permits and licenses from the Veterinary Board and BAHA, the San Pedro Animal Hospital will be closing at the end of this year. For six years we have provided medical and surgical care, as well as emergency care for the animals of Ambergris Caye. As well, thanks to the San Pedro Animal Foundation we have spayed and neutered pets from San Pedro's poorest neighborhoods, and provided emergency care to animals who otherwise would have been euthanized due to lack of funds," said Droke in an email sent to her customers. "We are asking that those who are able, to write to the following individuals offering support for the San Pedro Animal Hospital. We are hoping to be able to resolve these issues, and continue to offer services to the animals of San Pedro."
DVM Jane Crawford, treasurer of the Belize Veterinary Association and member of the Veterinary Surgeons Board, responded by stating that if all issues are cleared up with SPAH, licenses and permits will be granted. "It's not in anyone's interest to close the San Pedro Veterinary Clinic. If you are not aware any veterinarian practicing in Belize has to be registered by the Vet Surgeons Board; and that has been the point of contention with the San Pedro Animal Hospital. This is not a unique feature to Belize. Each country has its own regulatory and/or licensing authority and veterinarians should comply to remain within the framework of the law. The concern is appreciated and all this should clear up once SPHA complies with the requirements by law," said Crawford.
Follow The San Pedro Sun News on Twitter, become a fan on Facebook. Stay updated via RSS