Big Red the Scarlet Macaw; imprisoned at Harvest Caye
Friday, June 9th, 2017
Scarlet Macaws are one of the most poached birds in Belize, and about a year ago one of them was rescued by the Belize Bird Rescue (BBR), a non-profit organization located outside of Belmopan City. The male bird was given the name of Big Red and underwent rehabilitation for wild release. However, on May 23rd, he was reportedly handed over to personnel of Harvest Caye, a premier island destination in southern Belize where he would be kept in captivity. Since then, the management at BBR have joined forces with other environmental organizations in an effort to raise awareness and get Big Red out of Harvest Caye and back into the wild where he belongs.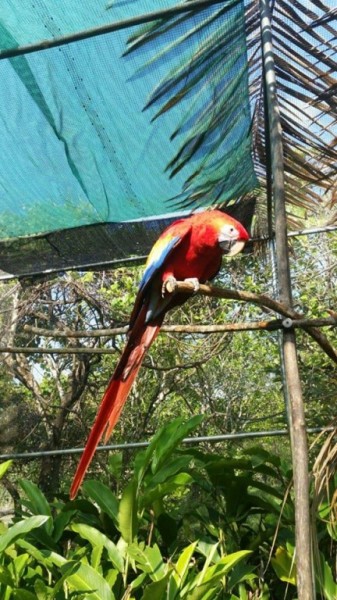 Big Red made his way to BBR when the Forest Department confiscated him during a routine inspection for their licensing program last year in November. He was discovered in somebody's possession and brought to BBR for rehabilitation. "He was only a few months old at that time," said Nikki Buxton, Managing Director at BRR. "There was no reason to consider any alternative other than release." She said that it would have only taken a few months before he could be ready for release into the Chiquibul Forest in western Belize.
Now, Big Red is expected to be part of a collection of animals kept in captivity for display at Harvest Caye for the amusement of thousands of cruise passengers from the Norwegian Cruise Line. According to Buxton, personnel from the Forest Department and Harvest Caye showed up at their headquarters and confiscated the bird.
Buxton says that no specific reason was given for the relocation of the Scarlet Macaw to Harvest Caye. "We only received a written notice to transfer him to Harvest Caye, but that is all we know at this time," said Buxton. She mentioned that BBR was not consulted on the disposition of this bird, which is considered in violation to an agreement signed with the Government of Belize to show mutual respect and consultation on such matters. Yet on May 23rd they were completely by-passed on this issue. Buxton e is convinced that Big Red, who was destine for wild release, will not do well in such an environment.
In a letter sent to the Chief Executive Officer of the Ministry of Forestry, Dr. Percival Cho, Buxton made several points as to why Harvest Caye is the most inappropriate place for Big Red. One point she brought up was the Harvest Caye Conservation Foundation -which was registered as a non-governmental organization in July of 2016, created to breed scarlet macaws in captivity and for educational purposes. According to documents, Buxton claims the foundation is merely a cover. "If a Macaw breed to release' program were necessary, then it should be on the mainland away from tourists or any other visitor for that matter," she wrote. "There is no logical or practical reason to put a facility such as this on an island cruise ship terminal. The Harvest Caye Conservation Foundation has been founded upon a need by Norwegian Cruise Lines to appear to be doing something for the environment to counter accusations of extremely environmentally damaging cruise ship tourism. The fact that Harvest Caye Conservation Foundation is a separate company is a further smokescreen." Buxton also indicated that since Scarlet Macaws are not an endangered species, there is no conservation reason at this time to have a 'breed to release' programme on that island.
In her profession opinion, Buxton adds that regardless if an animal is rehabilitated for release or not, she does not believe that Harvest Caye is a healthy or practical environment into which any mainland bird or animal species should be placed. In regards to the "breeding program" on the cruise ship caye, and the fact that Big Red is a healthy, releasable, wild juvenile who will not reach breeding maturity for another five years, there are many concerns in relation to its health conditions in the meantime. Buxton believes that as it remains a display bird for that long period, the salty, sand-blown atmosphere is extremely detrimental to its respiratory, and optic health, as well as feather condition.

Buxton wants to reassure the public that this incident is not a common occurrence. BBR is aware that many people have wildlife confiscated from their possession and more often than not these birds and animals end up in government sanctioned rescue and rehabilitation centres with a strong, professional consideration for rehabilitation and release when possible. BBR asks everyone to continue supporting these wildlife programme initiatives, despite this recent, isolated incident.
The environmental community, particularly those which deal with birds, have been outspoken regarding the matter. Education officer Jamal Andrewin at the Belize Zoo weighed in on the alarming issue. "The concern is that this macaw is a releasable candidate, and being in captivity, it is very hard to see a situation where they could provide the bird with its needs. It is not the ideal place or situation for this bird," said Andrewin.
Andrewin believes that in case the bird was non-releasable there could have been many different and better options for Big Red. "It is no secret that Harvest Caye has long been planning a zoo and now it is very obvious that they have other wildlife, and the other big concerns is that it could be a continued practice," said Andrewin. He stated that other colleagues in the animal preservation field fear that other wildlife species will be added to the collection at Harvest Caye.
The scarlet macaw population in Belize is around 200 birds. Harvest Caye has a permit to keep 12 macaws, or 5% of the total population of Belize. Currently, Harvest Caye has four toucans, two macaws, numerous iguanas, snakes and butterflies. Environmentalists collectively agree that this is unacceptable and unnecessary.
The San Pedro Sun tried to reach officials from the Forest Department for comment, however our attempts have been futile. Calls were also made to the CEO, and we were told that no one was available to comment. Personnel at the Forest Department also told us that the CEO was going to be available for commenting by the end of the week, and The Sun will follow up with an update.
Follow The San Pedro Sun News on Twitter, become a fan on Facebook. Stay updated via RSS