Wildtracks, protecting our vulnerable species
Saturday, February 16th, 2013
Belize is a natural jewel housing some of the most extraordinary flora and fauna. With the immense square footage of forest and marine waters it is almost impossible to properly protect our natural resources. With the increasing amount of hunting and boat activity, some of Belize's once thriving species are now dwindling in numbers. Three species that have been placed on the endangered list are the Manatee, Howler Monkeys and Spider Monkeys. These animals are continuously being further endangered because of deforestation, fast boating and poaching. As such, it is extremely necessary for immediate action to be taken to alleviate the problem.
Wildtracks Conservation, Education and Research Center is working tirelessly toward sustaining the natural resources of Belize and has been since 1996. Wildtracks is a non-profit organization supported fully by volunteer workers and donations by generous sponsors.
Their facility is based in the Corozal Bay Wildlife Reserve south of the nearby village of Sarteneja in the Corozal District. Wildtracks goals include the rehabilitation and release of rescued manatees and monkeys to the wild in order to sustain the population.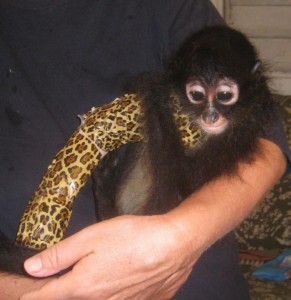 Currently there are two manatees and 24 monkeys residing in the center. Wildtracks primarily focuses on the conservation of the West Indian manatee, the Yucatan black howler monkey and Geoffroy's spider monkeys, but are willing to admit other animals if the resources are available.
The task of caring for these animals is taken up by kind volunteers who spend as much as three months of their time caring and tending to the animals and their every need. However, manual help aside, the issue of feeding the animals and keeping the facility operational depends on funding and the generosity of sponsors. Rehabilitating the animals is a 24/7 job that is costly and labor intensive. To care for a manatee for an entire month costs approximately $900 in food and health expenses. Manatees need at least two years of care before they can be successfully released into the wild waters of Belize. It takes $60 per month to care for one of the 24 monkeys in the facility. Provisions for the animals include bananas, papaya, grapes, mangoes, sea grass, forest leaves, and special formulated milk for the animals.
Wildtracks gratefully accepts any donations. Any persons or business interested in making a contribution, no matter what amount, can contact [email protected] or call at 501-650-6578. All funding goes directly to help fund the food for the adorable critters at the facility. For those wanting to learn more on the organization that is working tirelessly to safeguard the wild life of Belize, visit www.wildtracksbelize.org.
Photo Gallery
Follow The San Pedro Sun News on Twitter, become a fan on Facebook. Stay updated via RSS