Emaciated Spider Monkey rescued on Ambergris Caye
Wednesday, May 15th, 2013
Authorities on Ambergris Caye, acting on information received, launched an operation at a residence in the southwestern tip of the San Pedrito area of San Pedro Town where a spider monkey was rescued. The adult female spider monkey was being held captive and is believed to be in very poor condition and extremely underweight for its size. Scientifically known as Ateles Geoffroyi, spider monkeys are classified as a critically endangered species by the International Union for Conservation of Nature (IUCN) and in Belize they are protected.

The operation was carried out by members of the San Pedro Police Department, the Tourism Police Unit and American Crocodile Education Sanctuary (ACES) on behalf of the Belize Forestry Department. According to Cherie Chenot-Rose, research biologist at ACES, the monkey was tied to a rope that was fastened to a metal chain hooked to a small little shed in a yard. "The police noticed the monkey chained outside, two iguanas and some other miscellaneous wildlife, not yet identified in the person's home… it is illegal to have any wildlife in Belize without the proper permits from the Belize Forestry Department," said Chenot-Rose. More importantly is that the Forestry Department does not issue permits to keep any species of monkey as a pet. The rescued spider monkey was transported to the Wildtracks facility in Sarteneja Village in the Corozal District where it will be treated and rehabilitated.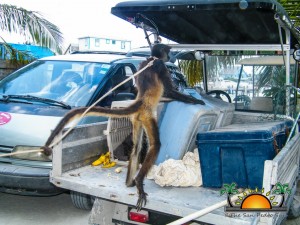 Speaking to The San Pedro Sun, Paul Walker, one of the Director of Wildtracks gave an overview of the spider monkey's condition. "The condition of the adult female spider monkey was very poor. Very, very emaciated from long term inadequate care, inadequate diet and lack of veterinary support and it is probably the most emaciated monkey that has come to our care. The monkey was skeletally thin and grossly underweight – it has very poor hair condition which indicates heavy parasite load," outlined Walker. He said what may have contributed to the bad health condition of the monkey is the lack of adequate care. "It is illegal to keep monkeys as a pet in Belize. They are special animals that require specialist care, and homeowners are not in the position to offer the kind of care that a monkey needs to be healthy. This monkey is a shining example of what happens to a healthy monkey when taken out of the wild and kept as a pet. They eventually get sick and often die," he emphasized.
It is estimated that the monkey is between four to five years old but because of the very poor health condition of the monkey, it may take a few months to estimate its age. "It is fair to say that the monkey is 40% below the weight she should be for a monkey of her size. She is basically a skeleton covered in skin at this moment," described Walker. A healthy female spider monkey could weight about 16 pounds but the one rescued on Ambergris Caye is far below 10 pounds.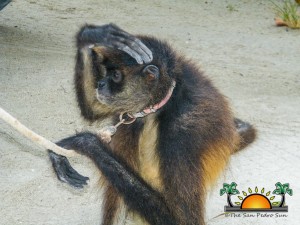 Speaking about her behavior, Walker said she is very much tamed. "She is very tame considering that she was not very well looked after. She is very gentle; a disposition which is abnormal for an adult spider monkey. She is very meek, calm and quiet," he said. Walker added that it would take about two years to rehabilitate the monkey both mentally and physically before she can be released into the wild. "For her to become a fit, healthy and psychologically balanced monkey that will be able to be returned to the forest and be wild like other endangered species – that might take up to two years. It's a long and slow process to turn a pet monkey back into the healthy wild monkey," said Walker.
It is believed that the general lifespan of a spider monkey in the wild is about 27 years and around 33 years when held captivity. An adult female spider monkey can reach to about 16 pounds at sexual maturity at age four. Worldwide man is the greatest enemy of spider monkeys, either by destroying their habitat or via hunting to eat their meat and also to have as lucrative pets. In Belize, pet trade is the biggest threat to spider monkeys. "Stopping the pet trade is stopping one of the biggest threats to these endangered species in Belize which is very important for the conservation of this species not only in Belize but globally. Although many people would tend to buy a monkey for a pet because it looks like a baby and they feel they can care for the animal, what they are doing is perpetuating the pet trade. It is very, very important that people should not buy monkeys as pets but report people who are selling them. That would be perhaps the biggest single gain that can be made against illegal pet trade of monkeys in Belize," explained Walker. Their population is estimated to be less than 2,000 in isolated pockets in all of Mexico and Central America.

With the recent rescued spider monkey, Wildtracks now has 31 monkeys in rehabilitation process. Walker said that in the coming months they will be confiscating 21 more as part of a special operation following reports of monkeys being kept as pets in various parts of Belize. While it costs about $1 US per day to care for a monkey at Wildtracks, what is extremely expensive is the building of the holding facility which requires the enclosure of tall trees and other green vegetation that enables the animals to be able to move around as if in the wild.
In Belize, spider monkeys are a protected species. Under the Belize Wildlife Protection Act Chapter 220 Section 4 (B) no person shall, in any area closed to hunting of wildlife pursuant to the provisions of this Act or (b) be found in possession of any wildlife or part thereof. Any person who contravenes or aids or abets the contravention of any of the provisions of section of the Act commits an offence and shall on summary conviction be liable to a fine not exceeding five hundred dollars, or where the offender has within a preceding period of five years been convicted of a wildlife offence or paid compensation under section 22, to a fine not exceeding one thousand dollars or imprisonment for a period not exceeding six months, or to both such fine and imprisonment.

According to the San Pedro police, no one has been detained but their investigations continue. Notwithstanding, San Pedro police said that the matter is something for the Forestry Department to lead in the investigation. No one at the Forestry Department was available for comments. On an interesting note, just a week ago, ACES discovered a tortured American Crocodile in the same vicinity where the spider monkey was found.
Photo Gallery
Please help support Local Journalism in Belize
For the first time in the history of the island's community newspaper, The San Pedro Sun is appealing to their thousands of readers to help support the paper during the COVID-19 pandemic. Since 1991 we have tirelessly provided vital local and national news. Now, more than ever, our community depends on us for trustworthy reporting, but our hard work comes with a cost. We need your support to keep delivering the news you rely on each and every day. Every reader contribution, however big or small, is so valuable. Please support us by making a contribution.
Click to Donate
Follow The San Pedro Sun News on Twitter, become a fan on Facebook. Stay updated via RSS