Dog-Eating Crocodile Remanded to ACES "Croc Jail" in Ladyville
Sunday, July 21st, 2013
It is not unusual for residents of Ambergris Caye to have an occasional crocodile encounter. Many enjoy watching the wild reptiles in their natural habitat when they are spotted swimming in the western lagoon side of the caye. From a distance, no harm is done to man or beast when tourists and locals alike marvel at these prehistoric creatures who have evolved and survived the world far longer than mankind.
As development on the island continues and crocodile habitat is encroached upon croc encounters have increased, and now there are times when they are anything but welcome. Unfortunately some of these armored lizards with big teeth have become habituated to associating man with food, as in cases when they have been directly feed by locals for entertainment or indirectly feed as a result of improper garbage disposal. Garbage attracts their prey, such as raccoons, rats and yes stray dogs. This is how a crocodile can acquire a taste for a canine meal, and once they do they will not only prey on strays but on pets that are not detained and have wandered near the water.
Such is the case with a croc recently named Mr. Chet, who found dogs an irresistible and easy meal. Over the course of the last six weeks Mr. Chet managed to kill two dogs who were beloved pets living south of San Pedro Town. The American Crocodile Education Sanctuary (ACES) was called upon to help with the problem and they successfully captured and relocated Mr. Chet in May and June. ACES microchips and collects scientific data on all crocs that they capture and were able to verify that indeed it was the same croc. Crocodiles have an amazing sense of direction and can return to a place from hundreds of miles away. ACES along with the Belize Forestry Department (BFD) maintain a "three strikes and you're out" policy for problematic crocs, and a third capture means permanent life-long captivity. Because American Crocodiles are considered an endangered species euthanizing a problematic croc is a very last resort and must be authorized by the BFD.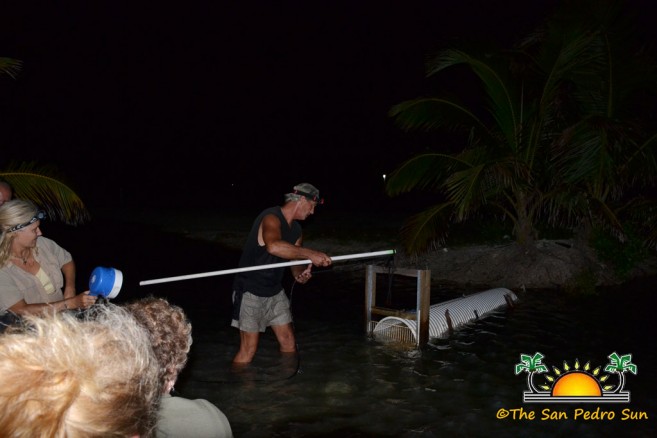 Mr. Chet was determined to get a one-way ticket to croc jail and on July 12th he was trapped for the third time by ACES Animal Behaviorist Vince Rose. At the scene of the capture ACES Biologist Cherie Chenot-Rose commented, "This crocodile will not be relocated nor re-released. He is dangerous and must remain in captivity. We now need to find a boat that can carry him to the mainland where Vince will meet the boat and put the croc on a truck and drive it to our main facility at the Caribbean Shrimp Farm, Ltd. in Ladyville. We are 90% sure this is the dog-eating croc; he is bold, aggressive and not afraid of us whatsoever. He was previously captured at the site of a dog attack and we had relocated him 30 miles north of San Pedro trying to give him another chance. But now, he will remain captive. Under the authority of the Belize Forest Department, we [ACES] will keep the crocodile at our facility for educational display only."
With the ACES main facility located on the mainland, the task of transporting the troublesome croc became the next problem to tackle. On Monday, July 15th the 8 ft male American crocodile was transported to the mainland compliments of Mr. Marqarito Vega and Captain Virgilio Requena of Quality Poultry Products. ACES intern Norman Greenhawk accompanied the croc on the boat. In closing Chenot-Rose commented, "Mr. Chet is the first crocodile removed from the island for captivity since 2010. The croc will be placed with 'Brigitte' (a 10 ft female) in 'The Brigitte Bardot Foundation' habitat. Although we have removed a large problematic crocodile that is known to attack dogs please remember, it is our responsibility to keep our furry friends safe by keeping them away from the waters' edge primarily at dusk and dawn."
Photo Gallery
Follow The San Pedro Sun News on Twitter, become a fan on Facebook. Stay updated via RSS