Another Maya Monument destroyed in Orange Walk for landfill
Saturday, December 24th, 2016
On Wednesday, December 14th, Belize's oldest research and education institution on Belize's culture, the Institute of Archaeology (IA), began investigating reports of a Maya monument being destroyed in the Orange Walk district. Belize is abundant with Maya archeological remains and artifacts, and this time, the Ministry of Works are allegedly to blame for bulldozing an unexcavated monument.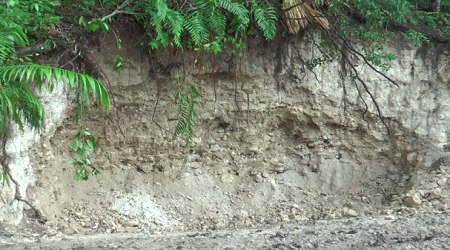 Just one and a half kilometers away from the Fresh Water Creek forest reserve located on the Honey Camp road in Orange Walk, CTV3 News reporters discovered that almost half of an unnamed historic mound has been razed. Monochrome pottery shards, typical of the pre-classical period, could be seen in the immediate area, where much of it was reduced to rubble.
According to reports by CTV3 News, the material extracted is allegedly being used as landfill by the Ministry of Works to fix the Cocoa road, a feeder road for sugar cane farmers in the area.
This is not the first time that an ancient Maya monument has been tampered with and destroyed. In May 2013, the country was appalled when the tallest structure of Noh Mol was bulldozed and used for road filling. United Democratic Party standard bearer, Denny Grijalva, along with his wife Emelda and their foreman, Javier Nuñez, were found to be excavating limestone from the Noh Mul site to be used in the construction of roads.
After nearly three years of court trials, the perpetrators were found guilty in April 2016 for causing the destruction the site. The damage was irreparable, and they were imposed a maximum fine by the Chief Magistrate, which was $24,000.
According to Director of Archaeology Dr. John Morris, the legislation of Belize needs to be altered because ancient artifacts cannot be priced. "As the law was written, they were written way back in the 1950's. This particular law, at the time, a fine of one year in prison and $10,000 fine was considered large. Today, that fine would be a slap on the wrist for anyone who is caught damaging or destroying an ancient monument. We cannot put a monetary value on the destruction done at Noh Mul, because you don't put a monetary value on our cultural asset. But $10,000 is a slap on the wrist. We are tabling a legislation that will increase those fines substantially. When I say substantially I mean 10 fold or 20 fold," said Morris.
In the future, the National Institute of Culture and History (NICH) and IA will continue to fight to protect all Maya sites from damage. As of press time, The San Pedro Sun has been unsuccessful in reaching the Ministry of Works to clarify the allegations. We will have more on this story as information becomes available.
Follow The San Pedro Sun News on Twitter, become a fan on Facebook. Stay updated via RSS