San Pedro Tour Guide Association weighs in on the regulations addressing gill nets
Saturday, February 24th, 2018
The movement by the Government of Belize (GOB) to develop a task force to address the issues surrounding the use of gill nets in the country was applauded by the San Pedro Tourist Guide Association (SPTGA). The said taskforce will further monitor the use of gill nets in Belizean waters, hoping to eventually lead to the consideration of a total ban.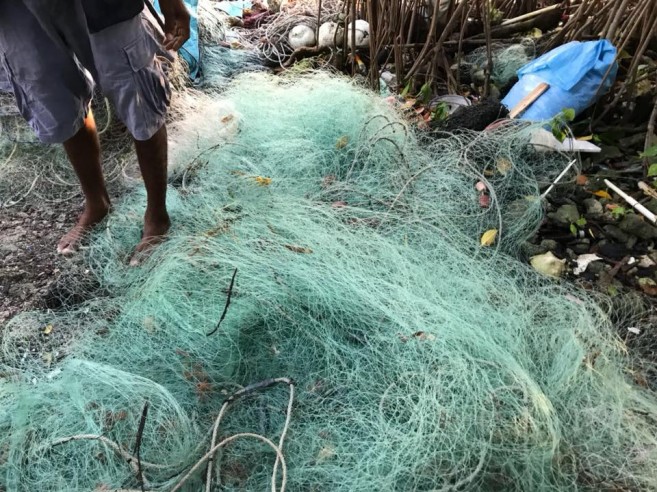 A gill net is a wall-like mesh that hangs in the water column designed to catch fish by allowing only their head to get through the net, thereby entrapping them by the gills. The main concern about this fishing practice is that it traps and kills both target and non-target fish species, including protected species. In a press release issued on Monday, February 19th, the SPTGA commended the decision by the government to reduce the harmful effects of gill nets on the Belizean marine eco-system. Gill nets are a very indiscriminate form of fishing, and although they are regulated by the Fisheries Department there is a much-needed improvement in the management of this form of fishing.
The announcement by GOB was made on February 15th via an official note informing Belizeans of the Cabinet approving the decision to develop the taskforce. According to GOB, the force will be comprised of government agencies, non-government organizations, private sector partners, and fishermen. The aim of the initiative is to recommend improved measures to minimize the harmful effects of the gill nets. The government highlighted that gill nets are used locally by artisanal fishers who obtain a permit, but in some cases, it is used for illegal fishing causing widespread harm and overexploitation. Therefore, a full ban may be implemented in the near future.
The island community along with the SPTGA fully supports the government's initiative to protect Belize's fishing industry. Islanders are also in full support of the ban, but they do recognize that there is the need for a proper process to develop and ensure that fishermen are not deprived. The community also hopes that the adequate options are put in place for alternative livelihood programs while increasing efforts for environmental awareness on the island.
Follow The San Pedro Sun News on Twitter, become a fan on Facebook. Stay updated via RSS