The Belize Fisheries Department Enforcing Gill Net Registration Policy
Friday, December 20th, 2013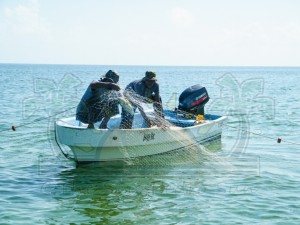 On Saturday, December 7th a fisherman was found using an unregistered gill net near the Bomba Village river/lagoon channel. The fisherman using the net was reported to Hol Chan Marine Reserve officers, who visited the area for inspection. Upon inspection, the net was found to be unregistered. The fisherman was warned and told to register his net at the Fisheries Department as per the new fishing regulations. While it is a law that all gill nets are to be registered, several fishermen are still unaware of this policy.
On July 1, 2013 the Belize Fisheries Department enacted the policy requiring that all gill nets, whether used for profit or nonprofit, must be registered before it is used. The regulation was setup in accordance with the Statutory Instrument No. 78 of the Belize Fisheries Act. The purpose of the regulation was to ensure the sustainable management of commercial fisheries, as well as protection of various species of fish.
According to the Fisheries Department the regulation has been part of the law since 2011, but had never been enforced. The regulation was enforced after environmentalists lobbied for the outlawing of gill net fishing in the early months of 2013. One of the main groups against gill net fishing is The Belize Institute of Environmental Law and Policy (BELPO), who stated that the use of gill net fishing is destroying Belize's fragile marine ecosystem.

Once a gill net is registered, the owner is issued a certificate as proof of ownership and the net is tagged and labeled for proper identification by fisheries officers. The regulations state that a fine of $500 or six months imprisonment or both will be imposed for fishing without a registered net; in addition the net will be confiscated. The Fisheries Department held registrations from May to June 2013, but had a low turnout. Throughout the months following officers were stationed at several marine reserves in Belize to monitor the use of gill nets.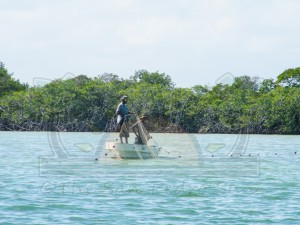 The regulation also stated that the length of a gill net must not exceed 300 meters in open waters or 200 meters in freshwater bodies. The regulation also prohibits the use of gill nets along the shorelines of Monkey River or Placencia. Gill nets may not be set within a radius of one mile of a bridge or half a mile from the out-fall of a tributary, and must not be used in the New River Lagoon or its tributaries.
All fishermen using gill nets are urged to register their nets to avoid prosecution. A valid boat license and fisherman license is also required for registering a gill net. The certificate of registration for gill nets is valid for one year, after which it must be renewed.
To learn more on the registration process, fishermen can visit the Coastal Zone Multi- Complex Building on Princess Margaret Drive, Belize City or call phone number 223-2623/224-4552/223-2187.
Follow The San Pedro Sun News on Twitter, become a fan on Facebook. Stay updated via RSS