San Pedro Tour Guide Association hosts a successful meeting
Friday, April 20th, 2018
San Pedro Tour Guide Association (SPTGA) held an informative members meeting at the Lions Den on Wednesday, April 18th. Various speakers were present at the meeting addressing attendees on different policies and regulations tour guides must follow within Belize to avoid fines or facing jail time.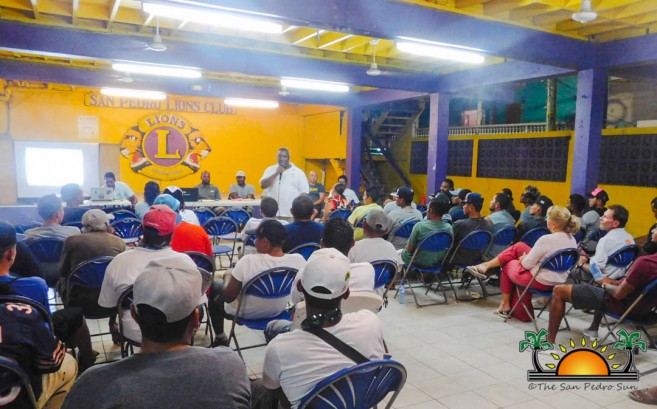 At 7 PM, SPTGA President Billy Leslie welcomed and thanked everyone for their attendance. The meeting officially began with the first speaker of the night, Corporal John Arana who addressed the attendees on the importance of possessing a tour guide license and renewing it immediately after expiration. He further spoke on the penalties, which included a fine of $1000 and up to three months jail time. In addition, the company employing the unlicensed tour guide will also be charged a larger fine of approximately $5,000 and up to one year jail time.
Next to speak was Belize Port Authority Operations Manager, Sheila Martinez, who shared a bit of what the organization is all about and its regulations went it comes to tour guides and operators. Martinez stated that it is important for tour guides to report whenever an accident occurs because if not they could be fined $15,000. She ended by stating that in 2017, one of the violations that were seen the most among tour guides is the excess of passengers on their vessels. "If your vessel license states that only three people should be in there, then that's all the passengers that should be onboard. If you are caught with more people onboard, you will be fined," said Martinez.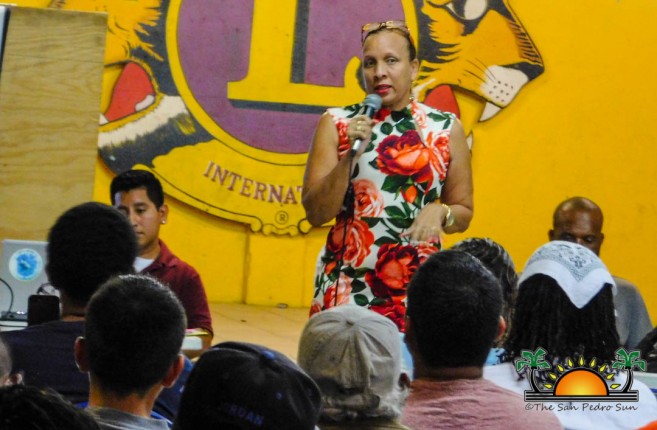 Oceana Belize, Field Representative, Angel Briceno then shared some words with the attendees, stating the big step Belize has made by passing the law on Petroleum Operations (Offshore Zone Moratorium) which placed an indefinite moratorium on offshore oil exploration within Belize's marine territory. Briceno continued, "I'm here once again to ask for your support in our new initiative, which is to ban the use of gill nets among commercial fishermen. Gill nets are harmful to our marine animals especially our protected species like turtles, manatees, dolphins, sharks, and tarpon among others."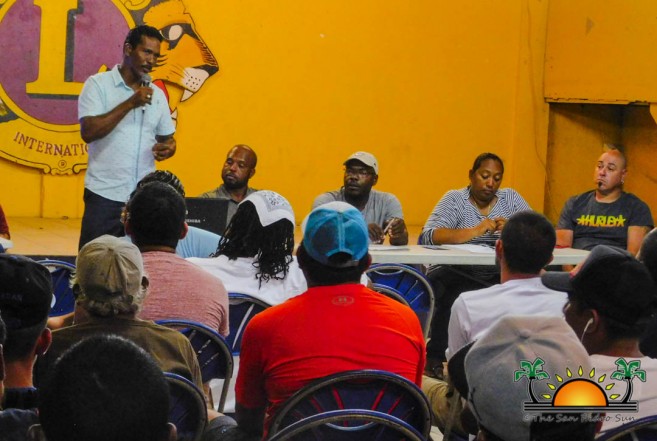 The meeting concluded with Leslie, who discussed three important issues. Firstly, he asked all attendees to show support to Oceana Belize's idea to ban the single use of gill nets; attendees unanimously agreed. "The association will now proceed to write a letter to Oceana to confirm that we support this initiative," he said. Leslie continued by alleging that Cayo Rosario project has been approved and once again asked SPTGA members if they want to challenge this decision. "We recently heard of Cayo Rosario project being approved, however, we will fight for what is right," said Leslie. "We fought so hard to make Cayo Rosario a protected area so we will not allow anyone to come and construct over the water structures within a protected reserve." According to Leslie, the Tunich-Nah Consultancy Agency came to do a presentation to the SPTGA last year explaining the construction plan, however, nobody within the association agreed with it. A follow-up consultation was to be held, but up to date none has been held. After a unanimous decision, it was confirmed that the SPTGA is going to fight the alleged approval of Cayo Rosario.
Leslie ended the meeting by stating that a new board of directors should be elected. Former members and new ones were nominated for the available positions to be chosen at a later date. The next SPTGA meeting will take place sometime in May 2018.
Follow The San Pedro Sun News on Twitter, become a fan on Facebook. Stay updated via RSS