Arson suspected after motorcycle destroyed by fire
Friday, September 14th, 2018
San Pedro Police are investigating a suspected arson in the San Pablo Sub-division south of San Pedro Town following the questionable circumstances in which a Honda motorcycle was incinerated late on Sunday night, September 9th. The owner of the motorcycle, 21-year-old Trent Turley, reported that he left his bike parked outside his home and by early Monday, September 10th the motorcycle was discovered destroyed by fire. A golf cart parked nearby also resulted with minor damages, but it was clear that the main target was the motorcycle.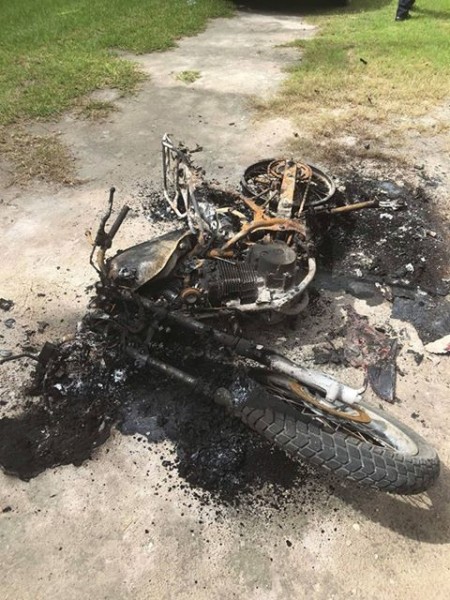 Police have yet to issue a report, even though Turley told The San Pedro Sun that he made one. According to him, police are doing their best to find evidence that can lead to the apprehension of any possible culprit. Turley believes that the incident took place sometime between 12AM and 4AM. No one in his house heard the bike burning, which still had its gas tank intact when they discovered in the morning. The motorcycle, estimated to cost $5,000, was Turley's main mode of transportation.
As the investigation continues, the only motive believed to have fuelled such attack is an ongoing dispute with persons close to the family. The situation has allegedly been brewing for some time, however, it had never escalated to violence.
Turley hopes that police can have positive results in their investigation of this act of vandalism to his property.
Follow The San Pedro Sun News on Twitter, become a fan on Facebook. Stay updated via RSS