SP Traffic Department fraud scheme results in one person charged for possession of false documents
Tuesday, April 13th, 2021
Following an investigation into a traffic sticker scam at the San Pedro Traffic Department, one person was charged with six counts of possessing false documents. That person is a former employee of the traffic department Kai Zetina. When he appeared at the San Pedro Magistrate Court, he was offered a $5,000 bail, which he met. Zetina is to report back to court on June 9, 2021.
The investigation indicates that other persons are still under investigation, but only Zetina has been charged. The police were alerted of the suspected scam during the Easter weekend. They had several checkpoints across the island, and upon making checks on vehicles, they found questionable registration and even insurance stickers. As a result, police quickly started an investigation in collaboration with the island's traffic department. Several raids also took place in a number of homes yielding incriminating evidence both in possession of stickers and illegal information stored in a computer.
Mayor Gualberto 'Wally' Nuñez stated that up to four persons were found with the fake stickers. Two former employees and two civilians. According to him, some current employees are under investigation and have not been allowed to return to work. The future of their posts at the traffic department will be determined at the end of the investigation.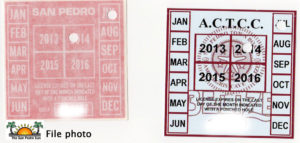 Some 'conned' residents were aware of fake stickers
According to reliable reports, some of the residents buying the fake stickers were aware of their ingenuity. Some of these persons who were supporting the scheme are said to be business owners. These persons were reportedly paying even higher prices than those from the traffic department. The Mayor noted corruption must come to an end and supports the ongoing investigation. Nuñez asked people to cooperate with the law and to bring in any suspicious stickers they may have. These stickers come from the Ambergris Caye Traffic Control Committee and license stickers as well.
Those affected by the scam will more than likely not get their money back. They will need to re-apply for genuine documentations/registrations for their vehicles.
Follow The San Pedro Sun News on Twitter, become a fan on Facebook. Stay updated via RSS