SPTC sets restrictions on four and 6-cylinder vehicles and 6-seater golf carts
Thursday, May 13th, 2021
For the last few years, San Pedro Town has seen growing traffic congestion, particularly downtown. During peak times of the day, it is difficult to find a parking space, and traffic runs in a frenzy. Past attempts to take control of the issue have seen little results. To tackle the situation, on Tuesday, May 11th, the Ambergris Caye Traffic Control Committee (ACTCC) announced that they would not be accepting applications for permits for four and 6-cylinder vehicles or 6-seater golf carts for six months.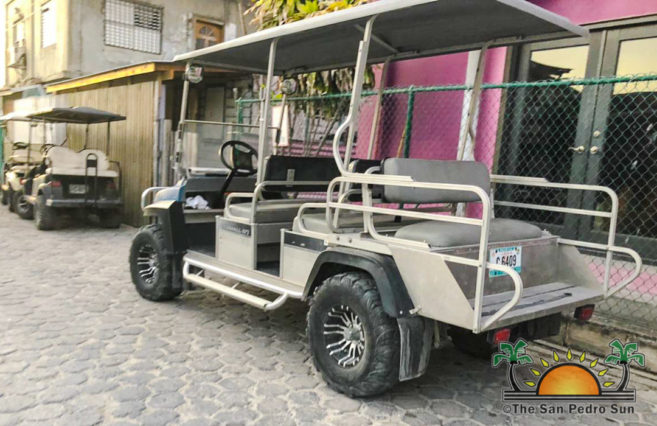 Mayor Gualberto 'Wally' Nuñez shared that the traffic board is conducting a study of how many permits are active. They have noticed that some people have permits for these types of vehicles, including inactive taxis. The board will look at this and decide if they will be re-issued. This is one of the first efforts the new town administration will take in addressing the problem with traffic congestion, which will benefit islanders by enhancing safety for residents, tourists, drivers, and pedestrians.
The San Pedro Town Council (SPTC) and ACTCC plan to also address designated parking areas, particularly for taxi associations. The new plan is not to undermine anyone but to solve ongoing problems that impact the congestion and charm of the island.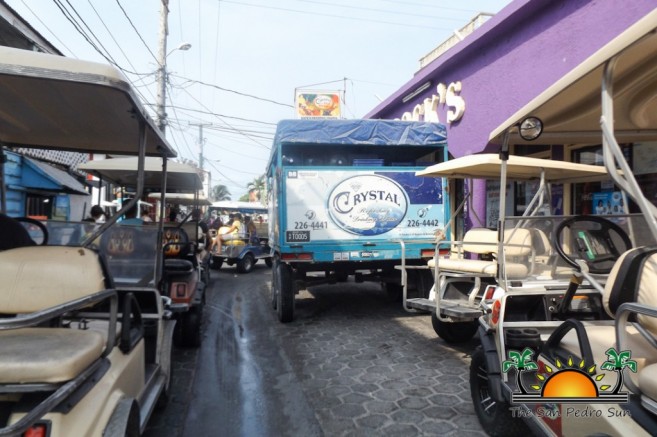 What was done in the past?
The previous administration discussed several programs to alleviate the traffic congestion on the island, such as opening large parking areas and working on a Statutory Instrument. A public parking area was designated adjacent to Saca Chispas, but people continue to park along Barrier Reef Drive and Pescador Drive for long periods. They advised golf cart owners that the parking lot by Saca Chispas was to be used if they needed to park for hours or all day. This was not enforced and did not solve the problem of available parking on popular streets.
To reduce congestion on Barrier Reef Drive and Pescador Drive, the past town council limited passage to golf carts, pedestrians, bicycles, and ATVs. No cars, vans, or trucks were to be allowed on these streets. Only 4-seater golf carts and motorcycles could park on Pescador Drive and Barrier Reef Drive. While the town council worked on regulations, they reportedly did not monitor the entrance of new golf carts to the island. They indicated that they were going to control the entry of trucks and cars, which are large and considered to cause much of the congestion.  Mayor Guerrero also contemplated installing a traffic light on Coconut Drive in front of Tropic Air.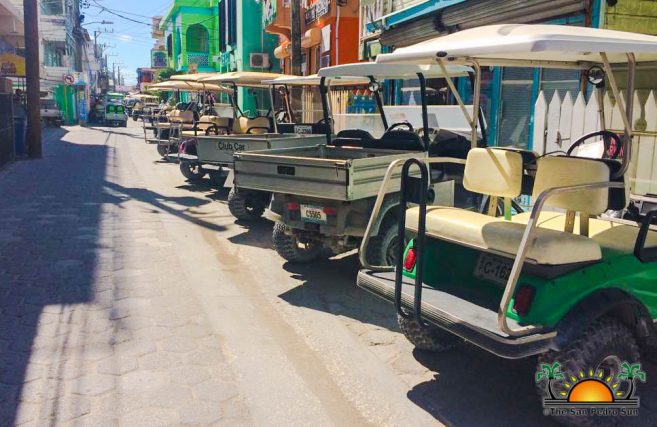 Another attempt was to negotiate with delivery agents and cargo companies to make deliveries within the town core before 7AM. Mayor Guerrero wanted all cargo deliveries made at the same time. The aim was not to have large trucks downtown in the middle of the day blocking traffic.
Many residents welcomed these ideas; however, the town council plans had minimal success due to lack of enforcement.
New Mayor Nuñez is confident that along with the ACTCC, they will alleviate the situation and deliver on a more organized traffic flow downtown. While he did not mention traffic lights, his team will discuss the possibility of installing parking meters.
Follow The San Pedro Sun News on Twitter, become a fan on Facebook. Stay updated via RSS