Arrests expected soon for San Pedro's recent shootings
Thursday, July 15th, 2021
San Pedro Police continue their investigations into two separate shootings on Saturday, July 10th, and Monday, the 12th. The Honourable Kareem Musa, the minister in charge of police, is optimistic and, during an interview with The San Pedro Sun, said arrests are expected to take place soon.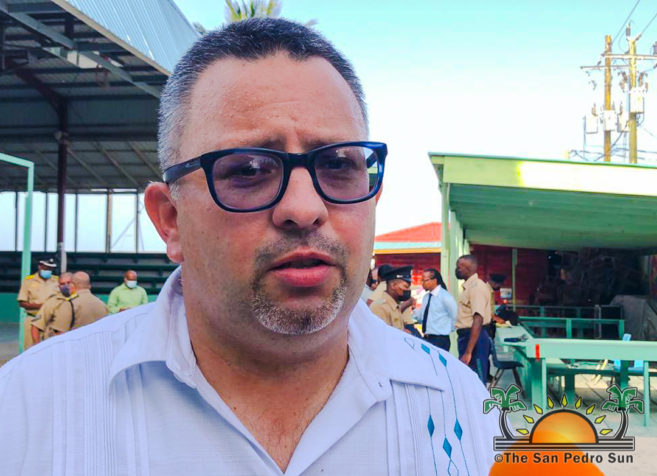 Musa visited the island on Wednesday, July 14th, as part of his national tour of the different police formations across the country. He stated that violent crimes in San Pedro have been reduced for quite some time and attributes it to the work the island police formation has done. "Occasionally, we will have incidents of crime as San Pedro is not immune to it. When the economy goes down, crime goes up, but as the Minister of Police, I feel proud to see that in our tourism destination, which makes a huge part of our economy, we are keeping crime down," said Musa. Following the recent shootings, people were detained for questioning, but no charges have been levied so far.
The Commissioner of Police, Chester Williams, indicated that San Pedro would receive additional reinforcement. The additional resources will assist the island team in speeding up their investigations and get to the culprits soon.
Both incidents were not fatal, and the victims continue to recover. 35-year-old Luis Abner Tun was shot in San Mateo while at the Clumsy Restaurant and Bar. According to reports, the shooter entered the premises fully dressed in black went straight for Tun. The perpetrator reportedly left on a motorcycle. Two days later, 25-year-old Joshua Gongora was approached by three men as he biked home in the DFC area. Neighbors reported hearing up to 10 gunshots. Gongora was injured in the attack and rushed to the Dr. Otto Rodriguez San Pedro Polyclinic II and was later transported to Belize City. He was reportedly hit twice in his abdomen area but survived. Gongora continues on the road to recovery.
Follow The San Pedro Sun News on Twitter, become a fan on Facebook. Stay updated via RSS