Elias Hernandez is missing and police suspect foul play
Friday, December 13th, 2013
A man living on Ambergris Caye has been reported missing since November 22nd. He is 23-year-old Elias Hernandez, originally of Belmopan City. Hernandez is no stranger to the news or to the police, as his name has come up in very high profile police investigations. But now he has been missing for a month and the last time anyone heard from him was on November 12th.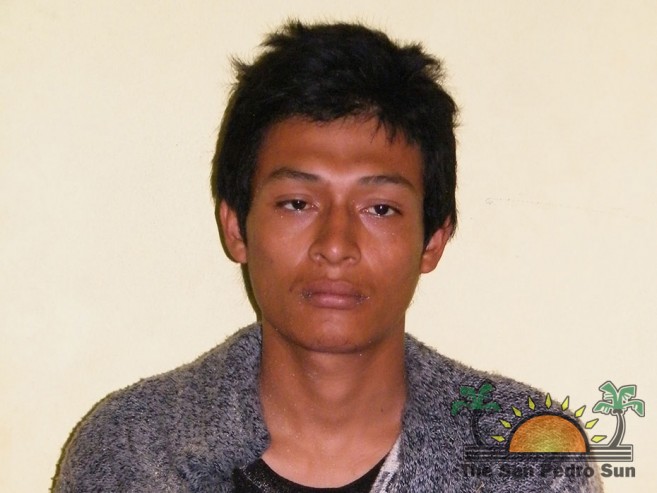 According to the Officer Commanding the San Pedro Police Station, Superintendent of Police Luis Castellaños, Hernandez was reported missing by his sister after communication was lost. Hernandez was a person of interest in an investigation following Belize Defense Force (BDF) firearms that went missing from the BDF weapons storage at Price Barracks in October of 2011. Hernandez was also a person that was believed to have gotten away from Belize Coast Guard Officials during a shootout on July 7, 2012 in which three person were killed during a special operation on northern Ambergris Caye.
Back in July of 2012, the Coast Guard released several pictures to the press, including that of Hernandez, mistakenly claiming that he was Alexander Mazariego, one of the victims killed in the shootout. The pictures obtained during intelligence gathering and those given to the press, showed Hernandez along with others, holding several M-4 Carbines. Firearms obtained from the shootout with Coast Guard on July 7, 2012 matched those in the pictures and were later revealed to be part of a batch that had been stolen from the BDF.
But even with the incriminating pictures of Hernandez holding a weapon believed to be one of the stolen BDF firearms, he was never charged. According to Belize Coast Guard Lieutenant Commander Elton Bennett, on two occasions, Hernandez was detained and handed over to police for ongoing investigations. "We detained him twice and we handed him to police since he was a person of interest. We also know that none of the detentions led to any substantial charges even though he was a person photographed with firearms believed to have been stolen from the BDF," said Bennett. "We don't prosecute, it is the police that deal with charging and prosecuting," replied Bennett when questioned about the outcome of Hernandez's arrest.
According to Captain Rafael Martinez, Belize Police Press Officer, even though Hernandez was a person of interest to police, there was not sufficient evidence against him. "I think that the police were never able to link Hernandez to the BDF firearms that went missing. Even with the pictures, there was not sufficient evidence that could stand in court, without a reasonable doubt, that he was linked to the BDF firearm case" said Martinez.
Elias Hernandez is described as a slim built Hispanic, about five feet eight inches in height and has black hair. According to police, family members were accustomed to being in contact with him via his cell phone. However all calls to his cellular phone now goes to voice mail. The only thing they know is that Hernandez went missing on northern Ambergris Caye.
According to Castellaños, Hernandez was known to be involved in the lucrative drug business on the island and his disappearance may be drug related. "We received information that Elias Hernandez and others (names withheld) had apparently found a substantial amount of drugs. We tend to believe that his disappearance is drug related," said Castellaños.
Reports of people mysteriously disappearing, usually over drug deals gone bad, are not uncommon on Ambergris Caye. In fact over the past few years, several people have gone missing on the island, without leaving a trace of their whereabouts. The last person to go missing was Jeremy Baptist on May 23rd. At the time, police said that he was shot and killed, but despite blood stains found on a vessel, his body was never recovered and the main suspect has been released. In addition, Wilmer "Chix" Cartajena and Kenrick Polonio, are both missing since April 24th, 2012 and Matthew Gonzalez, missing since January 7, 2011 have never been found.
Police have been following a number of leads into Hernandez's disappearance on northern Ambergris Caye, but all attempts have been futile. While Hernandez is being treated as a missing person, police fear that he may have been killed and disposed of.
If you have any information that can help police in their investigation you can call Crime Stoppers Belize at 0-800-922-8477. All calls are anonymous.
Follow The San Pedro Sun News on Twitter, become a fan on Facebook. Stay updated via RSS