Belize and Mexico agencies discuss transnational crime along borderline
Thursday, February 13th, 2014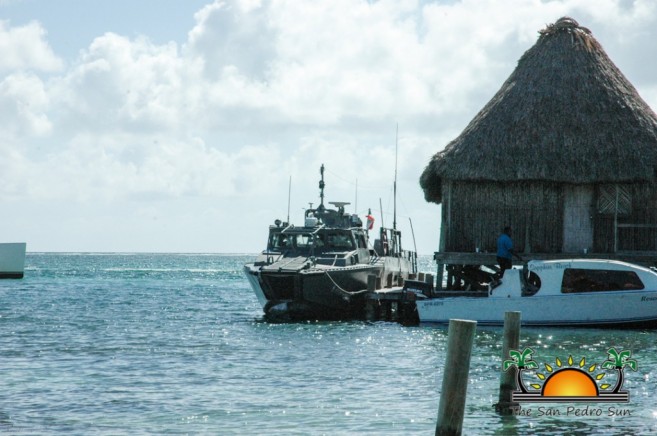 Belize is considered a major transnational route for drugs entering into Mexico that eventually make their way into the United States. In fact, the US estimates that annually as much as ten metric tons of cocaine, with an estimated street value of over half a billion US dollars, passes through Belize's porous borderline and maritime areas. For that reason Belize and its regional counterparts, including Mexico to the north, have been fine-tuning and strengthening measures to fight transnational crime, including illegal narcotic activities. On Friday February 7th, Mexican and Belizean senior operational officers met on Ambergris Caye to discuss ways to improve their strategy to fight transnational crime, especially drug related activities.
In 2013, the International Narcotics Control Strategy Report (INCSR), the US Department of State annual report to Congress, indicated that "Belize is a major transshipment country for cocaine and precursor chemicals used in the production of synthetic drugs. Due to its position along the Central American isthmus, Belize is susceptible to the transshipment of cocaine between drug producing countries in South America and the United States, as well as chemicals bound for processing into finished drugs in Mexico."
One of the strategies is to carry joint operations along with their Mexican counterparts. Meetings such as the one held on Ambergris Caye are held regularly and provide critical information in the execution of intelligent based operations.
Lieutenant Junior Grade Officer at the Belize Coast Guard Armando Cobb spoke about the meeting. "We meet to discuss ways to effectively carry out intelligence-based operations along our borderlines and so we look at ways we can strengthen our work-related exercise between the two countries. As you know Mexico is adjacent counterparts and we all have one equal goal, to fight illicit activities, especially narcotics activities along our borderlines and waters."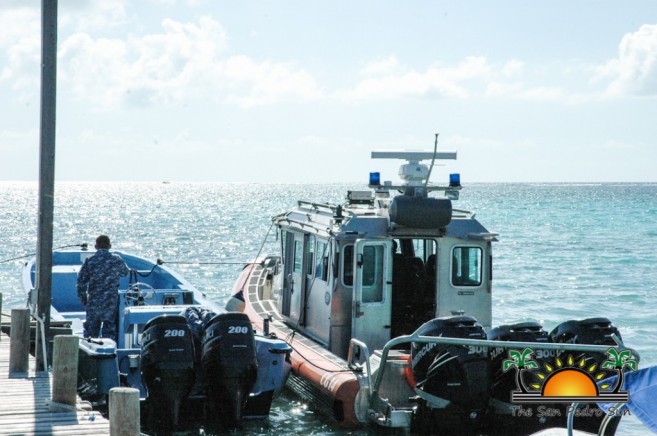 According to the United States, an estimated 80 percent of the primary flow of the cocaine trafficked to the United States first transits through the Central American corridor. "Large stretches of remote, unpopulated jungles on its borders with Guatemala allow for the easy smuggling of drugs through Belize, then into Mexico. A relatively unpatrolled coastline including hundreds of small islands and atolls make maritime drug interdiction difficult. Belize is bordered by countries where the drug trade is controlled by organized and violent drug cartels," cites the 2013 INCRS as it relates to Belize and the fight against drugs.
And because drugs cartels can be violent against those who lead the fight against their lucrative illegal business, they sometimes target head of anti-drug agencies, something that is common in Mexico. Thus meetings held between counterparts of both countries are held behind closed doors. Major Charlton Roches, Operations Officer of the Belize Defense Force (BDF), indicated that the fight is against an illicit international network, and according to experts yields an estimated US $700 billion annually.
"The meeting is at the operational level and we discuss several areas of interest that we face while collaborating in the fight against transnational crime. As you know, the Belize-Mexico border is extremely porous; there are a number of entry and exit points. You can find an array of illegal activities, from trafficking and smuggling of persons to trafficking of [fire] arms and contraband and the main one, drug trafficking. These meetings allow us to concentrate our efforts to tackle these crimes and overcome some of the challenges. Mexico is going through the same issues Belize is going through and if we don't work together the problems just get bigger," said Roches.
The meeting had the participation of senior operational officers of the BDF, The Belize National Coast Guard, The Mexican Ministry of National Defense and The Mexican Armed Forces. The event was hosted by the BDF, who will also host the annual Ministerial level meeting later this year on Ambergris Caye.
Follow The San Pedro Sun News on Twitter, become a fan on Facebook. Stay updated via RSS