Doctor Love: Devious Phone Calls
Sunday, March 17th, 2013
Dear Doctor Love,
My wife is gone for two weeks to visit her family. I couldn't go because I have to work. I got this weird call from one of her good friends where she works. This girl said that my wife had lent her some CD's and she wanted to know if I could come and pick them up. She sounded like she might have been drinking when she was calling. I asked her if it couldn't wait until my wife comes back and she said that would probably be best since it would not look good for me to come over to her house when she is alone. She comes over to our house all of the time but she only comes to visit my wife.
She told me she is having a lot of problems with her boyfriend and that they are split up again. She is very frustrated about sex with him and she thinks that if they had good sex everything would be OK. Then she started telling me all of these things she likes about me. She said she would really like to have a guy like me who knows how to treat a woman right. She told me that my wife had told her that I was very good when it comes to sex.
I made up an excuse and got off the phone with her right then. Now, I am worried that when my wife gets back she will tell her about our call. I don't want any trouble in my marriage and this girl is nothing but trouble.
Should I tell my wife about the call or should I just let it go and hope the girl never mentions it?
/s/ Unsigned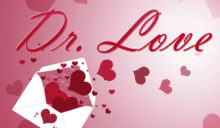 Dear Unsigned,
By all means, casually tell your wife that her friend called and wanted to return the CD's but you didn't pick them up. You don't have to go into details about the phone conversation but make sure she knows about it. You have done nothing wrong.
Doctor Love has a very devious mind. Many women have devious minds, too. Some of them have been known to use friends to set a trap to test their husband or boyfriend's loyalty. Most husbands and boyfriends fail the test miserably.
If this was a test, you passed with an A+.
Follow The San Pedro Sun News on Twitter, become a fan on Facebook. Stay updated via RSS