Career Week ends in a show of inspiration and creativity
Thursday, February 18th, 2016
Career Week 2016 at San Pedro High School (SPHS) ended on Friday, February 12th with all students partaking in a class room decorating contest and special assembly. The week commenced on Monday, February 8th, and offered the unique opportunity for students to be sensitized to the variety of occupational opportunities on the island. Organized by SPHS Counselor, Alexis Guerrero, the Friday closing of the event allowed students to demonstrate creativity and interest in a career of choice.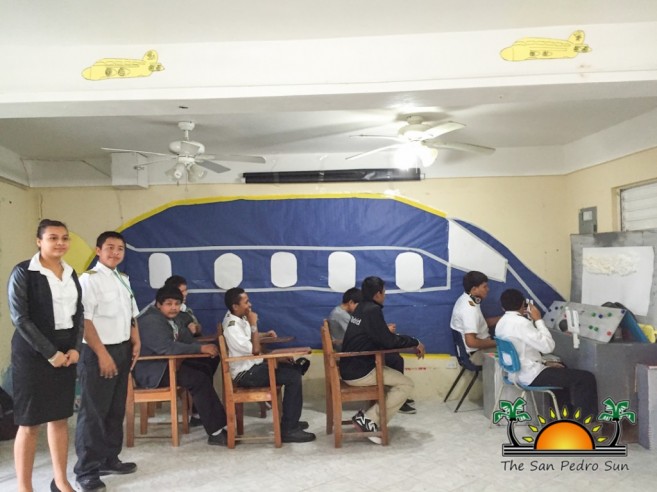 The day started at 8:30PM with three invited judges visiting each class room to view the students' decorating skills. Judging the decorated class rooms were Francisco Mendez, Shamir Guerrero of the San Pedro Town Council and Janelle Cowo of The San Pedro Sun. Class rooms were decorated to simulate everything from banks to planes and even military training sites. Prizes were awarded to the top three class rooms. Taking the first place prize was class 1C who decorated as the judicial system, with class 1B who decorated as ScotiaBank in second place and class 1A who decorated as an airplane in third place.

Immediately following the class room decorating contest, all students were called to the Angel Nuñez Auditorium for a special assembly. Counselor Guerrero was among those who addressed the students. "It has been a busy week. We have had a total of 22 speakers who took the time to come and speak to our students. In the end, I hope that it has been worth it, especially for my seniors who will be leaving soon. If you have been inspired to dream a little bigger and believe in yourself, then I can say that the goal of Career Week 2016 has been met. As the theme states, 'The future belongs to those who believe in the beauty of their dreams.' And I ask that each of you never stop dreaming, because each and every one of you can make such a positive difference in this world. Our world needs more people who love what they do and inspire others to follow their dreams," said Guerrero.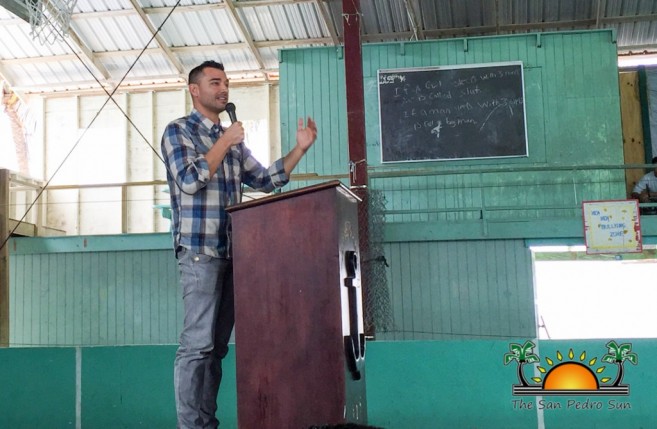 Following Guerrero's address, Pastor Clive Welsh introduced the guest speaker for the event. An actor, writer and producer from Los Angeles, California USA, Eddie Kaulukukui shared a few personal experiences on how to achieve success in one's career, even after facing many obstacles. "You need to have your mind set to what you want to achieve and aim for it no matter what distractions or obstacles come your way. To achieve one's dream, one must believe in them. And most importantly we need to trust God for he knows what he has intended for us," said Kaulukukui. He was awarded a certificate of appreciation for taking the time to address the students of SHPS.
Counselor Guerrero and the entire SPHS body would like to thank all those who took part in Career Week and made it a success.
Follow The San Pedro Sun News on Twitter, become a fan on Facebook. Stay updated via RSS