SPHS celebrates Career Week
Friday, February 13th, 2015
From Monday February 9th to Friday February 13th, San Pedro High School (SPHS) has been focused on Career Week. The annual event is held in secondary school across the country as a means of informing students on the many professions available in their communities. The highlight of the week long activities was the opening ceremonies, where students were treated to an inspirational speech from Attorney at Law Diana Shaw.
Organized by SPHS Counselor, Alexis Guerrero, the event kicked off at 9:30AM. Principal Emil Vasquez was first to address the students, speaking of the hard decision that choosing a career is, and encouraging the students to go after what they like and not what others expect them to do. Following his speech, Guerrero took time to introduce the guest speaker for the event.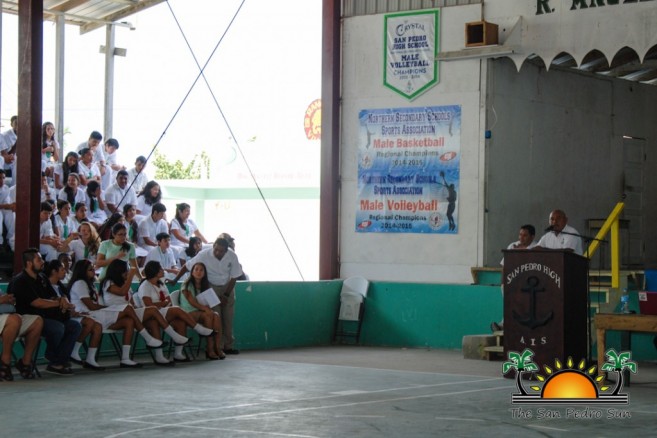 Originally from Kingston, Jamaica, Shaw is a successful Attorney-at-Law and legal consultant that now calls Belize her home. Shaw is also the founder of the Children Development Foundation (CDF) in Belize. She has dedicated much of her life to being an advocate from children and women's rights. In her time in Belize, Shaw has prepared several training manuals for the family court, conducted several trainings and workshops, drafted and faired the legal information manual for the Legal Information Bureau and the Government of Belize, strengthened the Child Abuse Protection System, conducted the Vulnerability Analysis Project for UNICEF, prepared training manuals for police, judicial and legal sectors on child protection issues, conducted law reform proposal and drafted the law bill prohibiting the commercial Sexual Exploitation of Children (CSEC).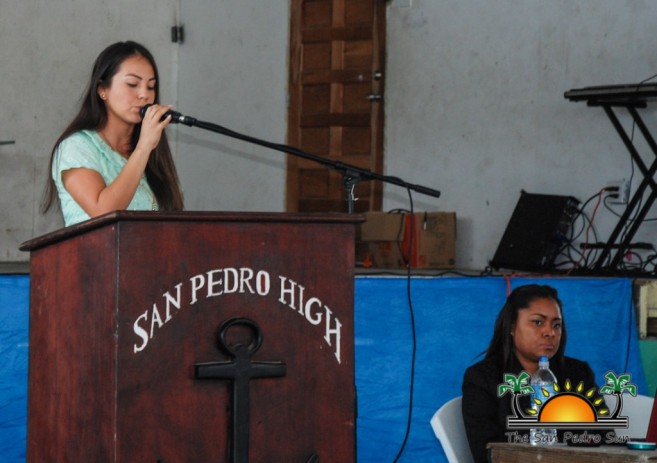 "You are the future but only if you want it. When we think about careers, we tend to pick what we believe is the most profitable. We want a job that will make us rich. That's the mentality that many of us have when choosing careers, but there is more to it. Assess yourself, see where your strengths and weaknesses lie and then choose what you want your life to be like," said Shaw. She elaborated on the outcome that our choices have and how to pick the right career. "When I was growing up I wanted to be an Attorney because it made money, but at the same time my family knew I would be good at it because I like to speak and voice out my opinions. I not only chose this career for the financial benefits, but because it was something that I knew I would love to do. This is the message I want to share with you. Choose wisely and think about what you like to do."

Shaw also shared her favorite acronym in making life decisions. "Think SHAPE when making choices. S- is for Spirit, always keep God in mind in anything you do. Believe in God for he will always help you make the right choices. H- is for Heart, think about yourself. Let passion help you decide what your future entails. Don't be doing stuff you don't love. To be successful in a career you need to be passionate about it. A- is for your Abilities, take time to get to know you and figure out what you are good at. Your abilities are what will define if you will be good at something or not. P- is for personality, each and every person is unique. Learn to be comfortable in your own skin. Don't let anyone tell you you're are not special, because you are! Only until you are happy with yourself, will you truly be able to succeed. And finally, E- is for Education and Experience. Treasure the opportunities you have been given, revel in your education. Each day is a new opportunity to learn from your teachers, friends, family or community members. Don't get side tracked, stay focused and with an aim in mind," said Shaw. At the end of Shaw's speech several students took the opportunity to ask her questions in relation to her chosen career.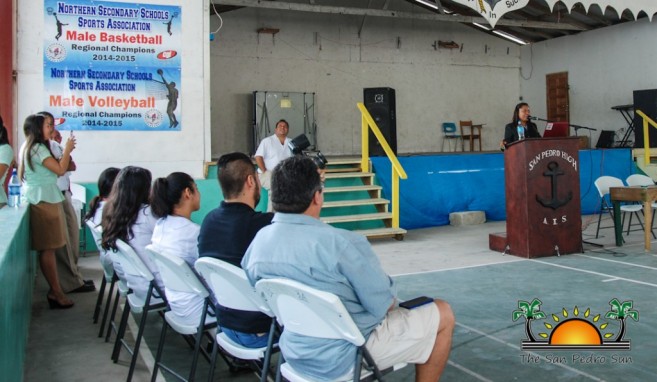 Other activities throughout the week included students dressing up in the attire of their dream career and oral presentations by different careers.

SPHS faculty and staff would like to thank everyone that made Career Week a productive and successful event.
Follow The San Pedro Sun News on Twitter, become a fan on Facebook. Stay updated via RSS