San Pedro High boys win 3rd place at NSSSA football tournament
Monday, March 2nd, 2015
The San Pedro High School boys won the 3rd place at the National Secondary Schools Sports Association (NSSSA) football championships hosted by St. Ignatius High School at the Norman Broaster Stadium over the weekend.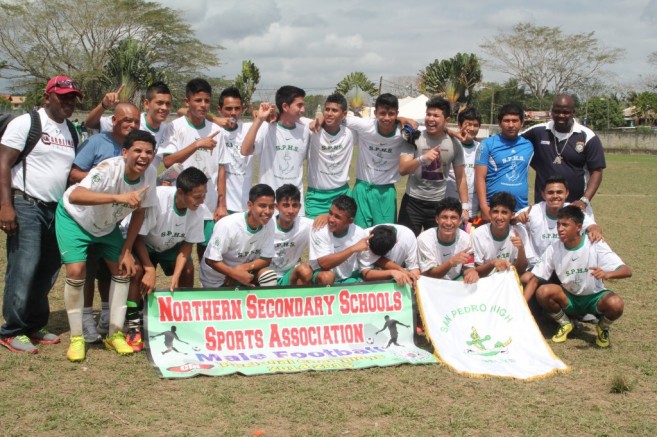 In Game 3 the consolation game for 3rd place on Saturday morning, the Isla Bonita boys won 2-1 against Gwen Liz. San Pedro's Edley Godoy scored the 1st goal in the 22nd minute, but Clinton Dawson equalized for Gwen Liz in the 52nd minute. San Pedro's team captain Jose Chimal scored the 2nd winning goal in injury time.
In Game 1 Friday evening, the IHS boys upset the Central Zone champs, the Gwen Lizarraga High School boys 4-2. Gwen Liz team captain Clinton Dawson scored the 1st goal in the 13th minute, and Marvin Flowers added a 2nd goal in the 19th minute to give Gwen Liz boys a 2-0 lead at the half.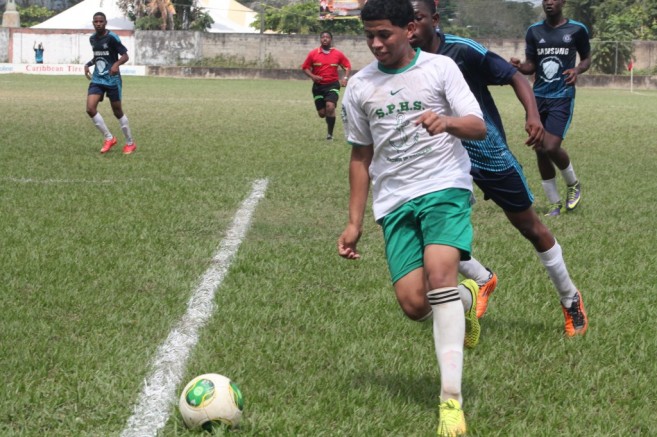 Jefferson Lopez scored IHS' first goal in the 39th minute. Then Gwen Liz lost Naim Wilson to an injury and later on the referee sent off Jovian Usher with a red card. Down to 9 men, Gwen Liz could not stop IHS' Steven Young from equalizing 2-2 in the 2nd minute of injury time. IHS Jonathan Bejerano scored 3rd and a 4th goal in the overtime for the 4-2 win.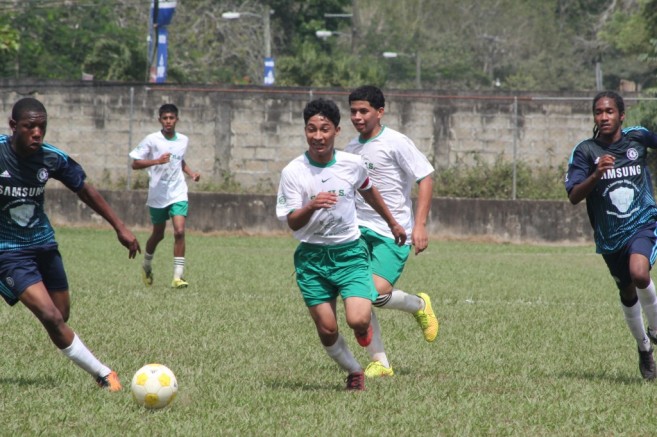 In Game 2 Friday night, the Western Zone champs, St. Ignatius High School boys won 1-0 against the Northern Zone champs, the San Pedro High School boys, when Blake Zepeda scored in the 13th minute. San Pedro's hopes of equalizing were dashed aside when they lost Anthony Lopez, who was ejected for an altercation with national U-17 striker Brandon Cante, who also got a RED ticket to the showers.
In Game 4, the championship final, the IHS boys drilled the St. Ignatius' boys 2-0 with goals by Jonathan Bejerano in the 5th minute of play and by Gabriel Ramos Jr in the 58th minute.
The St. Ignatius principal presented team trophies and individual medals to the 1st, 2nd and 3rd place winners, and the Most Valuable Player award went to HIS Osmani Sanchez.
Follow The San Pedro Sun News on Twitter, become a fan on Facebook. Stay updated via RSS