Island honors Class of 2016 secondary graduates
Thursday, June 16th, 2016
The weekend of Saturday, June 11th and Sunday, June 12th was a celebration of two secondary institutions' graduation ceremonies on La Isla Bonita. The San Pedro High School held its 45th Graduation Commencement Exercise on Saturday, June 11th at the Angel Nuñez Auditorium starting at 5PM when 96 students marched in to the tune of Pomp and Circumstance.

Tanairi Arana and Jonathan Andino were the Mistress and Master of Ceremonies. After the graduates sang their school song, Elladira Garcia delivered the salutatory address. Principal Emil Vasquez and Chairman Aljemiro Paz Jr. distributed diplomas to the Class of 2016, after which outstanding students were awarded. Jonathan Andino was voted Senior of the Year, Louis Valdez won Best Athlete, and Bruce Garbutt was awarded Student of the Year.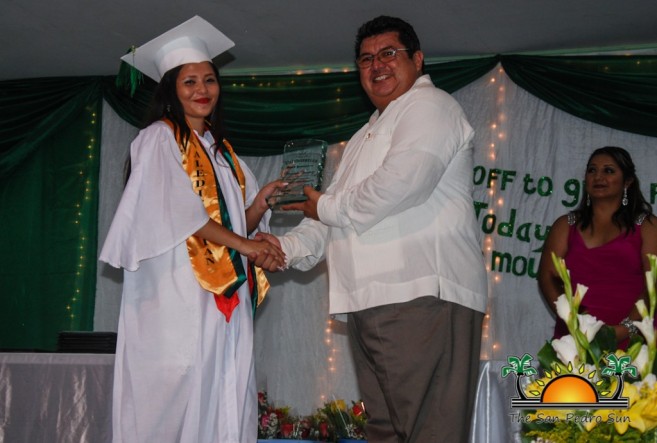 Giselle Flores served as the guest speaker for the graduation, and her heartfelt speech encouraged the students to value, and make use of their education. The ceremony continued with the valedictory address given by Virginia Vasquez, who based her speech on Nelson Mandela's popular quote: 'May your choices reflect your hopes, not your fears'. "Education is everywhere, so I urge all of my fellow graduates to never stop learning. Do the best you can until you know better, and when you know better, do better. I hope we all could become fearless," said Vasquez.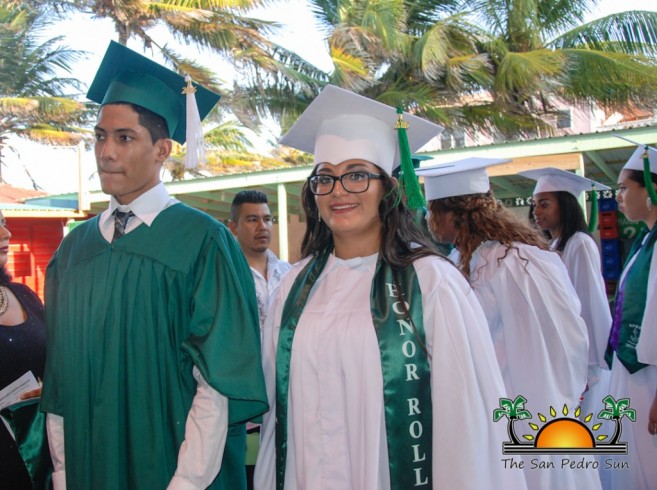 The traditional rose ceremony was led by Jasmin Marin and Marissa Gonzalez, while the candle light ceremony was led by Rosely Carillo and Kristy Arnott. Vasquez gave his principal's address, proudly mentioning that the Class of 2016 made history. For the first time, SPHS had the highest number of graduates to date, more than 50% of the students were on Honor Roll, and after adapting the Grade Point Average system, Valedictorian Vasquez was the first to receive a perfect average of a 4.0. The ceremony ended with the Vote of Thanks given by Delmi Garcia.
The SPHS Class of 2016: Tanairi Jailene Arana*, Eilmer Eduardo Arias, Jalyssa Lynn Arthurs*, David Alejandro Caliz, Rosely Rocio Carrillo*, Marleni Diaz*, Bruce Emmanuel Garbutt*, Sergio Andre Gomez*, Laila Joeny Gonzelz, Juan Gerardo Hernandez*, Victor Edward Juarez, Tori Ermine Lopez*, Maricarla Tanairi Martinez*, Jorge Mauricio Pleitez*, Brayan Alexander Rendon*, Julian Alexander Rivero, Ruben Eiden Sanchez, Elim Mikiel Soliz, Ethan Solorzano, Andrea Lyannie Valencia*, Jimmy Misael Zometa, Victor Manuel Ack*, Shanily Jantina Arceo, Erica Labresca Bodden, Jana Karina Brown, Ernesto Rene Canelo*, Johnny Rodolfo Cantun, Britany Kristal Chan, Alejandro Kevin Coc, Eledia Rosanna Coc*, Mark Andrew Flowers, Danielle Virginia Gregorio*, Nachor Ben-Chor Howe, Gabriela Emilia Lopez, Steven Alexander Medvedik, Job Esteban Mendizabal, Marisha Jamel Thompson*, Darleny Julissa Aban, Jerdon Franklin Anderson, Kristy Mary Arnot*, Juan Leandro Azueta*, Edwin Jonathan Caballero, Diana Marie Cal*, Jaqueline Lucrecia Caliz*, Wilber Alejandro Carreras*, Gueido Dionecio Edwards, Delmi Victoria Garcia*, Edley Alexander Godoy, Marissa Kayleen Gonzalez*, Katherine Dariana Hernandez*, Darryl Nigel Itza, Zaira Jenelle Lobos, Auner Estuardo Madrid*, Dioni Karyme Moh*, Jenaro Ravenn Nunez*, Elina Eloysa Palma, George Michael Paz*, Gilliam Aleesha Paz*, Francois Ruben Pirre*, Fransisco Javier Reyes*, Jessi Roxannie Sosa, Shamir Jerome Sutherland, Emiliani Yorhanni Tepaz, Indira Ibeth Yanez, Delvorene Shanique Zuniga, Wendy Yunilieth Acosta*, Jonathan Adonias Andino*, Luis Rene Ayuso, Sergio Evar Bardalez, Karla Yesenia Beteta*, Luis Enrique Blanco, Shelia Mareli Chi, Rony Adali Espinosa, Kessia Alejandra Fuentes, Elladira Levilette Garcia, Marian Anastesia Guiterrez, Melvin Danilo Guzman*, Yarensi Levicia July*, McLeisha Enell Lambey, Christian Amando Lemus*, Meujael Antonio Lopez, Karen Jamileth Madrid*, Mario Ulises Paz*, Elsa Edith Portillo*, Yasir Ivan Roberts, Jordan Eric Santos*, Ashley Summer Saunders, Heidi Janeli Sorto*, Jenny Janett Sosa, Sheridan Shakera Sutherland, Nurian Isabel Trjillo*, Louis Daniel Valdez, Mali Carolina Varela, Virginia Joselin Vasquez***
Honor Roll, Highest Mark & Valedictorian (bold & italic)
*Honor Roll/** Highest Marks and Honor Roll (name in bold)

On Sunday morning, June 12th, the San Pedro Adult Continuing Education (SPACE) held its 4th Commencement Exercise at the Angel Nuñez Auditorium. SPACE is the high school night division managed by the San Pedro Junior College and has been in operation for four years. A total of eight students graduated as the Class of 2016.
Master of Ceremonies Alex Nuñez led the ceremony as family and friends joined the graduates in their special moment. Miguel Coc delivered the salutatory address, followed by an inspiring lecture given by international guest speaker, John G. Kennedy. Afterwards, Jose Milo Paz Jr., along with his wife Mini, distributed well-earned diplomas to the graduates. Nancy Paola Navarrijo gave her valedictory address, and after, the graduating class sang the rendition of "Breakaway" by Kelly Clarkson. To close off the ceremony, the Vote of Thanks was given by Geovanni Guerra.
The SPACE Class of 2016: Nancy Paola Navarrijo**, Miguel Coc, Geovanni Elias Guerra*, Jissel Mai*, Juanita Moralez*, Bryan Pacheco*, Zain David Tillet*, Elvira Lucia Gomez*. Certification in English as a Second Language: Sindy Yulissa Perez Alvarez and Jesica Elizabeth Perez Alvarez.
** Honor Roll & Valedictorian *Honor Roll
Congratulations to all of the 2016 graduates!
Please help support Local Journalism in Belize
For the first time in the history of the island's community newspaper, The San Pedro Sun is appealing to their thousands of readers to help support the paper during the COVID-19 pandemic. Since 1991 we have tirelessly provided vital local and national news. Now, more than ever, our community depends on us for trustworthy reporting, but our hard work comes with a cost. We need your support to keep delivering the news you rely on each and every day. Every reader contribution, however big or small, is so valuable. Please support us by making a contribution.
Click to Donate
Follow The San Pedro Sun News on Twitter, become a fan on Facebook. Stay updated via RSS