Minister of Education announces new schools for Belize
Friday, May 19th, 2017
The Ministry of Education (MOE) announced on Wednesday, May 10th that 35 new schools are expected to be built around the country. The different areas to benefit from this project were not specified, but Minister of Education, Honourable Patrick Faber, said the program will cater to the neediest areas of the country. The San Pedro Sun spoke to local island authorities to find out if Ambergris Caye will benefit from this project.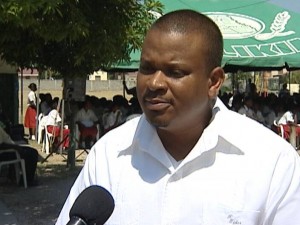 Mayor Daniel Guerrero, could not say whether San Pedro Town is on the list, but indicated that members from MOE had visited the island to conduct site inspections. "Two weeks ago, I took personnel from the Ministry of Education to see the property assigned for a school in the northern part of the island," said Guerrero. "They mentioned that they are getting ready to start constructing the schools soon, but how soon, I don't know." He recalled that the representatives from MOE spoke about the construction of a pre-school and primary school.
The Sun attempted to get comments from the Area Representative and Minister of Tourism, Honorable Manuel Heredia Jr., but he has been unavailable.
According to Faber, the funding for the educational institutions is coming from a Central Development Bank loan, to the tune of $70 million dollars. He told reporters that most of the schools will target early childhood education, thus, the majority will be pre-schools. Faber claims that the delay at the moment is finding all the necessary space to start building. "We need to make sure that we have in our possession the land certificates and so on, before we can move on. As soon as we do that, we are going to start construction countrywide," Faber explained.
Faber refrained from identifying the different areas of the country that will see the erection of these schools. He simply stated that the institutions will be built in the right places. "Now this calls for some controversy, even politically in my own party as every area representative wants a school and we have to say no," said Faber. "We have done a school mapping exercise showing which areas of the country have projected growth; that is where we will build the schools."
In the meantime, more inspections will be done countrywide as the different lots are being identified for the construction of the future schools. The project includes 22 new pre-schools, five primary schools and eight secondary schools.
Follow The San Pedro Sun News on Twitter, become a fan on Facebook. Stay updated via RSS