Scheduled ground-breaking for island new school postponed
Thursday, March 8th, 2018
The groundbreaking for the construction of a new primary school building in San Pedro Town was announced by Daniel Guerrero on Saturday, March 3rd during the United Democratic Party (UDP) rally held at the Honourable Louis Sylvestre Sporting Complex. The ground-breaking was tentatively scheduled for that same Saturday, but due to unforeseen commitments from the Minister of Education, Honourable Patrick Faber, the event has been postponed with a new date yet to be announced.
Minister of Tourism and Civil Aviation, Honourable Manuel Heredia Jr., had foreseen the event taking place on Saturday, March 3rd, only if Faber could travel to the island. He added that since he is the Minister of Education, his presence to officiate the event was imperative.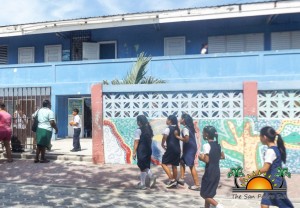 The announcement of a new school to be built on the island had previously been made by Guerrero on Reef TV's Morning Show. During his speech at the UDP Pre-election rally, he elaborated on what the project will consist of. According to him, it will be a three-division school. "The project will see the construction of a building of a pre-school, primary school and high school, all government schools," said Guerrero. "This will alleviate the congestion in primary schools like the San Pedro Roman Catholic Primary School, New Horizon Seventh Day Adventist School and the Holy Cross Anglican School," adding that when it comes to education, the UDP is far ahead compared to the past administration of the People's United Party (PUP).
The schools are to be built north of San Pedro Town and according to Guerrero, the area is being prepared for the ground-breaking. Additionally, he reiterated the UDP's intentions to continue providing the access to education to everyone. Guerrero also mentioned that along with Minister Heredia, The San Pedro Town Council (SPTC) has helped many students in subsidies and for the current year, such assistance continues.
It is expected that with this completion of the school project more children on the island will have access to quality education, combatting the country's literacy problem. At the same time, authorities believe that families will no longer have to send their kids to schools located off the island due to the present space issues at the schools on Ambergris Caye.
While the promise of a new school for San Pedro Town has been talked about since 2014, it was not until May 10, 2017, that the MOE announced that a loan had been secured for the construction of the project. At the time, MOE had indicated that the schools would be ready for the 2017-2018 school year, however, no concrete plan has been provided as yet.
Follow The San Pedro Sun News on Twitter, become a fan on Facebook. Stay updated via RSS