Belize Fashion Week; Designed to Impress
Saturday, April 6th, 2013
I love being inspired by a story, and this one certainly has done that! What excites me the most are the layers of potential that make up this very ambitious project, and the long range benefits for so many, including the country of Belize. Beginning with the aspiring Belizean designers, you have to wonder where else would they have the opportunity to be nurtured and recognized by their peers. Taken under the wing of Belize Fashion Week, they will emerge polished and prepared to take on the world of fashion, making their dreams come true while representing Belize. And for these eager models, here is a wonderful opportunity to work with professionals in developing their skills and appearance. No doubt this type of exposure could lead to a modeling future they may have only dared to hope for. Tourism in Belize stands to benefit as well when the annual Belize Fashion Week grows into a destination event for the country. So often we complain about the lack of opportunity for our young entrepreneurs and artisans, but here it is and I sincerely hope that those who have an interest in the fashion industry fully embrace the moment and understand it is theirs for the taking and their time to shine. Although I am very far from being a 'fashionista'  I certainly appreciate a pretty girl in a pretty dress, and am looking forward to this weekend event…now just what the heck am I going to wear? I don't think shorts, sandals and a San Pedro Sun t-shirt will work the red carpet very well!
Belize Fashion Week; Designed to Impress
The organizers of Belize Fashion Week are putting the finishing touches on what promises to put Belizean fashion designers and models on the global map. Organizers Enrique De Leon and Patricia Greif found the time from their very busy schedule this week to share with The San Pedro Sun what all is in store for fashion enthusiasts this weekend, and what the concept behind the project is all about.
According to De Leon, the goal behind the program is to give Belizean fashion designers the opportunity to hone their skills, show case their designs and become savvy entrepreneurs. In essence not only giving them the tools for success but preparing them to represent Belize as designers worthy of recognition. "If the designers are well prepared to showcase their talents professionally, not only will they earn global respect but as Belizean fashion ambassadors they can prove that we as a country are fashion contenders. It's a win, win situation for everyone," explained De Leon. Grief added, "Once these talented individuals are prepared to present their designs to the world they will be ready for 'export' in a sense, not only ready to be taken seriously in the fashion world but also representing Belize in a professional manner."
There are eight Belizean and two international designers participating in the show. Belize representatives include Joris Hendrik, Ras Jahta, Maureen Navarette, Adrian Rocker, Francis Alfaro, Gabriella Barrera, Caitlin Stolley and Kristan Miglio. Marisol Henriquez from the Dominican Republic and Momo Soho from New York, New York USA will also be in attendance.
But the opportunity for Belizean talent doesn't end there. The organizing committee has been scouring the country for Belizean models to showcase these up and coming designers during the two-day runway shows and they are very excited about their selections. "We really wanted to show the beautiful diversity of cultures our Belizean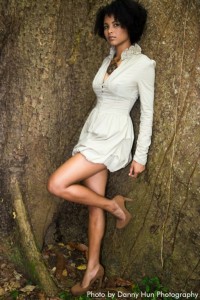 people represent, and we were mindful of that when choosing these aspiring models. Our models possess the unique features that embrace the ethnic mixture of our beautiful Belizean people and have tremendous potential," explained De Leon. Young ladies from Belize City, Dangriga, Punta Gorda, San Pedro and Orange Walk will be gracing the runway.
With invited national and international fashion mentors in attendance, the designers and models will attend seminars during the weekend to help develop their skills and present themselves in a professional manner. Top Panamanian model and Reina de la Costa Maya Queen 2012 Karen Jordan will be mentoring the models and preparing them for the runway, and a representative from the BelTrade small business sector will be hosting a seminar for the designers on how to become successful entrepreneurs.
Not only does this first ever Belize Fashion Week offer unparalleled opportunities to these ambitious designers and models, but it can provide a venue to attract people to San Pedro and the country. "This is the first of what we hope to be an annual event that will grow in popularity and size each year," commented De Leon. "The Panama Fashion Week has become a destination event for that country, showcasing not only fashion but music and the arts. It is our hope that someday Belize Fashion Week can be the same. We have a lot of support from the Belize Tourism Board and other stakeholders who see the potential in this project and want to see it succeed and grow."

The Runway Shows will be held at Fido's on Friday April 12th and Saturday the 13th. Hosting the event will be Sandra Hoyos Mejia. The Telemundo personality is no stranger to Ambergris Caye, having hosted the International Costa Maya pageant. A red carpet entrance will begin at 7pm and the runway show will start at 8pm sharp. Each night different designers will be presented and the shows will be overseen by award winning director Arlando Smith. Ticket holders for the event will also enjoy an after-show party with live music. Tickets for each night are $75 for front-row and $50 for reserved seating. Tickets are available at Warpaint, Wings, Mar de Colores Hair Saloon, Eye Candy in Belize City and at the door. There is also one VIP Table left for both nights at a cost of $500/night for three people, and includes hors d'oeuvres, cocktails, personally meeting the designers and models and first-bid options on the clothing. There will be a $20 door fee to the after party at Fido's each night starting at 10PM. On Sunday April 14th from 11AM – 3PM there will be a Fashion Village Expo at Central Park. The designers will have booths where they will be selling their clothing and accessories such as purses, hats and jewelry. It will be a great opportunity to visit with these individuals and learn more about their talents while purchasing one-of-a-kind designs.
Ticket holders not only get to enjoy the runway shows but discounts from local merchants. Present your ticket at the Holiday Hotel, Wild Mangoes and the Conch Shell Inn for a 20% discount, a 15% discount at Lily's Treasure Chest and a 10% discount at Elvi's Kitchen, Blue Water Grill, Caliente, and Island Gear. At Lola's Pub enjoy a 10% discount off beer and 15% off liquor.
For more information about this exciting weekend please call 610-1880 or 629-3078
Follow The San Pedro Sun News on Twitter, become a fan on Facebook. Stay updated via RSS