Belize Fashion Week 2013 brings color and creativity to life!
Monday, April 15th, 2013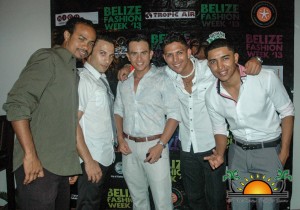 From Thursday through Sunday, fashion was the name of the game as Belize Fashion Week 2013 brought color, design and creativity to the forefront. Young Belizean fashion designers had a chance to showcase their talent for designing clothing, jewelry and handmade purses. Gorgeous Belizean models also had the opportunity to walk a runway under the lights for all to see. International designers Marisol Hernriquez and Momo Soho brought their own flair and talent, mixing beautifully with the raw talent that shone over the course of two nights.
Fashion Week began with a cocktail reception held on Thursday, April 11th, where models, fashion-lovers and designers mingled in a fun, informal setting at Caprice Bar & Grill. It was an opportunity to meet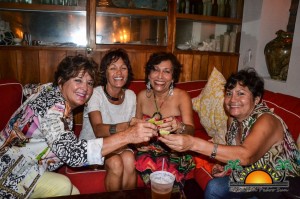 with the people who would be showcased over the next two nights at Fido's Courtyard.
By Friday night, young designers were able to relax and send out their pieces with confidence. From black and white pieces to the many glorious Caribbean hues all draped, folded, wrapped, nipped and tucked into a variety of styles, it was a feast for the eyes. The ready-to-wear pieces showed attention to detail, and the more outré pieces could easily be mixed with more conventional items and become statement pieces. The audience was certainly appreciative of the variety that made their way down the runway.
On Saturday night, there was more to be enjoyed as two international designers showcased their collections. But before they could send their pieces on stage, Ras Jahta sent several beautiful pieces down the runway, showcasing his unique style and vision. Following him was a chance to highlight Joris Hendrik, a young Belizean designer who has an Avant-garde style that incorporates recycled materials such as tarp, vinyl tapes, plastic and paper. For this show however, he showed more ready-to-wear style; accompanied by the striking jewelry by Meloba (Melody Sanchez Wolfe) and De Yans (Mauricio J. Canelo), the outfits were stunning.
Also showing was Marisol Henriquez of the Dominican Republic and Momo Soho of New York City. Their styles showed intricacy in weaving (Henriquez) and floaty, dreamy dyed silks that swirled and draped elegantly down the runway. The more seasoned designers certainly had a great collection of beautiful pieces that could fit in the lifestyle of our Caribbean island!
Congratulations to Enrique De Leon and Patricia Greif for organizing this fun event. Belize Fashion Week 2013 brought out the creativity and passion of young Belizean artists, and with the support of the community and events such as these, the Belize fashion movement can only go forward.
Photo Gallery
Follow The San Pedro Sun News on Twitter, become a fan on Facebook. Stay updated via RSS