Sonora Dinamita and Alison Hinds confirmed for 2017 International Costa Maya Festival
Wednesday, June 7th, 2017
After Hurricane Earl caused the 2016 International Costa Maya Festival® to be cancelled, organizers are thrilled to announce that the show is on for Thursday, August 4th through Sunday, August 6th. This year, Costa Maya will be celebrating its 25th Anniversary, which means the committee is working extra hard to make sure Ambergris Caye has with the best week-long festivities of dance, music, pageantry, food and drinks!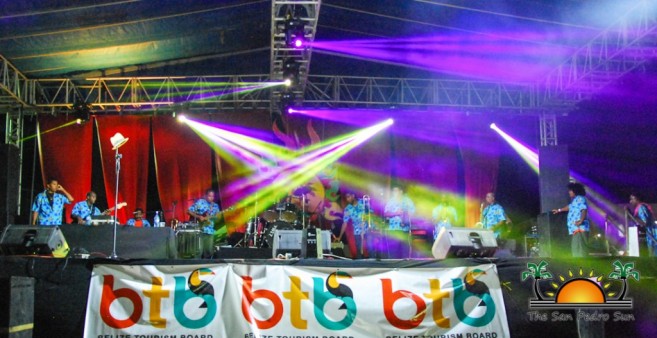 As is tradition, the festival will take place at the Honorable Louis Sylvestre Stadium in San Pedro Town. Thursday night will be Pageant Night, in which eight beautiful contestants will vie for the title of Reina de La Costa Maya. 2015's Gabriela Vanessa Salazar Valle still holds the title, and this year, the Pageant seeks the participation of all the Central American countries: Belize, Mexico, Guatemala, Honduras, El Salvador, Nicaragua, Costa Rica, and Panama. We already have confirmed the first gorgeous contestant, and she is Miss Costa Rica.
Miss Costa Rica is 22-year-old Glennys Medina Segura, who stands tall at 5'6'' and enjoys cooking—especially desserts, and fishing. She has a Law Degree and Diploma in International Relations and Diplomacy, and one of her biggest dream is to be elected winner of the Queen of the Costa Maya International 2017. She also hopes to start a non-profit organization that creates educational programs for children.
After the official opening ceremonies and presentation of the new queen, there will be a variety of cultural presentations on Friday, August 4th. Those will be followed by the highly anticipated soca vibes of the undisputed Queen of Soca, Alison Hinds!
The former lead vocalist of the popular Square One band, Hinds will grace La Isla Bonita with her presence and powerful vocals. After leaving the band in 2004, Hinds formed her own "The Alison Hinds Show" a year later, featuring former band members and other young dancers and musicians. She returned to the soca scene with a hit: Roll It Gal, after finding success in a contribution to Kevin Lyttle's "Turn Me On".
Hinds is known for her classics, from 'Roll It Gal' to 'Togetherness' and 'Faluma', and her latest songs to date include 'Born Wit It', 'A Ladies Anthem', 'No Way', 'Brace and Wine', 'Baddy', 'Gals want more Iron' and is even featured in Mr. Vegas' 'Bruk It Down' remix. There is no doubt that on Friday, the stage will be lit with her presence, and the crowd will be up and dancing for her concert.
Saturday, August 5th is International Night, and bringing the Latino flavor to the evening will be "La Sonora Dinamita". La Sonora Dinamita is a Colombian musical group that specializes in cumbia, with popular hits like 'Mi Cucú', 'Que Nadie Sepa Mi Sufrir', 'La Parabólica', 'El Viejo Del Sombrerón', 'Escandalo', 'Qué Bello', and 'La Suavecita'. Bring your dancing shoes, because Saturday will be one for the books!
Sunday is traditionally beach day, and all festival attendees are encouraged to soak in the scenic beauty of our waters, along with the daytime festivities that businesses/sponsors will be hosting in honor of the weekend!
Director of the International Costa Maya Festival, Gach Guerrero invites everyone to enjoy the annual weekend-long Costa Maya Festival, as it is guaranteed to be bigger and better than previous years. If you wish to become a sponsor, please feel free to contact the committee via email at [email protected] The San Pedro Sun will update readers on ticket prices and sales venues as it is announced.
Follow The San Pedro Sun News on Twitter, become a fan on Facebook. Stay updated via RSS