Croc takes a swim at Las Terrazas pool
Sunday, August 28th, 2011
At 5:30AM on Wednesday, August 24th the American Crocodile Education Sanctuary (ACES) team Vince and Cherie Rose were awakened by a frantic "croc in the pool" phone call. Apparently a large crocodile had decided to go for a swim in the Las Terrazas swimming pool and the management was not real happy about the uninvited guest.
The ACES team quickly arrived at the scene, some 3 ½ miles north of San Pedro where indeed a crocodile, known to ACES as #26, was enjoying the deep end of the luxurious infinity pool. #26 is a problematic croc that was first tagged and removed from WASA lagoon south of San Pedro last May where he was being illegally fed as a tourist attraction. Wednesday morning was the first time the 10'4'' crocodile has surfaced since his relocation in May to an uninhabited area further north of Las Terrazas.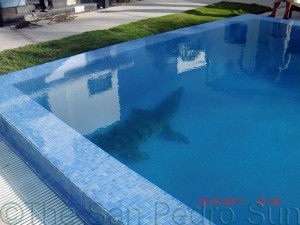 Because #26 has been fed, he seeks out people for an easy meal. The capture was successful, but without a completed containment habitat at the new site, ACES had no choice but to again relocate the troublesome reptile. It is likely he will show up again somewhere, but there is nothing else ACES can do until more funding comes available to finish the ACES refuge on Ambergris Caye or add new pens to their site in Ladyville on the mainland.
Las Terrazas generously donated $500 to ACES in gratitude for their speedy and professional removal of their unwanted pool guest. This donation, along with funds donated from Bella Vista will aid in the construction of a next containment habitat at the Ambergris ACES. Until  ACES can obtain enough funding for the new refuge they will be forced to relocate, instead of contain, problematic crocodile who are repeat offenders and quite dangerous.
Photo Gallery
Follow The San Pedro Sun News on Twitter, become a fan on Facebook. Stay updated via RSS